20 Companies For the Best Website Design in Singapore [2022]
Find the best website design companies in Singapore to give your website design a much-needed revamp.
Last Updated on May 25th, 2022
Marketing
Our team at SBO.sg is committed to being a one-stop avenue to connect local businesses and consumers. We hope that our research efforts can help you save time and money by finding you the best deals without having to search around the vast world-wide-web.
Most business owners would have heard of the 15-second rule, which is the average amount of time spent by a user when visiting a new website.
That's also how long how you have to arrest the attention of a prospective customer.
This is where companies for website design in Singapore can come in to help to make your website user-friendly and aesthetically pleasing.
Keen to overhaul your website design with the help of professionals?
In this article, we have gathered a list of the 20 companies for the best website design in Singapore.
1. Verz Design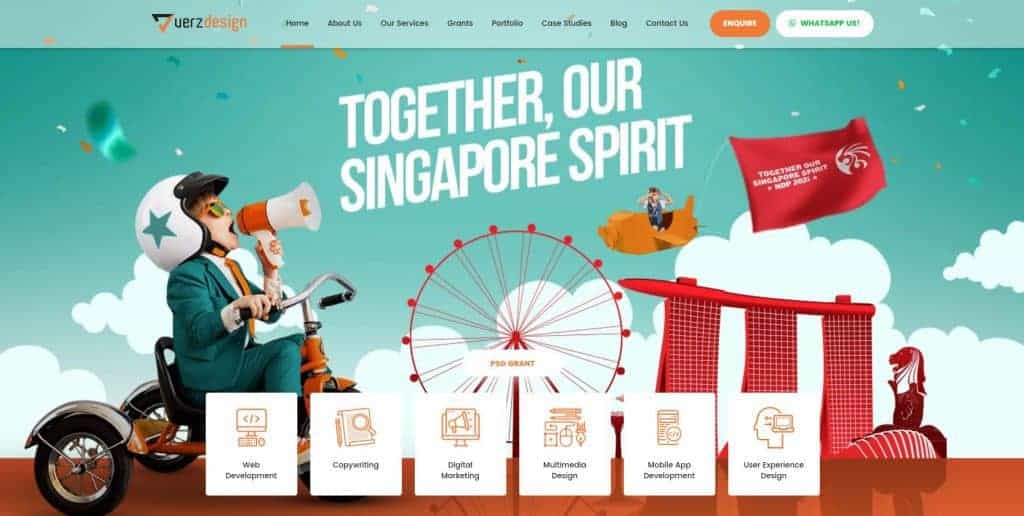 Founded in 2009, Verz Design has grown to become an established web design and development company in Singapore.
They believe that cultivating a fair, intelligent, and professionally-sound workflow in their website design and development processes can put their clients and themselves in the best position to succeed.
Verz Design provides a wide range of services for their clients:
Web and Mobile App Development;
Copywriting;
Marketing Services;
Consultation Services;
Multimedia Design;
Experience Design
The website design company has worked on web design projects for various reputable brands, such as Singapore Airlines, SingTel, SMRT Corporation and Pan Pacific Singapore, over the years.
Reviews praise the company for website design in Singapore for giving constructive and practical advice throughout the entire website development process.
2. Singapore Best Web Design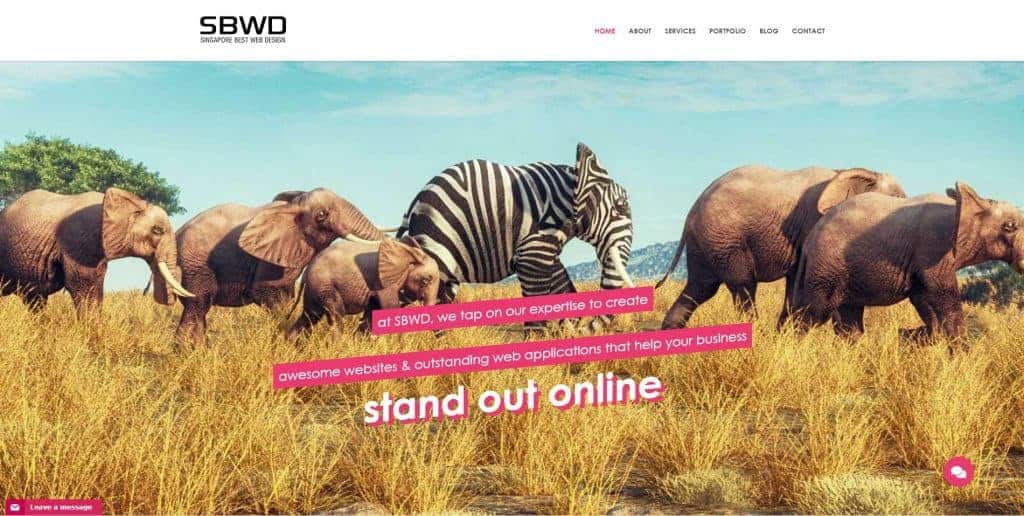 Singapore Best Web Design has been providing its services and expertise to Small and Medium Enterprises (SMEs) in Singapore and other countries in Asia-Pacific since 2009.
They tap on the expertise of their web designers to create awesome websites and outstanding web applications to help their clients stand out from the pack.
They offer various website packages that are tailored to the needs of their clients, be it the Basic Plan, Standard Plan or the E-Commerce Website Plan.
Rest assured that their prices are highly transparent.
They have also worked on various projects for prominent brands in Singapore of the likes of Purple Parade, Gloria James Civetta & Co and Microsoft.
Reviews praise the company for website design in Singapore for injecting novelty and creativity into their website designs.
3. Wondertabs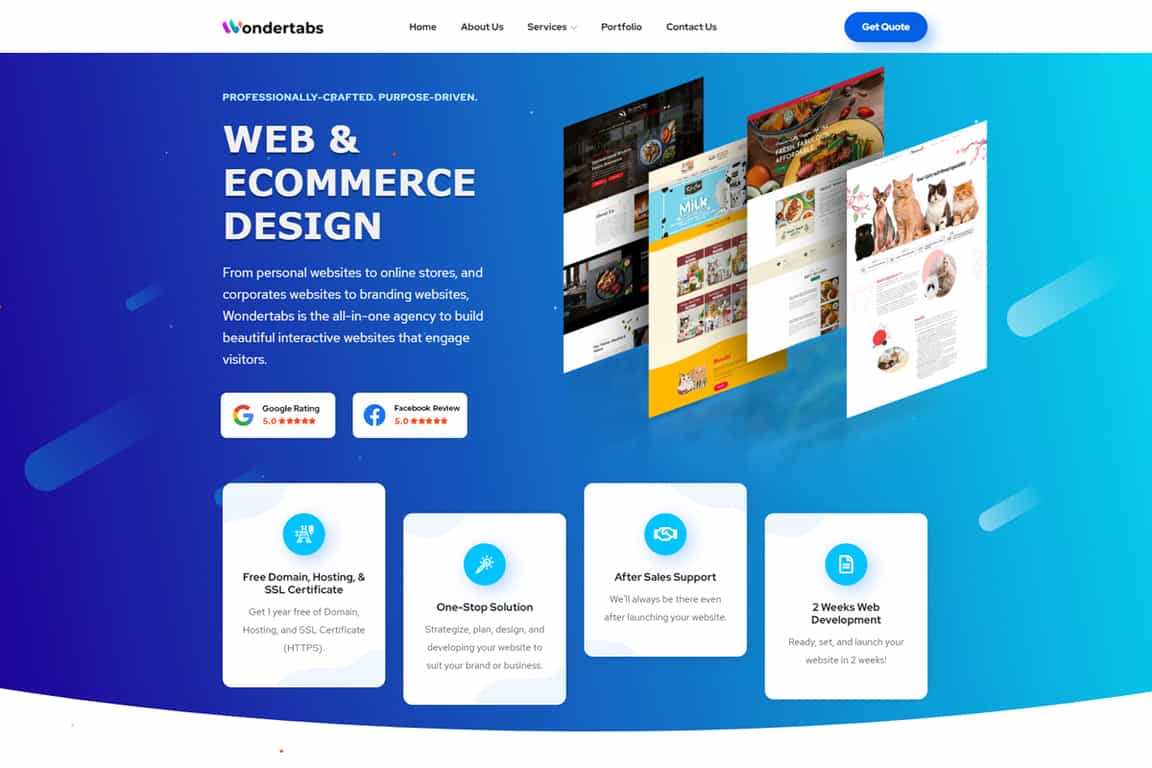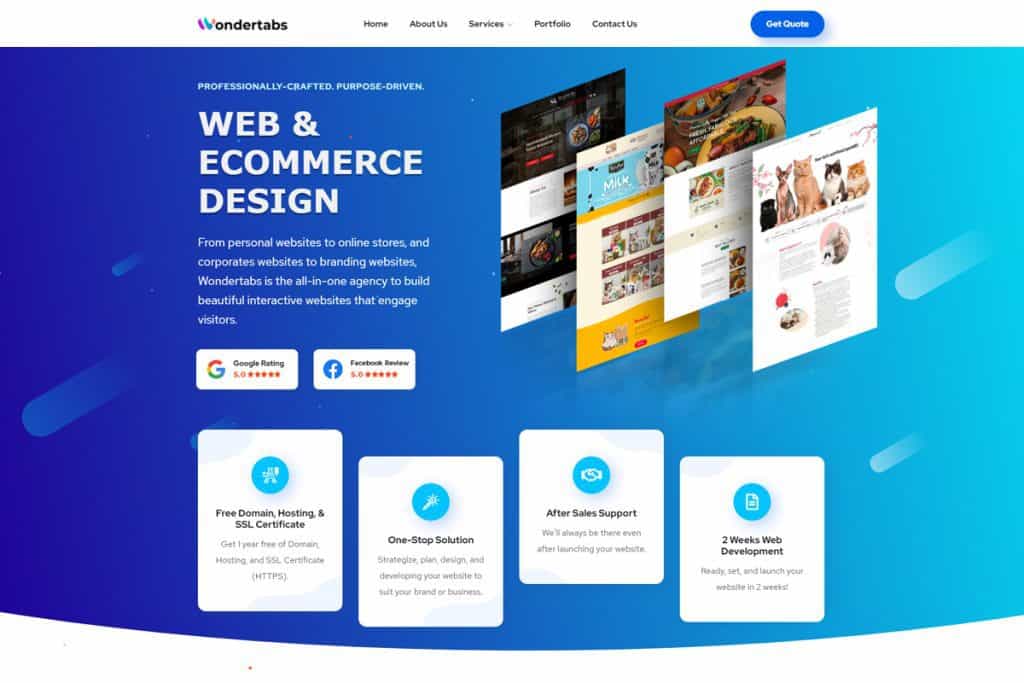 Wondertabs is a well-established design agency based in Singapore.
They possess years of experience in web designing and are home to some of the most dynamic and experienced web designers who are always eager to create state-of-the-art websites for their clients.
Their web designers pay close attention to each and every detail.
They ensure that the graphics, layouts, colour contrasts, animations and call-to-action used for your website are appropriate and reflect your brand's identity accurately.
They leverage their knowledge to design websites that can convert visitors into customers.
These websites are easy-to-use for non-tech savvy users, are visually appealing and are optimised for various devices (e.g. mobile, desktop, tablet).
They also make sure that your site is searchable by Google.
Reviews praise the company for website design in Singapore for their exceptional after-sales support.
4. Reed Tan Digital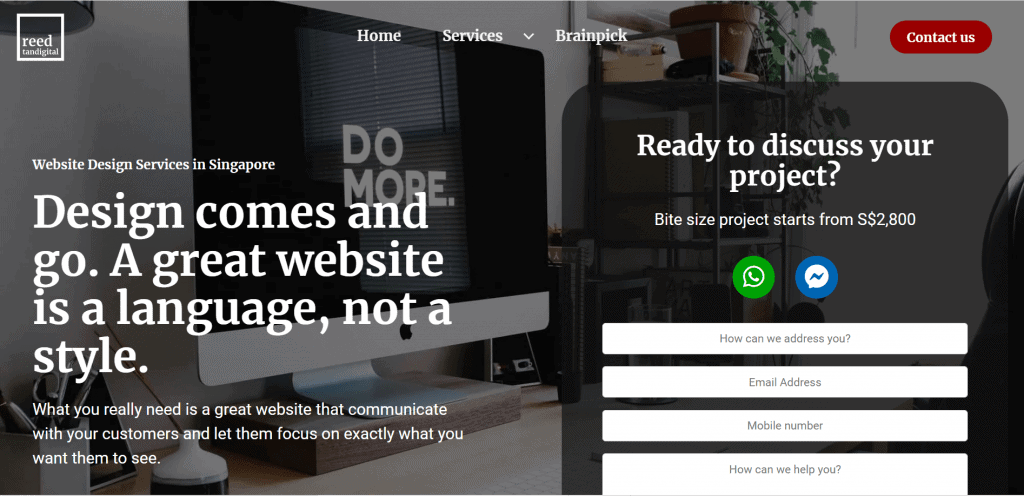 Headed by a team of experienced marketers with more than 15 years of experience, Reed Tan Digital was founded with a desire to help businesses adapt and grow by injecting expertise into their marketing mix.
Their website design services strive to incorporate three elements into your website:
Visual Creatives;
User Experience & User Interface Design;
Marketing Analytics
They have three website design plans for you to choose from:
Bite-Sized (5 custom page designs);
Essential (10 custom page designs);
Comprehensive (15 custom page designs)
All three plans come with responsive web design, search engine optimisation and website optimisation.
Reviews praise the company for website design in Singapore for being clear in their creative direction and for communicating effectively with clients.
5. Novage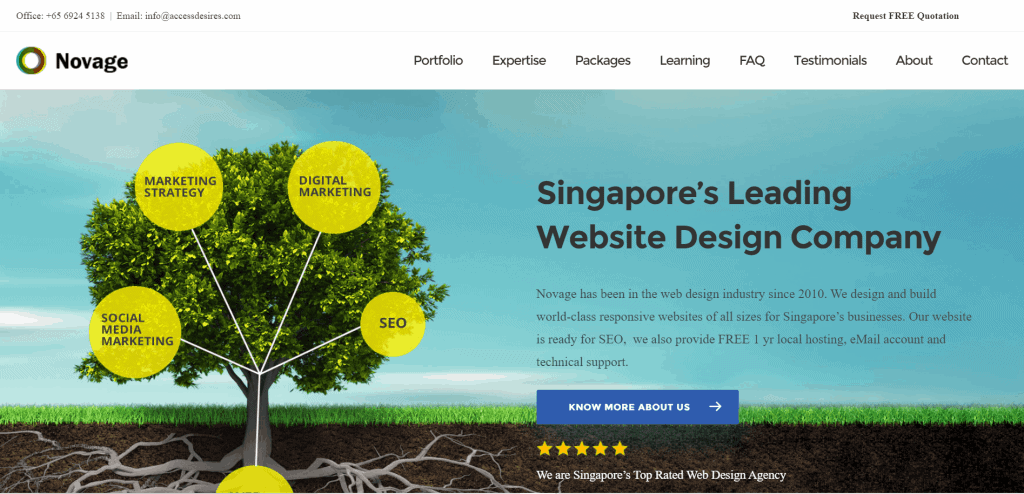 Having been in the web design industry since 2010, Novage designs and builds responsive websites for Singaporean businesses of all sizes.
Their website design services include the following:
Web Development;
Web Maintenance;
Search Engine Optimisation;
Landing Page Design;
Microsite Design;
Digital Marketing
Their step-by-step website development process is as follows:
Consultation & Requirements: The first step consists of meeting their web consultants who will help you with your initial idea. They will discuss with you your objectives and how best to achieve them.
Initial Draft: Based on your input, they will come up with a prototype of your website's design. In general, this happens within five business days.
Development: Once they agree with you on your website's prototype, their team of web experts will begin developing it. Their graphic designers work closely with their web coders to make sure that every single aspect of your website's design and functionality is at its best.
Content Upload: The next step after development is content upload. After your approval, they will upload your website online so you preview it on your computer. Don't worry, they will still need your input and approval before your website is made public.
Training: To make sure that you know all you need to know about your website, they will invite you for a training session. You will get to learn things like how to upload new content, analyze your website's performance, check out statistics, and more.
Testing & Go Live: Once your website has been tested, they will publish it and make it visible online.
What sets Novage apart from the competition? Well, simple.
They provide better service and results at a fraction of the price tag of other companies.
On average, you can save up to 63% per cent on your annual website costs with the company, while still receiving round-the-clock support.
Novage also provides unlimited technical support without any limitations.
Reviews praise the company for website design in Singapore for being proficient in website content creation as well as administration.
6. Hello Pomelo Creatives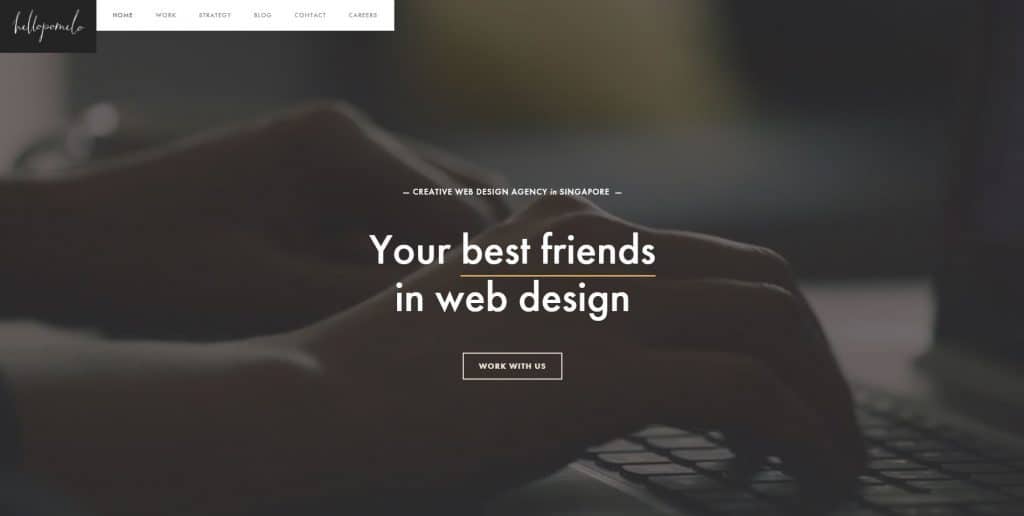 Hello Pomelo Creatives specialises in web design and development of personal, corporate and e-commerce websites.
The website design in Singapore follows a systematic process when carrying out their work.
This begins from planning and consultation to brainstorming ideas and finally, the design work itself.
Besides web design and development, they also provide a myriad of other services.
These include branding, responsive web design and Search Engine Optimisation.
Their past clients include Esplanade, Nanyang Polytechnic and Phish Communications.
Reviews praise the company for website design in Singapore for skillfully identifying customers' requirements and overall brand direction, while keeping in mind budget and timeline constraints.
7. Web Delegate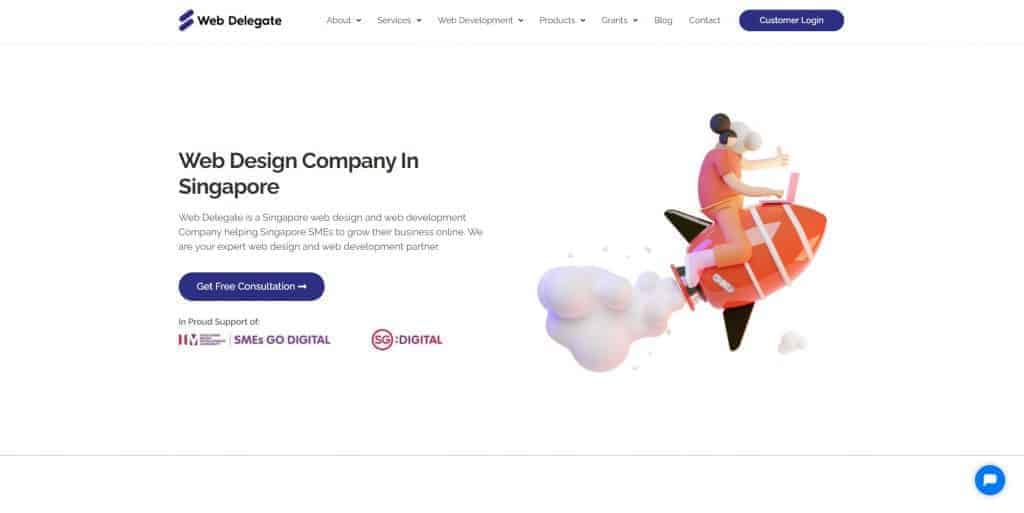 Web Delegate is a complete one-stop digital solution company that focuses on helping Singapore companies digitalise.
They provide the following range of services:
Website Development;
Search Engine Optimisation;
Google AdWords;
Facebook Ads;
e-Commerce Website;
Custom Web Applications
With nine years of experience under their belt, Web Delegate has a tried-and-tested process in place to automate website development and deliver websites within 5-15 working days.
You can take your pick from any of the company's three web design packages:
Essential (One reference website);
Pro (Two to three reference websites);
Custom (Custom web design)
Web Delegate also guarantees a 100% refund in the event that you are not satisfied with the first draft of your website design.
Reviews praise the company for website design in Singapore for their friendly and patient staff.
They will take the time to teach their customers how to operate their new websites effortlessly.
8. Lemonade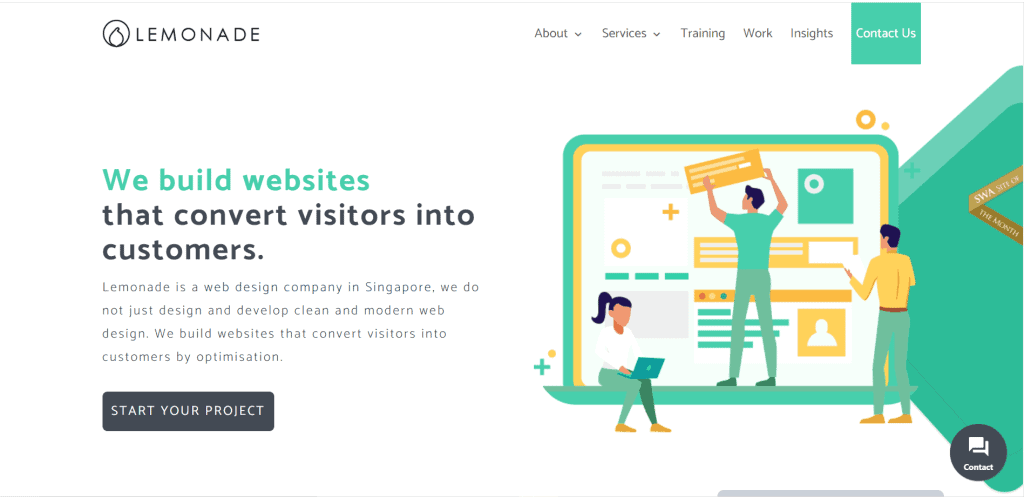 With 18 years of experience in web design and digital marketing, Lemonade is a leading web design company in Singapore.
Their services include eCommerce website design services and WordPress maintenance.
Their specialty lies in designing a website that is bespoke, clean and modern to appeal to customers.
With their WordPress and Divi Page builder, you can also use your website more easily and stay visible on search engines for longer.
With three stock libraries and dedicated designers, rest assured that your website will be designed according to your business' needs and your brand's identity.
The cost of a web design service under Lemonade is between $3,800 to $15,000.
Reviews praise the company for website design in Singapore for going the extra mile to help customers to resolve any technical issues that they might face when using their website.
9. Krome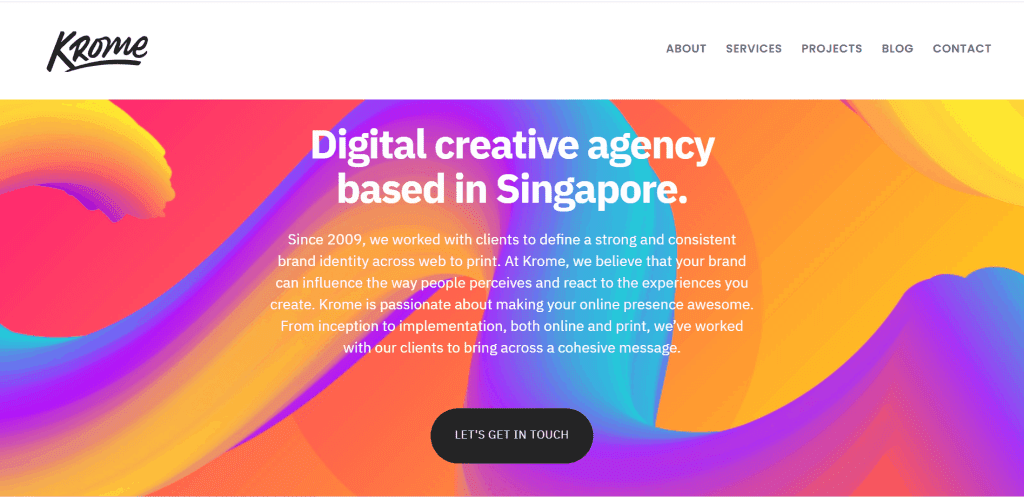 Since 2009, Krome has been working with clients to define a strong and consistent brand identity across various platforms, from web to print.
From start-ups to enterprises, Krome provides end-to-end support for companies that need a website.
Their digital capabilities include the following:
Customised Web Design;
Mobile App Design;
User Interface & User Experience;
HTML5 Google AdWords and Display Banners;
Emailer Design and Tracking
Their technical capabilities include the following:
Customised Web Development;
E-Commerce Setup and Integration;
Search Engine Optimisation-Ready Websites;
Responsive Web Design;
WordPress Support and Maintenance;
Website Security Audit;
WordPress Performance Tuning;
Mobile App Development;
Google Apps Setup and Support;
Personal Data Protection Act Compliance for Websites
The website design company in Singapore has worked with multinational corporations like Adidas and SMEs like A Pixels Photography, Limocars, JoJo Durian and PSB Academy, on various web design projects.
10. Elves Lab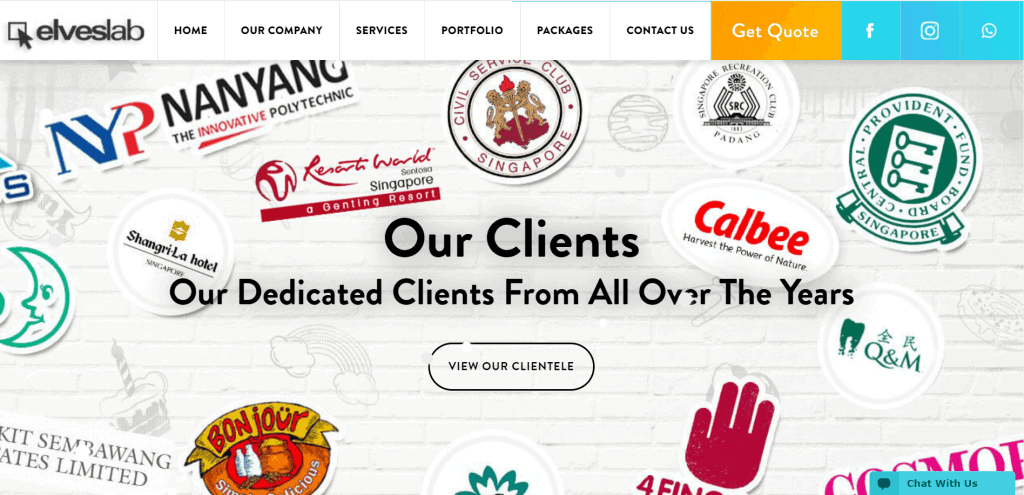 Elves Lab started out in July 2000 with the mission to be a one-stop website design and development solutions provider.
Looking to design an e-commerce website in Singapore?
Elves Lab is the perfect company for website design in Singapore for you.
Our advice is to go with their E-Commerce Web Package.
The package, which allows you to use the domain name for up to one year, comes with the following:
Payment Gateway of Your Choice;
Order Form;
Shopping Cart;
Confirmation Email & New Order Email
It also enables you to include a customised contact form and an animated banner on your website.
The e-commerce web package in Singapore also comes with the implementation of Google Analytics as well as optimisation for websites for Internet Explorer 9 and above, Mozilla Firefox and Chrome.
Their past clients include Institute of Technical Education East College, Red Bull Singapore Private Limited, Consumers Association of Singapore, Hospice Care Singapore and Civil Service Club.
Reviews praise the company for website design in Singapore for providing prompt and expeditious support throughout the entire website development process.
11. Orfeostory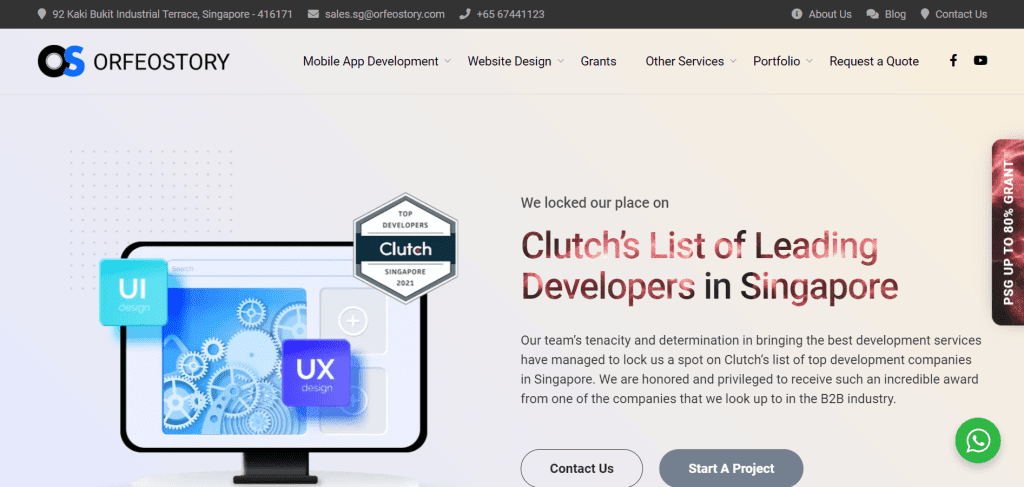 Orfeostory is a leading website design and development company based in Singapore.
They comprise an expert team of professional website developers and designers to create impressive websites for your business needs.
They are an award-winning agency that capable of creating stunning website for your business needs.
Looking for a company for website design in Singapore to design stunning Drupal websites?
Our recommendation is to go to them for their Drupal Website Development Service.
Their Drupal website developers are committed to designing interactive user interfaces for companies looking to provide audiences personalised access to content across various digital touchpoints.
You can think beyond garden-variety offerings and strive to enrich customer experience.
This, in turn, will help you to yield higher Returns on Investment on your website.
They can also help you to tap on the flexibility of Drupal's custom content/post functionality.
They can also assist you to leverage Drupal's taxonomy system to manage your content with ease.
Reviews praise the company for website design in Singapore for being professional and for being timely with their replies.
12. Awebstar Technologies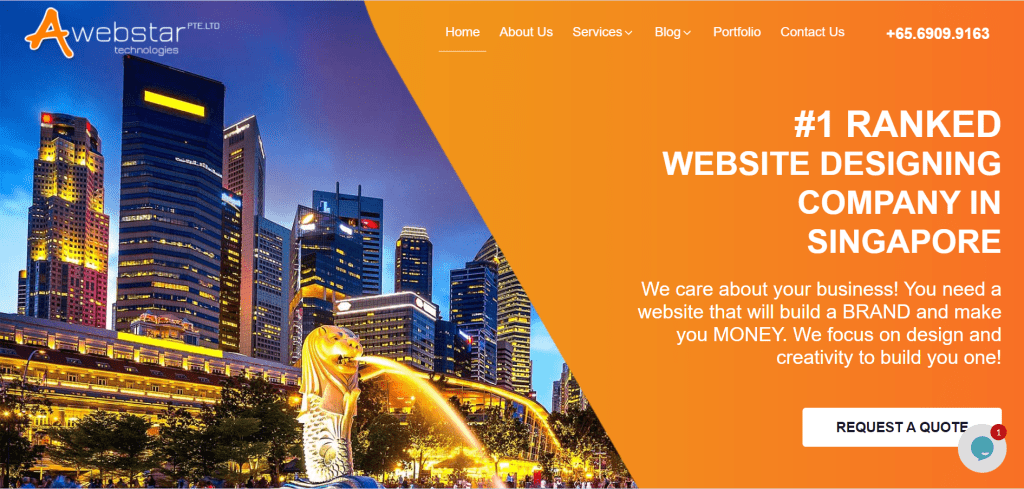 Awebstar Technologies Pte Ltd is a well-known website design company in Singapore.
They will help you to stay ahead of the competition and increase conversions by giving your website a sleeker and more professional look.
The company for website design in Singapore has completed over 4700 projects, ranging from e-commerce websites, personal portfolio to corporate website design.
Their website designs adopt a simple back-end framework that establishes a robust starting point for future upgrades, enabling you to change the website code easily without much of a hassle.
The company for website design in Singapore offers two types of web design plans for you to pick from:
Platinum (S$3499): 100% customised design with up to 15 royalty free stock photos and up to 15 pages. There is a lead time of 15 days and a complimentary three-month long website maintenance. You will also be given 6 professionally-designed web banners to embed in your website.
Gold (S$2288): Ready-made template selection with up to 5 royalty free stock photos and up to 5 pages. There is a lead time of 10 days and a complimentary two-month long website maintenance. You will also be given 2 professionally-designed web banners to embed in your website.
As per your needs, they allow for direct face-to-face communication with their website developers.
Reviews praise the company for website design in Singapore for being accommodative to clients' requests.
13. JIN Design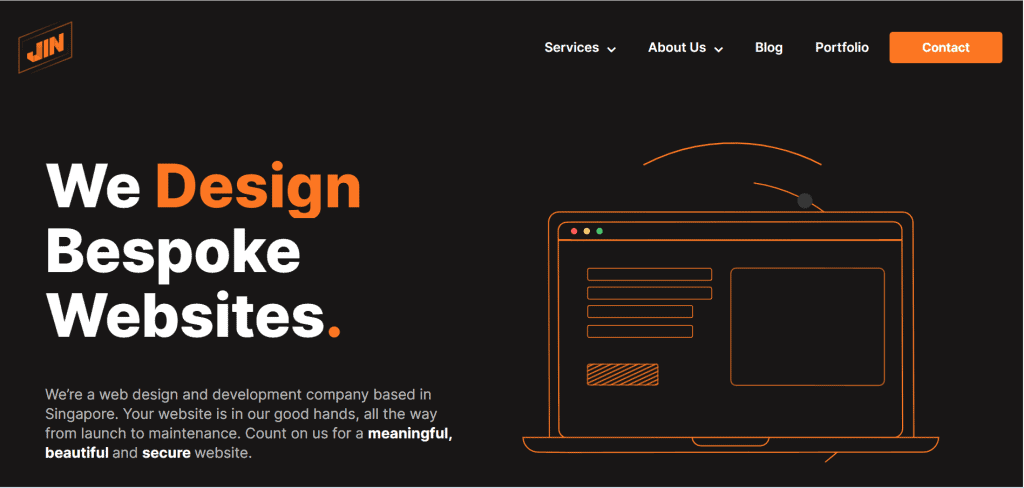 JIN Design is a one-stop website company in Singapore providing services such as design, development, enhancement and maintenance for websites.
Their aim is to support clients by improving their websites' communication, performance and security.
The websites they design and develop are painstakingly crafted by their designers and copywriters, all with the goal of connecting your business instantly with your customers.
There are four steps to their website development process:
Start: Design and develop your new website from scratch.
Convert: Improve your website conversion with a dedicated landing page.
Optimise: Upgrade your website and improve website PageSpeed.
Maintain: Maintain your website content and ensure that your website is safe and secured.
Their past clients include PhilipFuture, The Visual Team, ChainDeBrief, Tots and Teddies and Green Packet.
Reviews praise the company for website design in Singapore for their responsive maintenance team.
14. QUAPE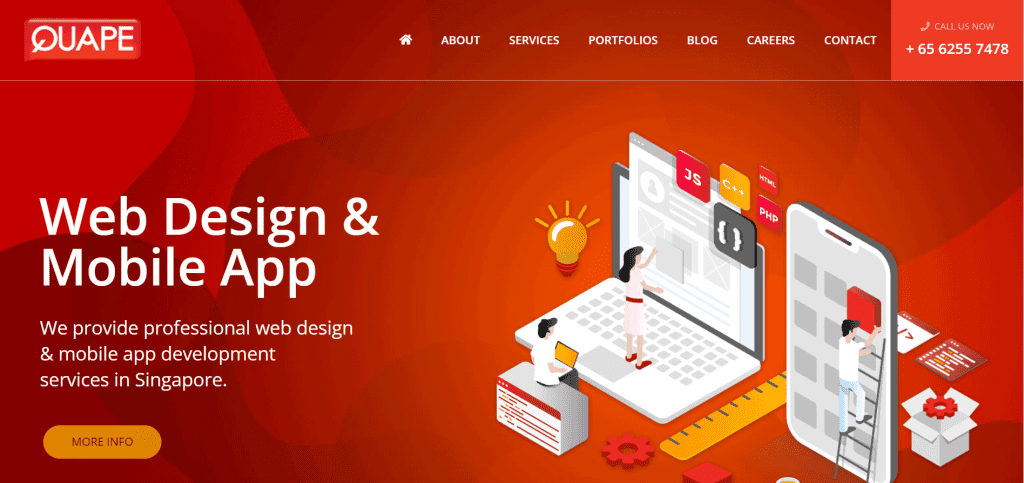 QUAPE is a Singapore IT company that provides a complete suite of services such as Web Design, Graphic Design, Web Hosting, Content Management System and Mobile Apps Development since 2006.
Building a successful digital solution requires a common team that works under a roof.
At QUAPE, they have their own network, servers, infrastructure and web/mobile development in-house.
The website design company in Singapore can use custom programming to develop websites for you.
Sometimes, ready-made available plugins or components are not available for your business website.
At QUAPE, they have a team of full-stack developers that can meet your business' requirements by creating your website using popular frameworks such as Laravel, Codeigniter, React JS and React Native.
They also have a team of experienced designers who can draw on images from their stock image library.
Reviews praise the company for website design in Singapore for their approachable and reliable staff.
15. Subraa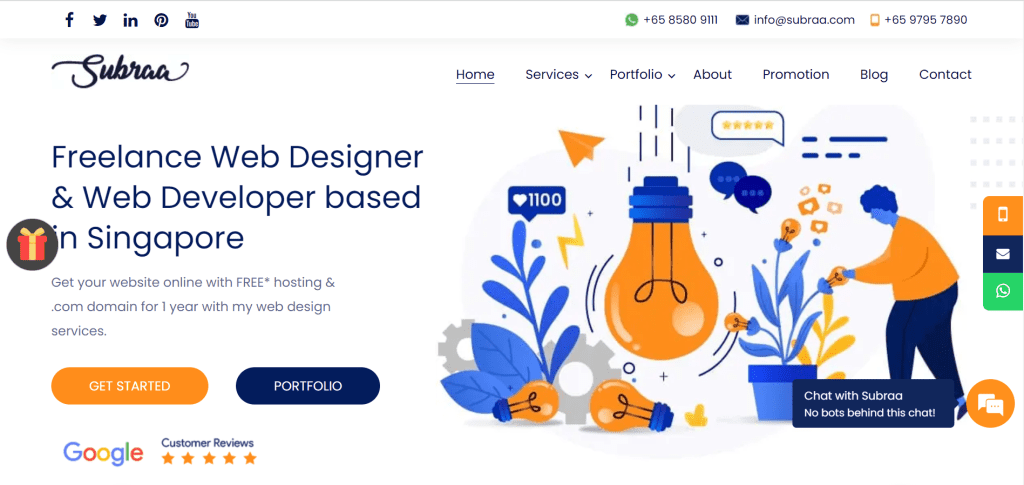 Subraa is a freelance web designer, web developer and WordPress website designer based in Singapore.
Graphic design and web design started out as his hobby but ended up becoming his profession.
Subraa has been designing websites and providing graphic design services to clients, by translating their website requirements into visually compelling HTML/CSS or WordPress-powered websites.
Subraa's approach to website development follows a five-step process:
Idea: He will analyze the business' needs against the website requirements and propose a solution. Also, he will document the requirements to make sure that nothing gets missed out.
Concept: He will develop the initial vision of the project. This encompasses documenting every strategy employed for web design as well as development or application development.
Design: Start building the website mockups/User Interface wireframes based on the concept.
Develop: Once client approval is obtained, develop the designed mock-ups into the desired website.
Test: Website hosted on demo server and link shared to client for feedback and final review.
Past projects they have completed include a Static Website Design for Translation Services Company in Singapore, a WordPress Content Management System (CMS) Website Design for a Restaurant in Singapore, and a WordPress CMS Website Design for a Digital Lock Concept Store in Singapore.
Reviews praise the freelancer for website design in Singapore for being always reachable, even after office hours or on public holidays.
Subraa was also attentive and helpful during the entire website development process.
16. OOm Pte Ltd
OOm is a full-suite digital marketing agency that is ranked among the top 3% of Google Partners in Singapore. Over the years, it has also bagged home plenty of prestigious awards that are a testament to its capabilities.
OOm focuses on using data-driven strategies and actionable insights to deliver results for its massive lineup of clientele from both MNCs and SMEs. Today, it has a regional presence with offices in the Philippines, Hong Kong, and China.
It offers website design for both e-commerce firms and corporates, and aims to build its websites around these factors:
Optimising user experience with great UX design
Building SEO-friendly sites
Delivering a smooth payment experience
Robust technical support
Handling and optimising web content
Personalising webpage
17. Dynamic Web Development
Dynamic Web Design echoes its motto in everything it does – to impress and outperform the rest. It strives to aid businesses and professionals stay ahead of the competition with digital solutions.
It has also helped more than 500 companies grow since its inception. These are some of the website design and development services offered:
Landing page/static websites
Fully personalised dynamic websites
E-commerce websites
Website revamp
18. FirstCom Solutions Pte Ltd
FirstCom Solutions is a full-service digital agency that uses data-driven digital solutions to help companies grow.
It has helped more than 5,500 Singaporean companies transit from offline to online for over 10 years. FirstCom uses its internal skills, data, and results-oriented aims with a huge team of 250 experts in their respective specialisations.
Here are some features you can expect from its web design and development services:
Bespoke design and user experience
Complete control over your website
Enhanced credibility for your business
19. MediaPlus Digital
MediaPlus Digital offers all-inclusive web design and digital marketing services in Singapore. It has more than 10 years of experience in the industry and has proudly helped over 500 companies edge ahead of their competition.
It is fully results-driven with the belief that good digital techniques should provide real-world returns. MediaPlus Digital is also a Google, Facebook, and IMDA SMEs Go Digital Partner.
You can engage it for corporate website design and be assured of quality results and a seamless experience!
20. Roquepress
Roquepress is hungry on results and technological advances, both of which it uses to create exceptional quality and customer satisfaction for its services.
It focuses on creating lifelong relationships with its customers through leading results, sales growth, and enhanced return on investment (ROI). This business has humble beginnings from an apartment in Jurong to a full-fledged service provider today.
Roquepress believes in using content-driven design to help companies breakthrough with a new website or upgrade their existing sites.
Conclusion
Do you have any reviews and comments to share regarding our choices for the best website design company in Singapore?
While SBO is committed to supporting our local businesses, we welcome any feedback and anonymous sharing regarding your experience with the listed website design companies in Singapore.
We hope that this guide will be useful in helping you to make an informed decision when it comes to finding the best website design company in Singapore.
But that's not all: website design often goes hand-in-hand with digital marketing to increase conversions.
This is where a digital marketing agency in Singapore can come in to save the day (and your business too).
Are you featured in this?
Display this exclusive SBO badge proudly on your website!