10 Best Translation Services in Singapore to Convey Your Message Accurately [2023]
Find the best translation services in Singapore to convey your message accurately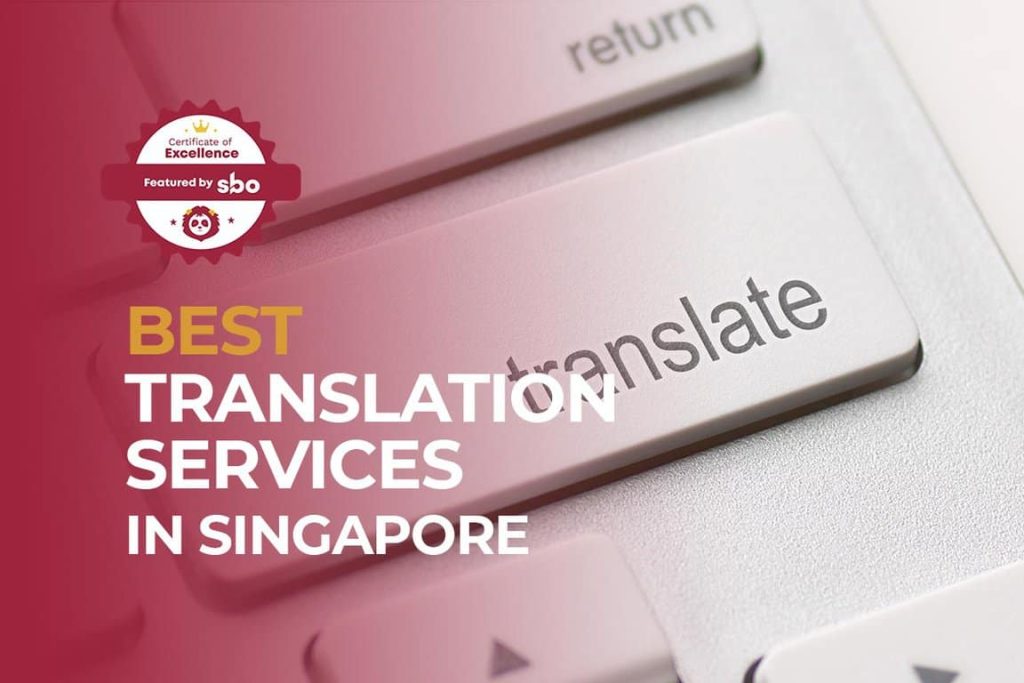 If we need to translate something from a language to another, we use the most convenient method which is Google Translate.
Yet this tool, as convenient it might be, can make a mess out of what you intend to convey. Here's where the best translation services in Singapore will come in to help you.
Professional translation services in Singapore ensure that all messages that you intend to convey from a language to another are made as clear as possible.
They are very clear about the subtleties of the language. They are able to convey idioms and metaphors of a particular language in the most accurate manner.
In this post, we've gathered all the necessary details including unravelling reviews and testimonials to derive a list of the 10 best translation services in Singapore that you can help to convey your message accurately.
1. Translation Services.sg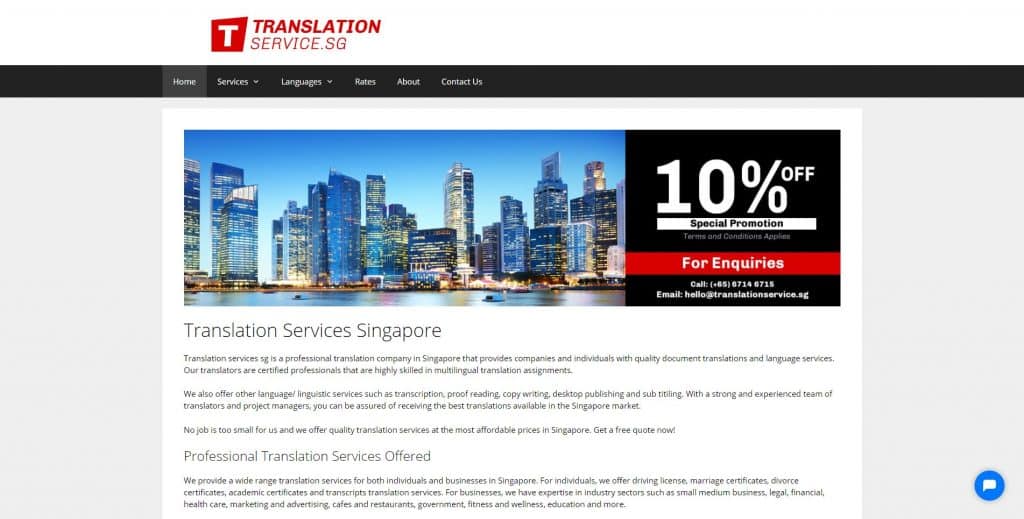 Translation Services.sg is a professional translation company in Singapore that provide companies and individuals with document translations and language services of the highest standards.

They provide quality translation services for all kinds of documents such as financial and medical documents. Translation services for the legal, marketing and life science professions are provided as well. If you would like to have your website translated to another language, their services are ideal for you.

Other language services that Translation Services.sg offers comprise of translation, proofreading and copy-writing services.

Translation rates are usually offered between S$0.06 and S$0.035 per word. Any additional charges will be made aware to you before you accept the quote. You will also be happy to know that service fees are waived and special discounts are offered when a project exceeds a certain amount of words.
2. ACTC Translation Centre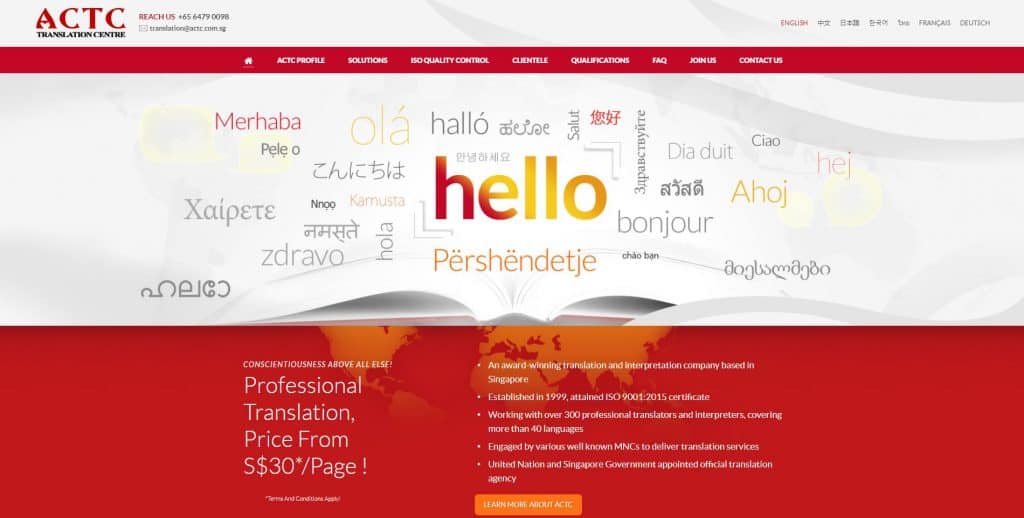 Established in 1999, ACTC Translation Centre aims to deliver a high-quality translation and interpretation service.
They provide translation services for literary, commercial, technical, legal, standard and academic documents. Clients can also benefit from their interpretation services of various forms which consist of an on-site, conference, telephone and cultural interpretation. Other services provided include software localisation, translation and copywriting.
All translation and interpretation services are done by native speakers and their qualified linguists who are experts in more than 40 languages.
ACTC Translation Centre is one of the first translation services in Singapore to obtain the ISO 9001 certification. This ensures that the quality of their translation services is controlled at various stages from the first response to their client's enquiry, to translation, proofreading, typesetting, delivery and follow-up revision.
3. Raffles Translation Singapore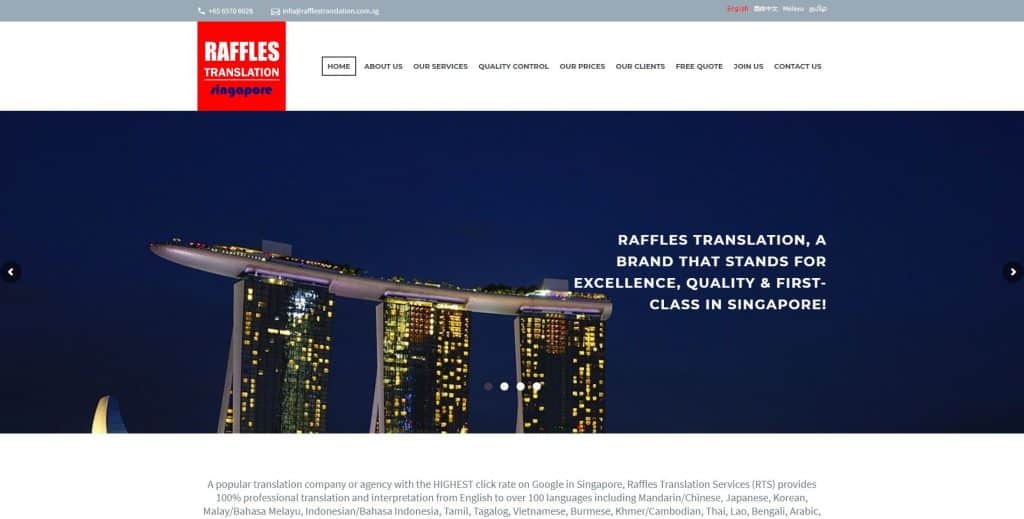 Raffles Translation is a professional language provider in Singapore established in 1999, dedicated to achieving its ultimate goal of becoming a world-class translation company.
As an elite team in the industry, they focus on providing specialised multi-language translation and interpreting services as well as other language-related services. These include interpreting service, website localisation, proofreading, transcription, voiceover and subtitling.
Translation services are provided in various categories, namely financial translation, legal translation, life science/medical translation, technical translation, business translation, aviation/shipping translation, Chinese literary translation and certified translation.
Raffles Translation offers one of the most competitive rates, ranging from S$0.06 to S$0.35 per word in the source document. These are dependent on various factors such as source and target languages, turnaround time and technical nature of the text.
4. Chambers Translation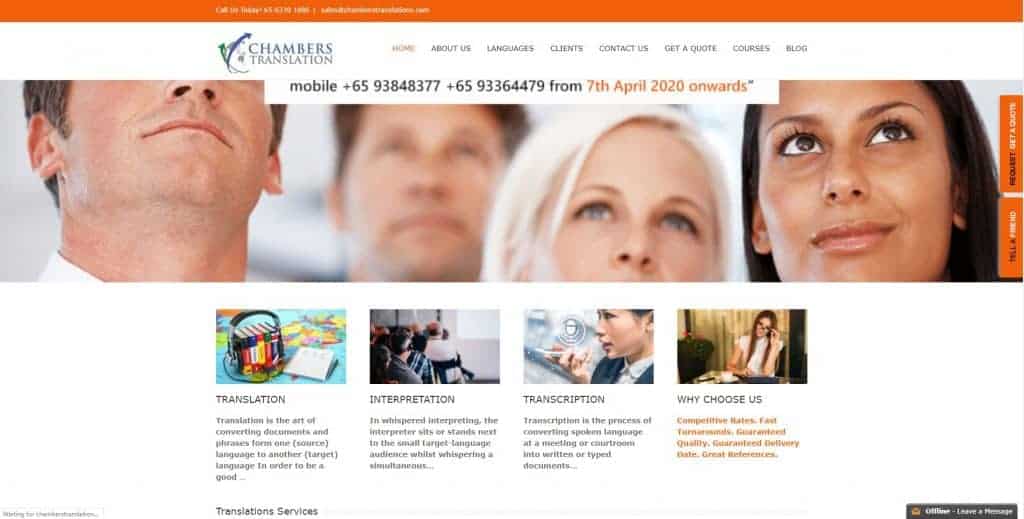 Founded in 1995, Chambers Translation offers excellent translation services for their clients to launch their products and facilities in the global market.
They provide translation for a wide range of documents such as diploma certificates, wedding certificates, legal contract, divorce decree, driving license and bank statement in various languages including Chinese, French, German, Tamil and Tagalog.
Besides translation, Chambers Translation also provides other forms of services to meet their client's needs ranging from graphic design, SEO, dubbing, voiceovers and subtitling services.
They also offer language courses in Spanish, German, French, Japanese, Mandarin, Vietnamese and many more. They are flexible and customised to meet your needs.
5. Lyric Labs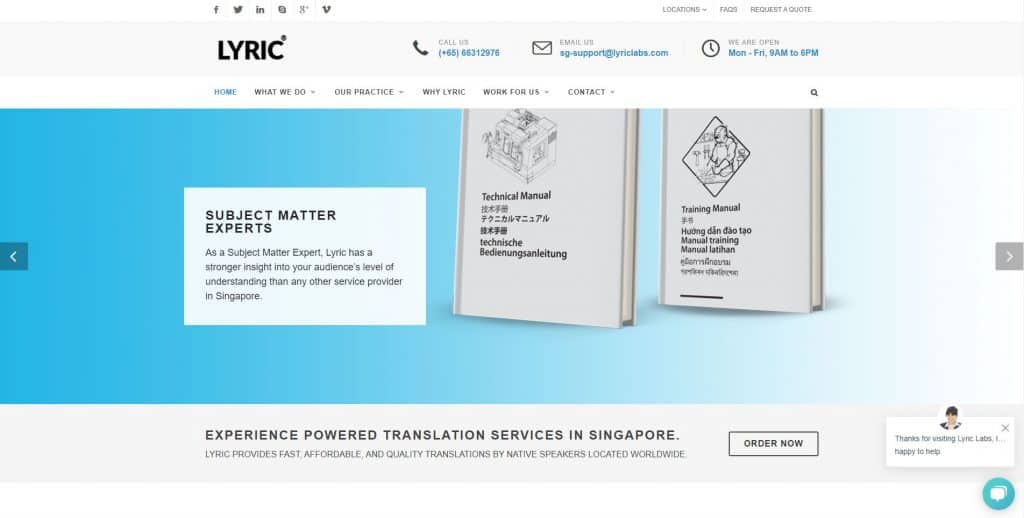 Founded in 2005, Lyric Labs provide translation work for various industries such as technical, engineering and educational assessments. Their staff are well-trained and skilled in providing quality translation work in a timely manner.
Other than the conventional translation services, Lyric Labs also provide other services comprising of website translation, multilingual desktop publishing, audio & video translation, telephone interpretation and onsite interpretation. Services are priced at S$40/page.
6. WhizWordz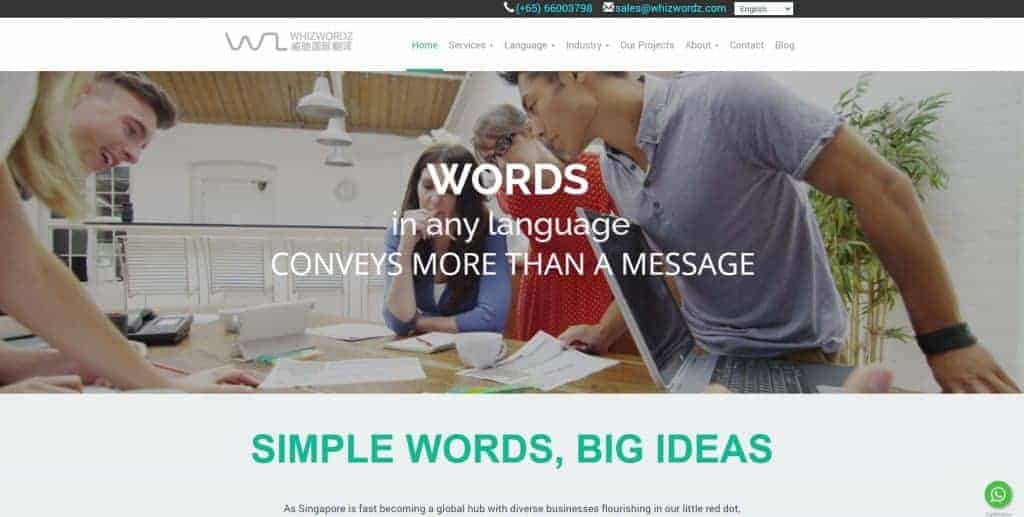 Established in 2004, WhizWordz handle multiple language pairs for both local and overseas clients. They aim to deliver translation work of the best quality.
WhizWordz offers the best and most value-for-money translation services for various industries to over 40 language pairs such as Arabic, Korean, Japanese, Russian and Brazilian Portuguese. Other services they provide include localisation, copywriting, typesetting, transcription and proofreading.
7. Singapore Translators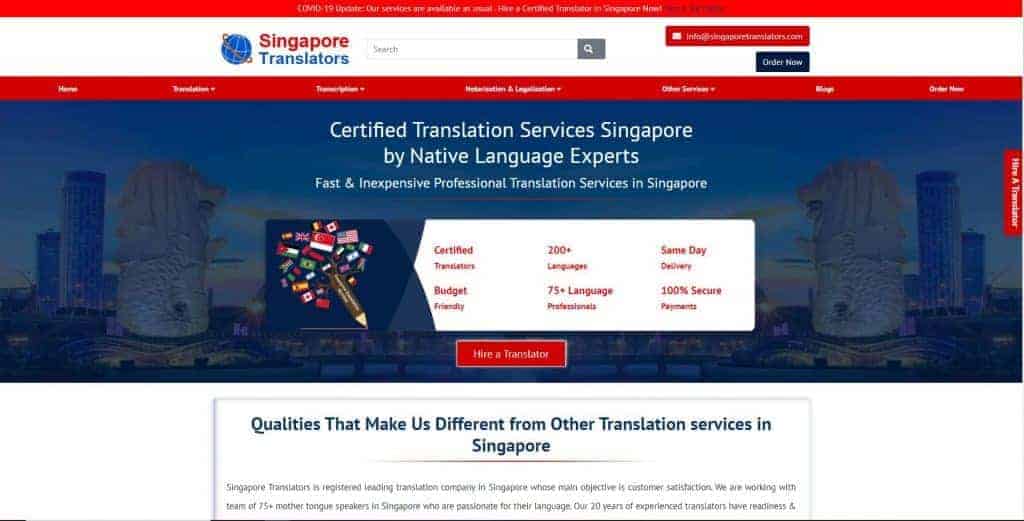 Singapore Translators provide certified translation services aimed at customer satisfaction. Their experienced translators possess strong research skills that will enable them to translate all forms of documents to the highest quality.
Besides the conventional translation services, Singapore Translators provide other forms of service such as audio, video, web design, ghostwriting, copywriting and desktop publishing services.
8. Lingua Technologies International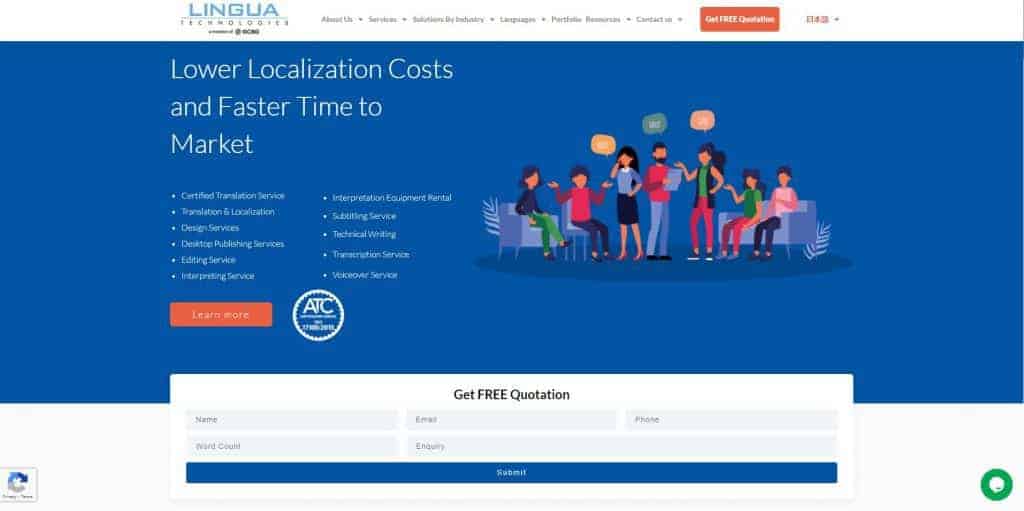 Established in 1996, Lingua Technologies International offers the best quality translation services in Singapore through a network of professionally trained native-speaking translators with subject matter expertise.
They do so by managing all multilingual content and assets centrally with a client-optimized system that is built to deliver a consistent and universal message from all forms of communications with an overall lower localization cost and a faster time to market.
There are various types of translation services that are offered by Lingua Technologies International which include translation and localization, desktop publishing services, editing services, interpreting services and subtitling services.
9. TranslatedRight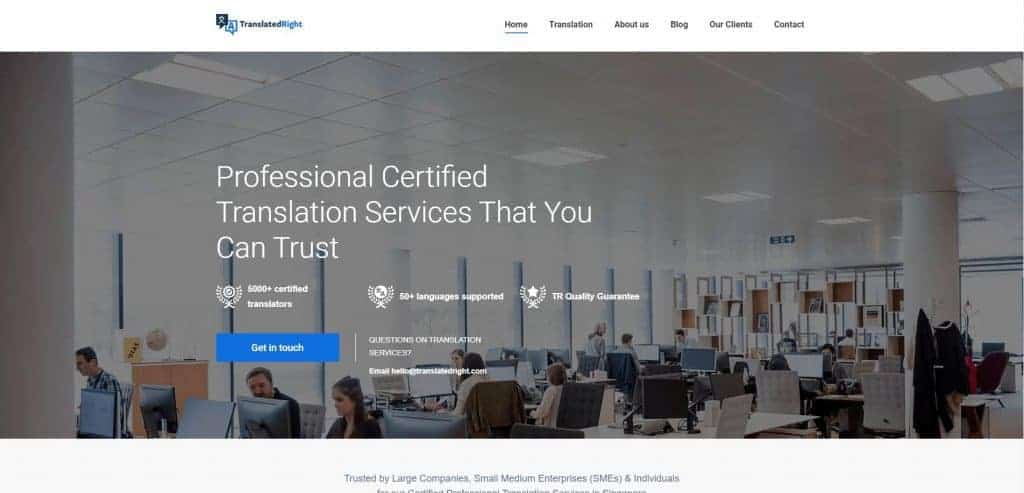 TranslatedRight is a professional translation company in Singapore founded in 2018. With TranslatedRight, you can be assured of its efficiency, service and quality, competitiveness and cost-effectiveness.
TranslatedRight provides professional translation services for various industries such as legal, financial, IT and Software as well as Pharmaceutical and Medical. The types of translation services include website translation, proofreading, transcription, language translation services, document translation and desktop publishing.
10. Letter Crafts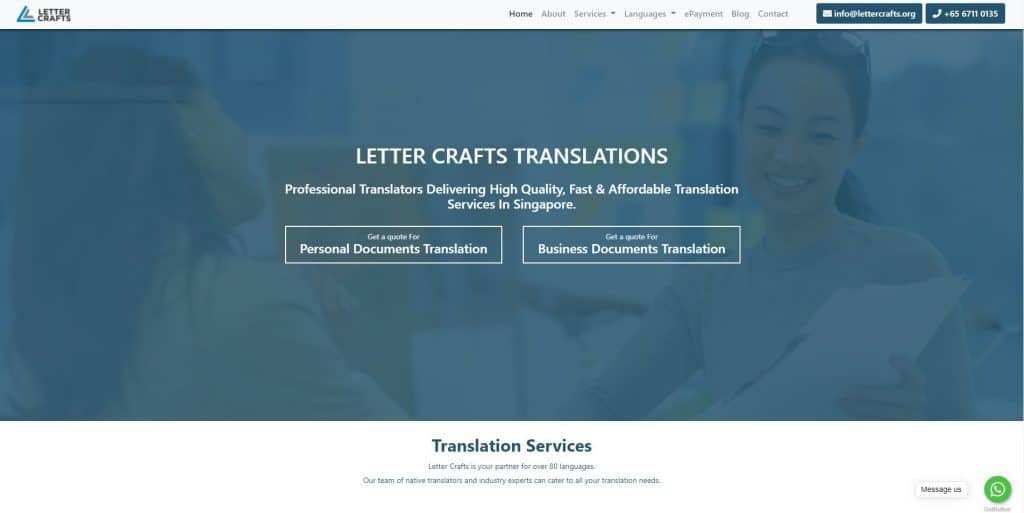 Founded in Singapore, Letter Crafts prioritises providing quick but high-quality translation services at the best rates. Having had years of experience in translating over 80 language pairs and handling complex projects, they are able to meet the varying needs of their clients.
Letter Crafts provide various types of translation services such as legal, medical, technical, business and industry-specific as well as transcreation. Just fill up a form and get a quote from them in 30 minutes! You will be also ensured 6 months post-project support.
Conclusion
Do you have any reviews and comments to share regarding our choices for the best translation services in Singapore?
While SBO is committed to supporting our local businesses, we welcome any feedback and anonymous sharing regarding your experience with the listed translation services in Singapore.
We hope that this guide will be useful in helping you to make an informed decision when it comes to finding the best translation services in Singapore.
Explore More Content