10 Leading SEO Agencies to Consider Hiring for Your Business
Want a strong online presence? Don't ignore SEO.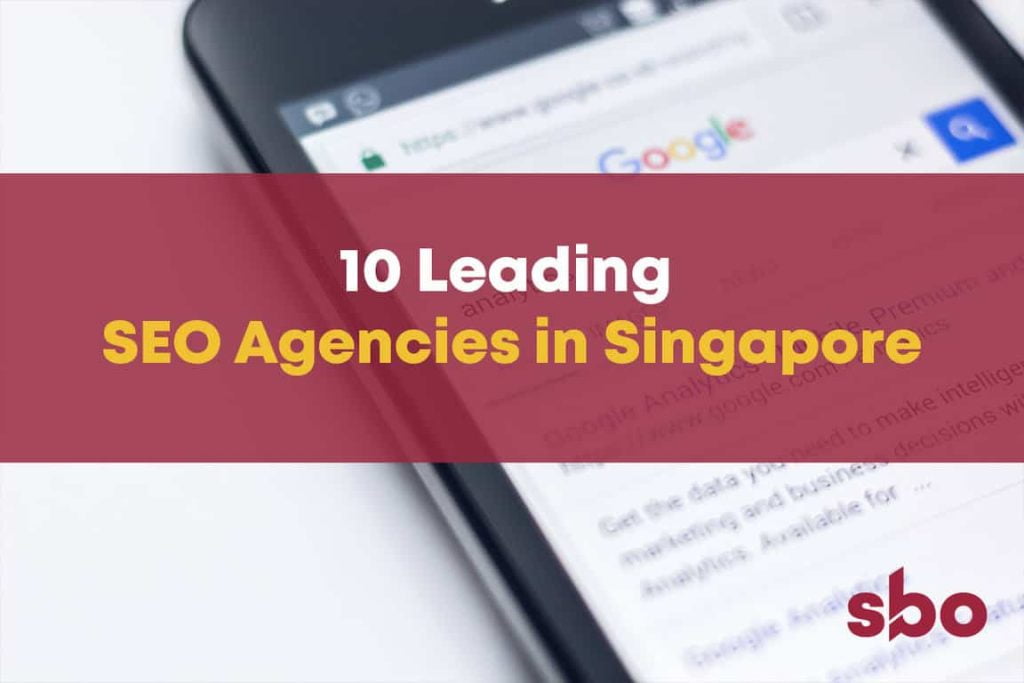 What is SEO?
SEO is an acronym for Search Engine Optimisation. Simply put, SEO increases the chances of your website being listed as a top search result when a user searches for something in Google, Bing, or any other search engine.
In today's connected world of business, for any brand with an online presence, SEO is a crucial factor to monitor! Working with the right SEO company is correspondingly also the first step towards digital marketing success.
What to look out for before engaging an SEO company
Regrettably, easy access to the Internet has resulted in a proliferation of dubious self-proclaimed SEO "experts" who do not have a true understanding of how SEO really works and could even end up doing more harm to your business.
To avoid wasting your campaign funds, it is crucial to have basic SEO knowledge. It is advisable for business owners to at least be aware of the following:
SEO is a long-term strategy
Keyword research practices
Backlinking practices
Content creation
SEO is a long-term strategy
It typically takes around half a year to see real results, in contrast to paid views and ads on search engines which can instantly boost web views (but require constant payment).
Professional SEO agencies also do not merely aim to get you more immediate views or sales; they work on solidifying and maintaining your web visibility. In short, it's all about long term retainable gain, not just short-term boosts. In the long run, this visibility invites valuable collaborations with other companies too.
Keyword research practices
The web itself is full of SEO articles detailing proper keyword research and placement. While this is still a crucial part of SEO, it is hardly the only task. In fact, excessive keyword use, known as keyword stuffing, could even invite search penalties.
Backlinking practices
There's backlinking, and then there's bad-linking.
Simply put, the more referral external links a website has, the greater the chances it would rank high in searches for its targeted keywords.
On the other hand, if most of such links come from dubious websites, such as "get-rich-quick" sites, ranking is likely to plummet.
Content creation services
Without going into specifics, Google implemented a series of algorithm updates over the last ten years, all of which are named after animals.
These updates emphasise user intent and quality of information, as well as penalise what was mentioned above. A true SEO company should thus be able to advise you on content creation (e.g. writing, video production, etc.), if not additionally provide the service.
In this article, we've curated the top 10 SEO companies that can help to give your business a huge boost in the long run.
1. Absolute Digital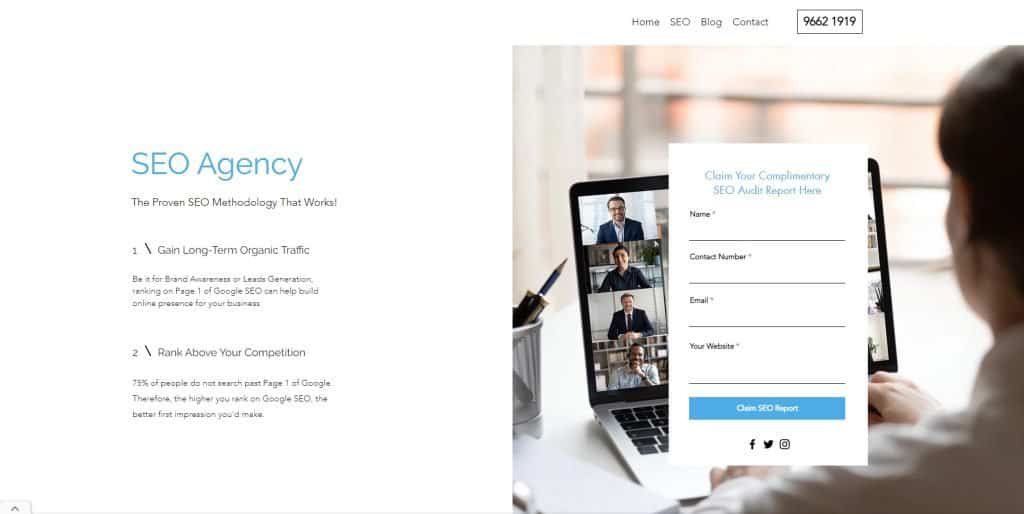 Absolute Digital is Singapore's Top Multi-Award Winning SEO Agency Providing Certified Google SEO, Google Ads, Website Design, and Social Media Marketing Services in Singapore.
Rated highly on Google Reviews (Over 60 5-star reviews), Absolute Digital is proud to be the Top SEO Agency in Singapore. Ranked #1 on Google for "Google SEO Agency", they've also helped their clients strategise and implement their creative visions on the most effective digital marketing platforms depending on their business objectives and goals.
Their Fast-Growing Digital Marketing Agency is driven by passionate thinkers who work closely with each brand to create strategies that produce unparalleled results. They love content and design, but really thrive on the data necessary to succeed in a digital world. For quick results, read their blog for some useful articles possibly applicable to your business. Alternatively, you may reach out to them at [email protected] or call them at +65 9662 1919 for a complimentary SEO Audit Report.
Highlights:
Ranked #1 on "Google SEO Agency"
Award-Winning SEO Agency
Top Digital Marketing Agency Award
Local SEO
International SEO
White-Hat SEO
Google SEO Dedicated Accounts Manager
Facebook/Instagram Ads Dedicated Accounts Manager
TikTok Ads Dedicated Accounts Manager
Notable Clients:
2. MediaOne Marketing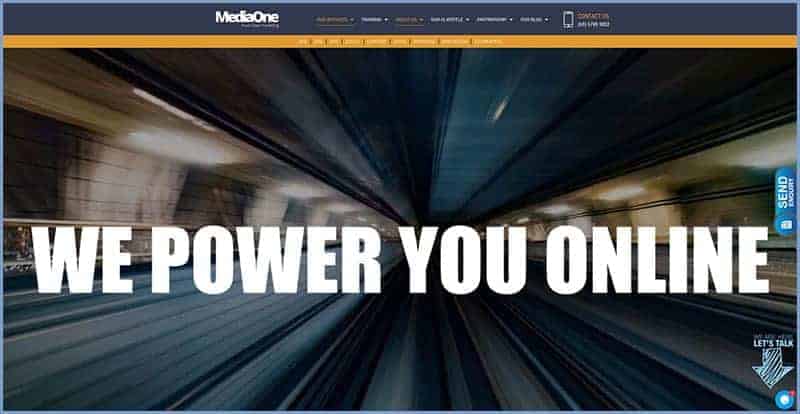 Considered one of the top SEO agencies in Singapore, MediaOne Marketing has a remarkable portfolio to show—one that features big corporation names such as ST Electronics and EDB Singapore.
They also pride themselves on being ISO-certified and is the only SEO company in the country to be accredited by this standard as of 2019.
In terms of expertise offered, MediaOne Marketing is comprehensive in range, including in its services Social Media Marketing and Online Reputation Management, which translates to them being more than capable of managing full-fledged marketing campaigns.
Their website also recently launched a series of COVID-19 relief packages for marketers, demonstrating the agency's dexterity in adapting to changing business climates.
Notable Accomplishments of MediaOne
ST Electronics: Improvement of Domain Authority and achievement of Featured Snippet status on Google.
EDB Singapore: 135.33% increase in conversion rate and 35.86% increase in web traffic for divisional website.
3. First Page Digital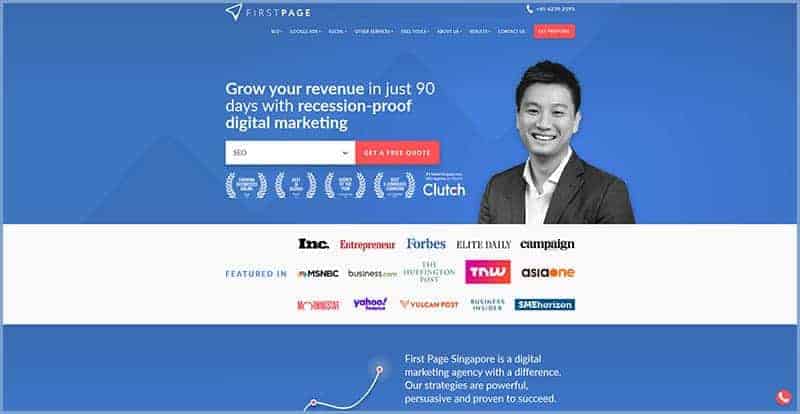 Similar to MediaOne Marketing, First Page Digital offers a wide range of services, including Paid Search Management and Social Media Management. Its displayed portfolio also highlights several notable retail names.
In contrast to several other SEO companies, though, they specifically offer Local Search Optimisation as an option. These enhancements amplify business visibility for location-based searches, an improvement that could be more beneficial to companies selling to a specific region as compared to national or global brand awareness.
Furthermore, First Page Digital provides ads management services for major social media networks such as Linkedin, Instagram, and of course, Facebook. For companies already clear about whom and where they wish to target, First Page Digital could be an ideal fit.
Notable Accomplishments of First Page Digital
Floristique: 363% increase in clicks and 64% increase in sales.
Cat & the Fiddle: 376% increase in clicks and 338% increase in web sessions.
4. Impossible Marketing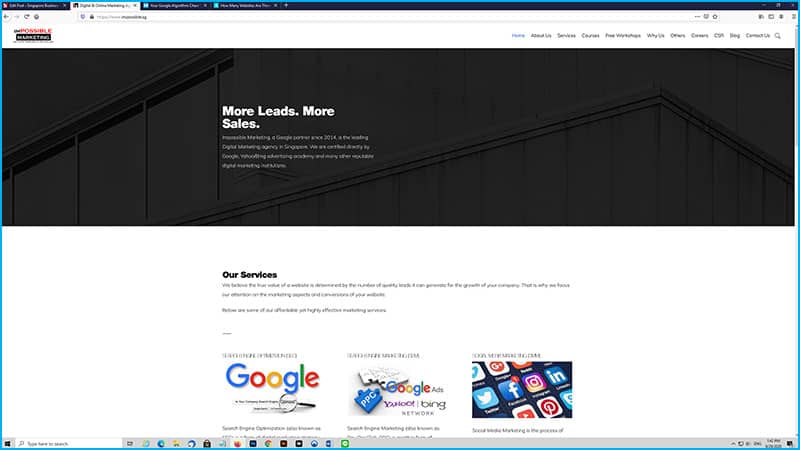 A Google Partner Company since 2014, Impossible Marketing stands out from the competition by providing many free workshops, with some paid courses also SSG Approved and SkillsFuture Credit eligible.
For companies new to SEO and online marketing, these workshops and courses could be invaluable in understanding what objectives to aim for.
As an SEO company, Impossible Marketing naturally also offers digital marketing and SEO solutions for organisations that prefer to leave all actual work to experienced professionals.
Lastly, their list of services includes a web application development package. This is presumably attractive for companies looking to automate business processes using the Internet while enhancing their online presence.
Notable Accomplishments of Impossible Marketing
Kalms Singapore: Improved product awareness after video marketing campaign.
5. SEO Good Guys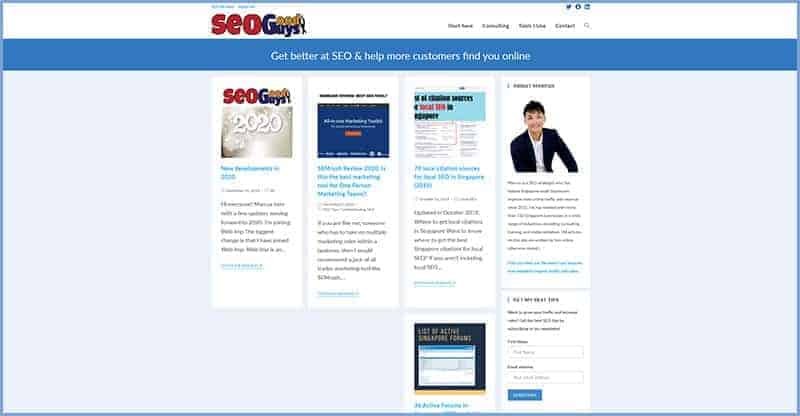 In operation since 2011, SEO Good Guys uses the powerful SEMRush suite of services to audit and improve search engine rankings of clients.
While SEMRush is a paid service available to all, its complex reports are often best left in the hands of professionals. This is particularly so when it comes to remedial actions.
Notably, this Singaporean SEO company also offers customised "kick-starter" packages for startups new to SEO and marketing. For fresh companies still uncertain on how to further develop their online campaigns, these packages could be useful in indicating the right direction to head in.
Notable Accomplishments of SEO Good Guys
Have assisted over 150 Singapore businesses since 2011 to improve traffic.
6. Best SEO Singapore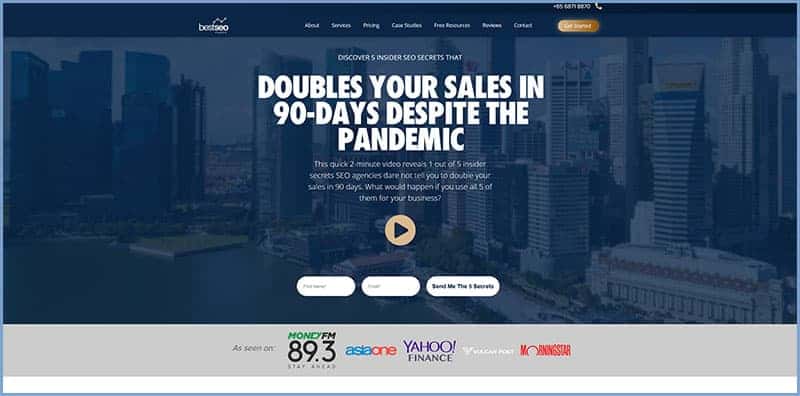 Apart from having a wide suite of services similar to some of the above-mentioned agencies, Best SEO Singapore specifically targets the real estate industry with a Real Estate Digital Marketing package. In fact, their website proudly claims that they are the "Best Real Estate Digital Marketing Agency in Singapore."
They are not restricted to property businesses, though, having also worked with other industries such as F&B and tertiary education institutions. Overall, their marketing message places heavy emphasis on improved revenue too. In their words, not just getting views, clicks, or shares.
In short, businesses in need of quick profitability improvements are likely to find Best SEO Singapore an attractive agency to consider. Their experience with leading realtors would also make them a foremost option for real estate businesses.
Notable Accomplishments of Best SEO Singapore
Major realtor clients: PropNex and ERA
Nanyang Technological University: Secured several thousand sign-ups for a first-ever Virtual SkillsFuture event.
7. Night Owl
With ten years of SEO experience, Night Owl has several remarkable accomplishments to share. For example, they successfully achieved top search positions for competitive key-phrases such as "event companies Singapore," for one of their clients.
Their website also listed several other similar accomplishments; in all, consistently accomplishing top ranking for highly competitive keywords and phrases.
And like Impossible Marketing, this SEO company conducts digital marketing courses too. As highlighted above, these courses could be very useful for professionals fresh to the challenges of search engine optimization. They would also provide useful guidelines on which areas to pay attention to.
Notable Accomplishments of Night Owl
EZBBQ: Assisted this Singaporean company in its transformation into a top BBQ caterers.
DreamWedding: Accomplished six-digit web traffic yearly.
8. Heroes of Digital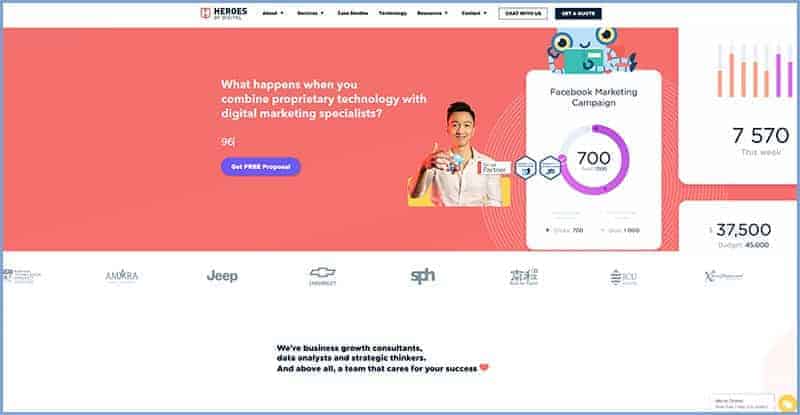 Heroes of Digital stands apart from the competition by using a proprietary platform to assess SEO. One that's data-driven and empowered by A.I. learning technology
Priding themselves also as business growth consultants, their proprietary technology is capable of proactively identifying campaign improvements, thus ensuring an edge over competitors 24/7.
At the same time, this SEO company provides various auxiliary services too, such as call tracking and marketing automation. For organisations in need of a technology-empowered boost for their online campaigns, Heroes of Digital is undoubtedly an attractive option. Their portfolio also shows that they are familiar and experienced with the needs of different industries.
Notable Accomplishments of Heroes of Digital
Scanteak: 165% increase in conversion value.
Aureus Academy: 300% increase in leads.
9. Brew Interactive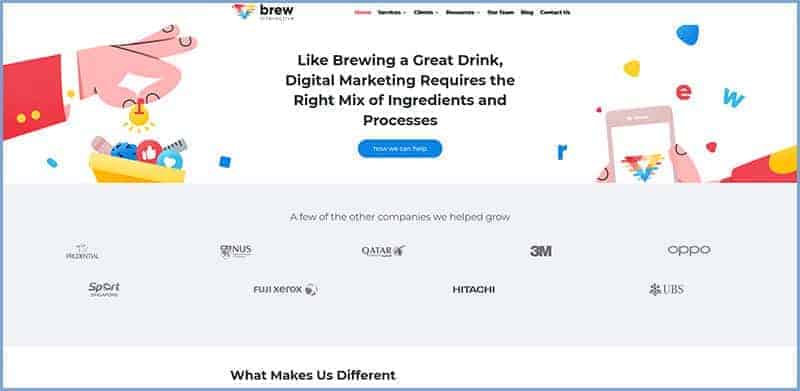 Brew Interactive provides a complete range of digital improvements to its clients. Services that include content creation and marketing, digital reputation management, and marketing technology improvements.
Their motto is that of high growth, with a philosophy of providing customised solutions for unique business objectives and targets. As an end-to-end agency, they also assist with the automation of leads generation. This being the implementation of relationship management services such as Salesforce.
Interestingly, Brew Interactive also constructs its web projects using the HubSpot content management system, instead of the more commonly used WordPress platform. According to a write-up on their blog, they do so as they feel HubSpot provides superior options for managing business operations. For company looking to revamp their marketing processes, this agency could be a good technological partner.
Notable Accomplishments of Brew Interactive
NUS LKY School of Public Policy: 1,577% growth in social media engagement.
Hitachi Asia: 950% increase in web traffic.
10. OOm
One of the oldest SEO companies in Singapore, and with an international presence that includes the Philippines and China, OOm is a Premier Google Partner. In other words, their specialists are certified and trained by Google.
OOm's most unique service is advertisement management for Baidu and WeChat marketing. With few other Singaporean SEO companies offering these services, and articles on Baidu/WeChat usage and optimisation rare on the English Internet, OOm could be a foremost name to consider for companies seeking expansion in the mainland Chinese market.
Needless to say, their Chinese branches could also be valuable partners in long-term digital promotional strategies.
Notable Accomplishments of OOm
Gold winner for Excellence in Search Marketing, Marketing Excellence Awards 2018.
Silver winner for Search Marketing Agency of the Year, Marketing Magazine's Agency of the Year Awards 2019.
Still having doubts?
If you are still confused about which SEO company to hire, you might want to request for a face-to-face consultation with a few shortlisted companies before making your final call.
If understand the importance and impact SEO considerations are right from the foundation of your website, and are you're looking to do a web design refresh or even a complete revamp, here are some suggestions for web development companies.
After all, it's better to be safe than sorry.
Featured Image by Edho Pratama on Unsplash
Explore More Content