10 Best Printing Companies in Singapore
For better prints, keep these ink and paper specialists etched on your mind.
Marketing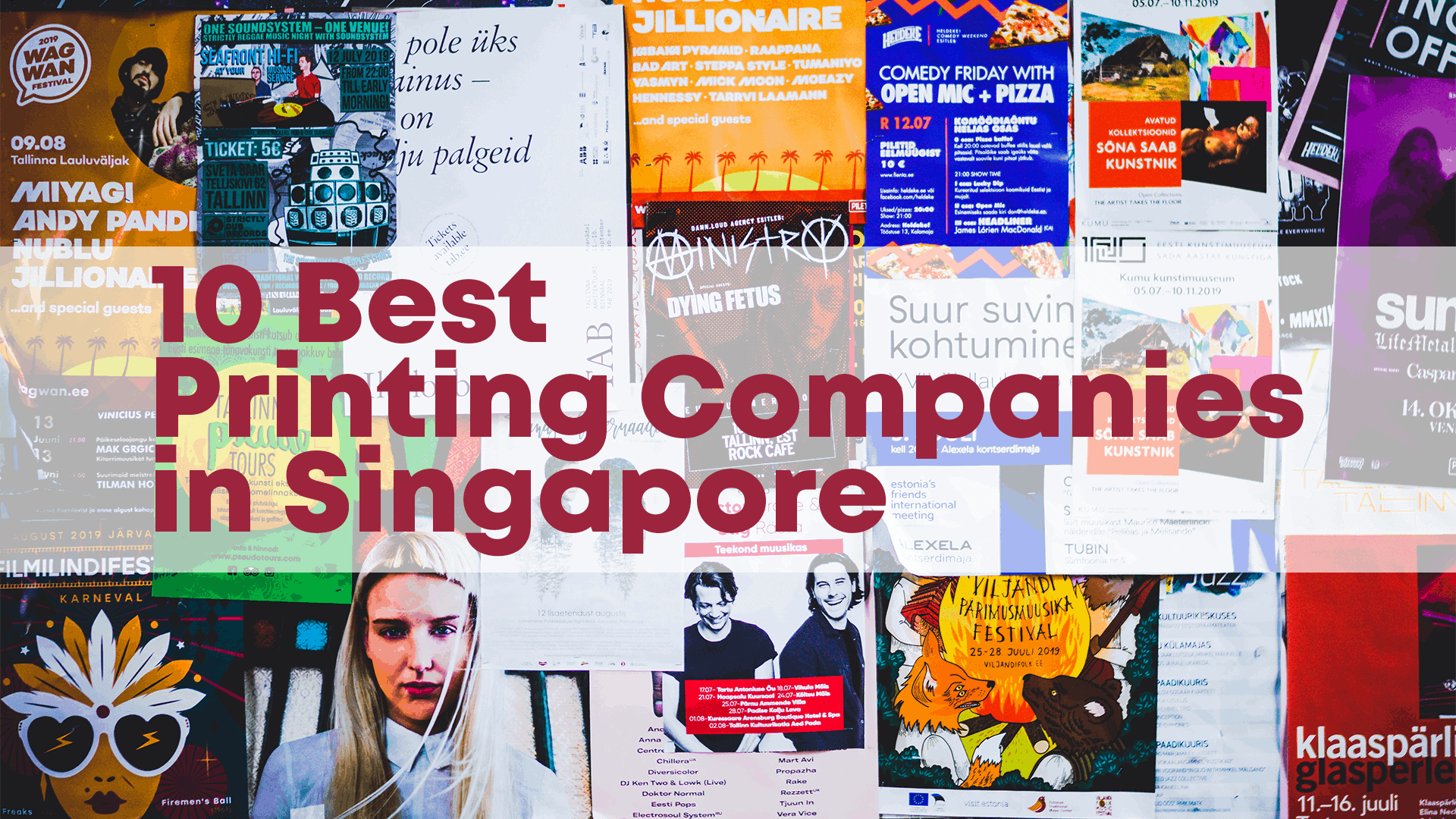 Our team at SBO.sg is committed to being a one-stop avenue to connect local businesses and consumers. We hope that our research efforts can help you save time and money by finding you the best deals without having to search around the vast world-wide-web.
Getting quality prints is winning half the marketing battle. Good prints can attract potential customers, elevate your brand's status and can even leave a permanent mark on your target market's minds.
To help you find the right company for all your print needs, we've curated a list of top printing companies in Singapore that can save you money for better quality.
1. Print Lab
As Singapore's largest print agency today, this company was born from the alliance of three printing giants—Alliance Graphics, Concept Print and Print Lab—and offers an extensive range of services.
Products and Services
Large format printing

Offset printing

Signage

Exhibit and POS displays

2D and 3D prints

Fabrication

Packaging prints 
Unique Selling Points
Produces dream backdrops that eliminate joining lines, peeling stickers, and uneven/smudged prints.

Also offers DARTS lightbox for digitally-controlled ads to emphasise design highlights.

Sells itself as the first and only print agency in Singapore that offers one-stop print solutions which are produced in-house.   
Address   
438 Ang Mo Kio, Industrial park 1, #03-02, Singapore 569619
2. Oxford Graphic
There's definitely more to a name when it comes to Oxford Graphic. With more than 25 years in the business, you can expect that this company can guide you in every step of your journey to producing quality prints. Among their bragging rights is being the first company that introduced Singapore's first 8-colour LED UV printing press.  
Products and Services
Flyers and brochures

Booklets and Catalogues 

Books and magazines 
Unique Selling Points
In-house design and consultation for those who are in need of creative designs.

Spotless reputation for quick turnarounds. 

Dedicated staff that knows even the nitty-gritty stuff of printing.

Competitive prices despite their use of modern software and hardware.
Address
11 Kaki Bukit Rd 1, #02-06/07/08, Singapore 415939
3. Gogoprint
Gogoprint is one of the most affordable printers in the market. It marks prices at almost half of the market average, helping you save some marketing budget for other initiatives.
Products and Services
Name Cards

Flyers and leaflets

Booklets

Stickers

Premium Gifts

Large Format

Business Essentials

Stationery
Unique Selling Points
Online printing order convenience that produces quality prints at low, low prices.

Wide range of printing jobs accepted from umbrellas to mugs or large formats to stickers.

Free design services and credit terms at reasonable terms and conditions.

Customer service staff offers great advice they'd probably hold your hand if they weren't online.  
Address
21, Bukit Batok Crescent, #15-75, WCEGA Tower, Singapore 658065
4. Udo Print
With their sincere dedication to understand and meet clients' needs, Udo Print's expertise in the business is highlighted by their cost-effectiveness on high-quality print jobs by the bulk. 
Products and Services
Express printing

Offset printing

Inkjet print

Display stand

Adhesive, plain paper, and t-shirt printing
Unique Selling Points
Express digital and bulk offset printing even for rush or voluminous orders.

No-fuss ordering steps that are as simple as emailing your artwork, making payment, and receiving your product as quickly as 48 hours.

Live chat function via Skype for remote printing solutions.
Address
59, Ubi Ave 1, Bizlink Centre #06-05, Singapore 408938
5. Print City
For event-management experts who require meticulously printed collaterals, Print City promises quality materials in digital or large-format. The company's clientele is also impressive, which gives you an idea of how reliable this experienced one-stop print shop really is.
Products and Services
Wide assortment for digital printing needs.

Large format from posters to stage backdrops.

Events management booth and collateral rentals.

T-shirt, jersey, uniform and jacket printing.

Custom, acrylic, and 3D signages.
Unique Selling Points
Offers services from a creative team comprising experts in events management.

Impressive clientele that includes MTV, Hilton Singapore, Singapore Airlines and Mediacorp among others.

Practical payment methods via cash, cheque, bank transfer and even PayPal. 
Address
1 Genting Lane #03-01, Singapore 349544
6. Drummond Magazine Printing
Specialising in magazine printing, Drummond Magazine Printing delivers smooth, glossy and premium prints for great value, and offers to handle your pipeline-to-pipeline circulation tasks from design to the newsstands.
Products and Services
Focused on publishing prints that are usually both eye-catching and engaging.

Video brochure production which features an embedded micro-thin LCD screen, PCB boards, speakers, rechargeable batteries, USB connection.

Letter shopping and mailing services offered.
Unique Selling Points
Offers brand and logo designs development for physical prints, website, and copies.

Has Variable Data Management for digital marketing campaigns. 

Also produces race medals for fun runs and customised event display systems for experiential events.
Address
65 Sims Avenue #02-06, Yi Xiu Factory Building, Singapore 387418
7. Global Dot Com
For a company that specialises in web design and marketing, Global Dot Com also boasts extensive printing services with fast turnarounds and great rates. Related services such as branding, marketing, copywriting, and web development is certainly a big plus for clients looking for a one-stop shop.    
Products and Services
Offset printing for promotional campaigns or bulk production.

Affordable digital printing with offered creative artwork inputs.

Large format printing.
Unique Selling Points
You can almost not go wrong with a team of seasoned brand strategists, creative artists and web-developers holding the reins.

Certified award-winning business solutions company. 
Address
7030 Ang Mo Kio Avenue 5, #09-85, Northstar, Singapore 569880
8. COS Printers
COS Printers caters to European, American, Southeast Asian, and Australian publishing houses. Bannering over 30 years of quality printing experience is also a definite plus of course.
Products and Services
Offset (Litho) printing.

Digital printing.

Pre-press.

Press and post-press.
Unique Selling Points
Keeps up with customer trends and the latest technologies in production.

Empowers its employees for a great boost in productivity and working relationships.

Offers the finest litho printing equipment and other old-school printing technologies, mixed with modern printing technologies for better results. 
Address
9 Kian Teck Crescent, Singapore 628875
9. Display Express
It doesn't have much of a digital footprint online, but schools and big companies count themselves as clients of the 29-year-old Display Express.
Products and Services
Indoor and outdoor display printing.

Quality prints for exhibit displays (pop-ups, banners, counter, brochure holders, etc.).

3D and graphic designs for printing.
Unique Selling Points
Offers various models of the nomadic pop-up display system.

Has an indoor showroom for exhibitor clients.

A one-stop centre for all your exhibit needs including the versatile Truss System for various display options.
Address
13 Kaki Bukit Road 1, #03-04, Eunos Technolink, Singapore 415928
10. Ngai Heng
Perhaps the most resilient printing company in Singapore, the award-winning Ngai Heng printing service continues to diversify its products and services that range from traditional offset to digital prints.
Products and Services
A wide selection of printing services including 3D hot stamping, brochure, blind emboss, vinyl stickers, and digital among others.

Large format printing.

Customised gifts printing.
Unique Selling Points
ISO 12647 and BizSafe level 4 certified which guarantees high-level prints done in a safe work environment.

Over 50 years of printing experience.
Address 
705 Sims Drive, #04-01 to #04-05, Shun Li Industrial Complex, Singapore 387384
With plenty of printing options in Singapore, you're sure to find one that suits your business needs. However, prices usually vary and depend on the scope of the print job. Make sure you ask for a quote first before you place an order and remember that cheap doesn't mean good.
Like in printing, some mistakes just cannot be erased that easily, so do your homework.
Featured image by Jonne Huotari on Unsplash