10 Best Digital Marketing Agencies in Singapore for Your Marketing Needs [2021]
Find the best digital marketing agencies in Singapore to cut through the noise in the digital sphere and reach out to your customers.
Marketing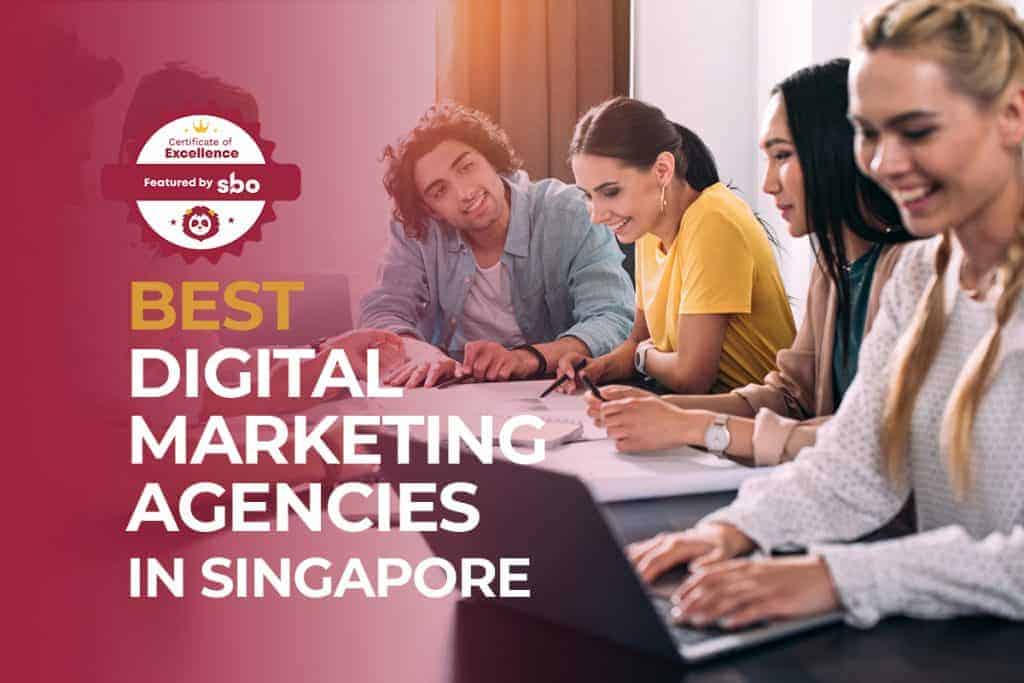 Our team at SBO.sg is committed to being a one-stop avenue to connect local businesses and consumers. We hope that our research efforts can help you save time and money by finding you the best deals without having to search around the vast world-wide-web.
The sky-high numbers tell it all: Singapore has the highest smartphone penetration rate in the world. 84% of Singaporeans use the Internet actively. By 2022, there will be more than 3.93 million active social network users in Singapore.
Hence, it is no surprise why brands are increasingly engaging a digital marketing agency in Singapore to reach out to prospective customers for lead conversion.
In this post, we've gathered all the necessary details and testimonials to derive a list of the 10 best digital marketing agency in Singapore for your marketing needs.
1. Thinking Notes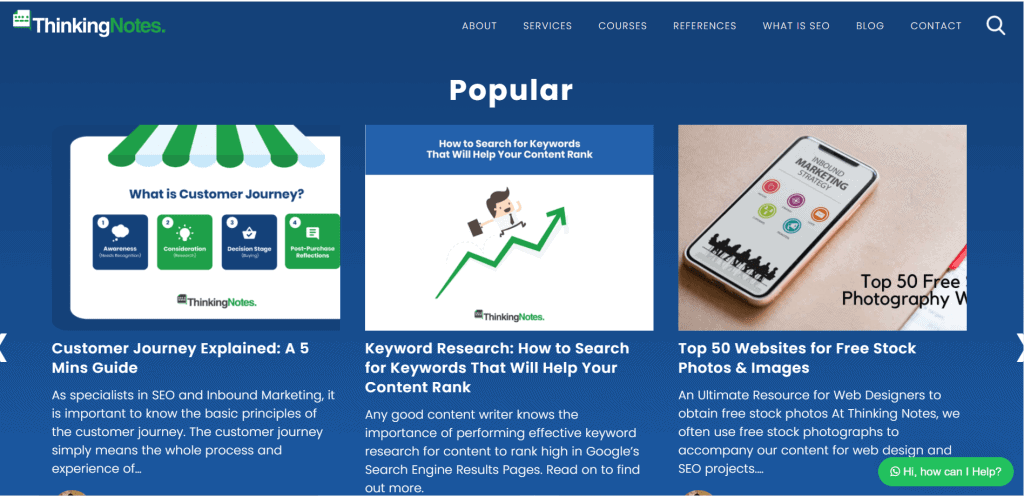 Thinking Notes is a digital marketing company that specialises in Search Engine Optimisation (SEO) services. SEO is the process of improving the quality and quantity of organic traffic to a website from search engines.
As one of the top Singapore SEO agencies, they have successfully helped many business owners rank their websites to top positions in Google Search Engine. Their SEO services can be divided into four main pillars of focus: technical infrastructure, user-centred design, signals' management and content strategy.
Believing in personalised services, Thinking Notes can arrange a personalised 1-1 consultation session for you with their SEO director upon requesting for a quote. They will provide an overview of your industry's SEO potential, competitors and steps they will take to improve the SEO performance of your website.
2. OOm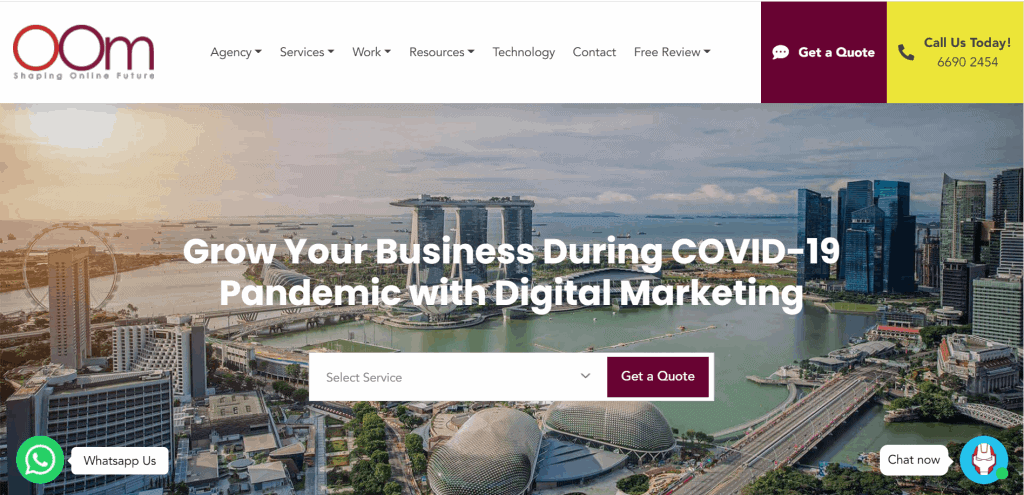 Founded in 2006, OOm is one of the top digital marketing agencies locally. They have high competency in Search Engine Optimization and Search Engine Marketing.
OOm has a 100% transparency policy. Clients choose to work with them because they are transparent with their Google Ads spending. For example, they provide clients with access to their Google Ads dashboard while running their campaigns.
OOm is also a Google Premier Partner and a Facebook Marketing Partner. By working with them, you will be partnering with a team of professionals who have been trained to meet the stringent digital marketing standards of Google and Facebook.
3. First Page Digital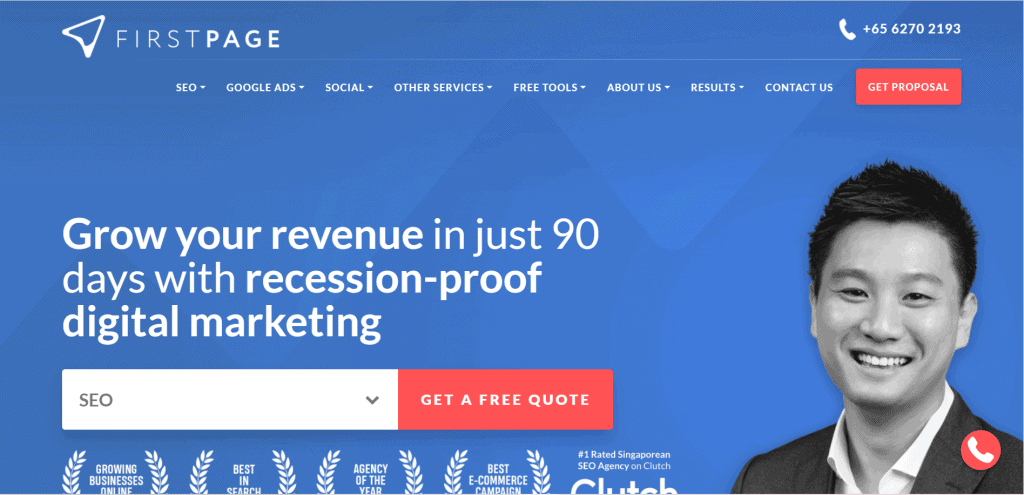 First Page Digital is a leading digital marketing agency in Singapore providing a wide range of digital marketing services, such as SEO, Google Ads, Facebook Ads, LinkedIn Ads, copywriting, and content marketing.
First Page Digital even offers online reputation management services, where they will provide you with 24/7 monitoring with in-depth tracking for your campaign, while providing you with access to online reports. While protecting your reputation, the company also indexes positive URLs to represent your brand in its best form.
The company even provides various free tools for prospective clients, such as a free SEO audit, a free competitor audit, and a Google Ads audit.
4. X10 Media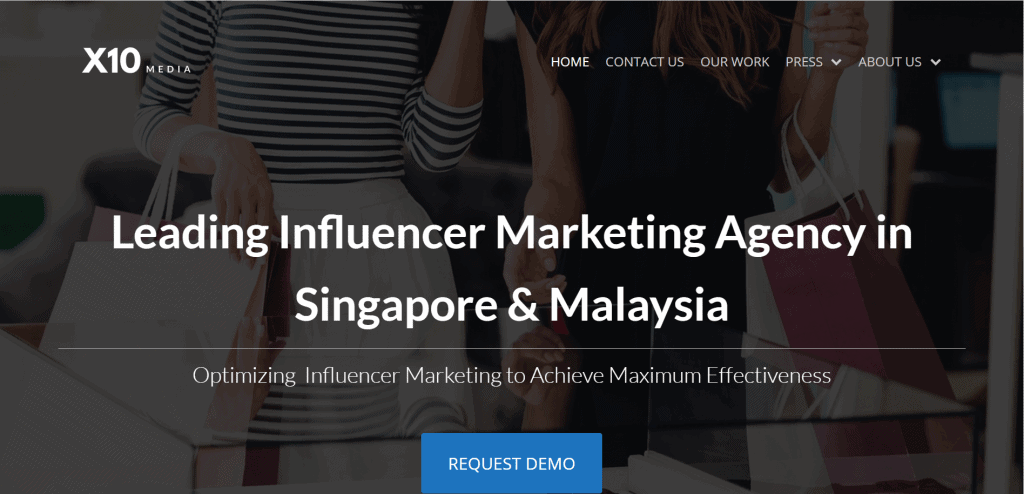 X10 Media is a digital marketing agency in Singapore specialising in three types of digital marketing services with their arms: The Spoken Tribe, Faves and Leadgram.
As the LinkedIn Marketing Arm of X10 Media, The Spoken Tribe was formed to bring professional voices to endorse companies and brands. With targeted marketing using specific professional segments and customized campaigns, they optimise outreach results with the most effective B2B marketing channel on the Internet.
As the Micro-Influencer Marketing Arm under the media group,
Faves manages a strong network of close to 700 social media micro-influencers with a combined network of 7 million reach across Singapore, Malaysia & Indonesia on both Instagram & TikTok platforms.
As the Social Media Marketing Technology Arm under the Media Group,
Leadgram is the first marketing automation technology of its kind developed to maximise campaign ROI and conversions for brands.
5. Happy Marketer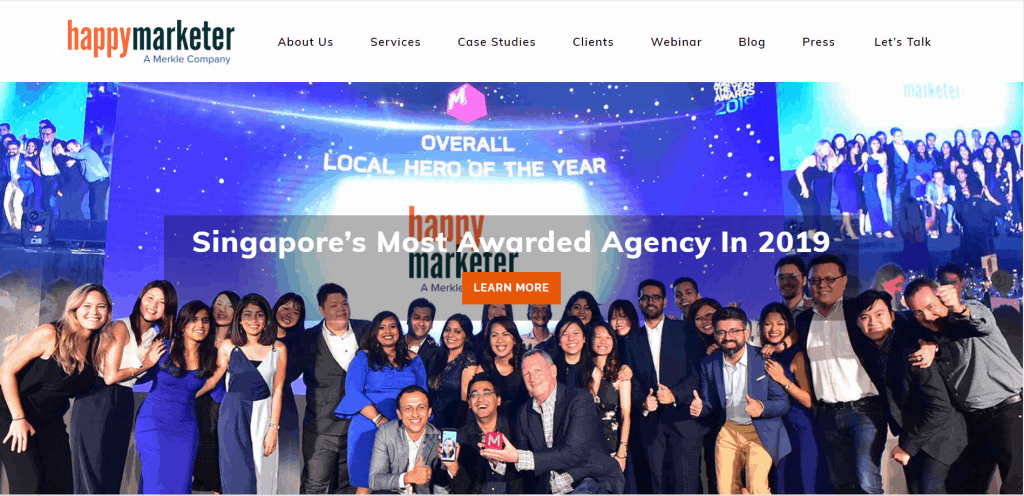 Founded in 2009, Happy Marketer is an award-winning digital marketing agency in Singapore. Their mission is to make marketers happy through data-driven, results-oriented and creative digital marketing initiatives.
As one of Singapore's most awarded creative agencies in 2019, the company has clinched multiple awards, such as the Search Marketing Agency of the Year (Gold, Local Hero) at the Agency of the Year Awards 2019 and the Most Effective Use – CRM & Loyalty Award at the MARKies Awards 2019.
Their specialty lies in Customer Relationship Management & Loyalty Marketing. Their offerings include the collecting, cleansing and managing first & third party data for a 360 degree customer profile, lead scoring, and personalisation.
6. Activa Media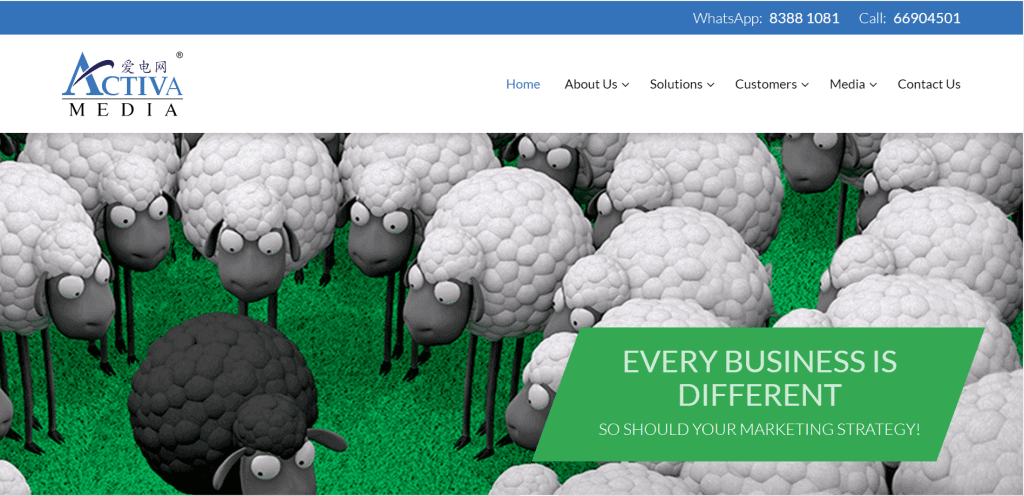 Activa Media Pte Ltd is one of the earliest providers of Internet marketing services in Singapore since their inception in 2005. Activa Media is one of the first Google resellers to be appointed in Singapore in 2006, and they were also awarded the Excellence Performance Award in 2006 by Google.
Since then, the company has expanded tremendously. According to a report by Frost & Sullivan, Activa Media is currently ranked the market leader in Singapore's booming online marketing industry with approximately 7.2% of market share in FY2018; they serve over 900 active clients across 100 industry sectors.
Activa Media has two licensed platforms:
1) AM+, a real-time bidding algorithm that responds to market conditions and adjusts the bid per hour automatically, allowing each campaign to capture the maximum number of visits to their clients' websites.
2) AM-Track is an in-house tracking solution that tracks and records all calls prompted by clients' marketing campaigns, giving them a detailed breakdown on call types. This data allows them to examine the efficacy of their campaigns.
7. 2Stallions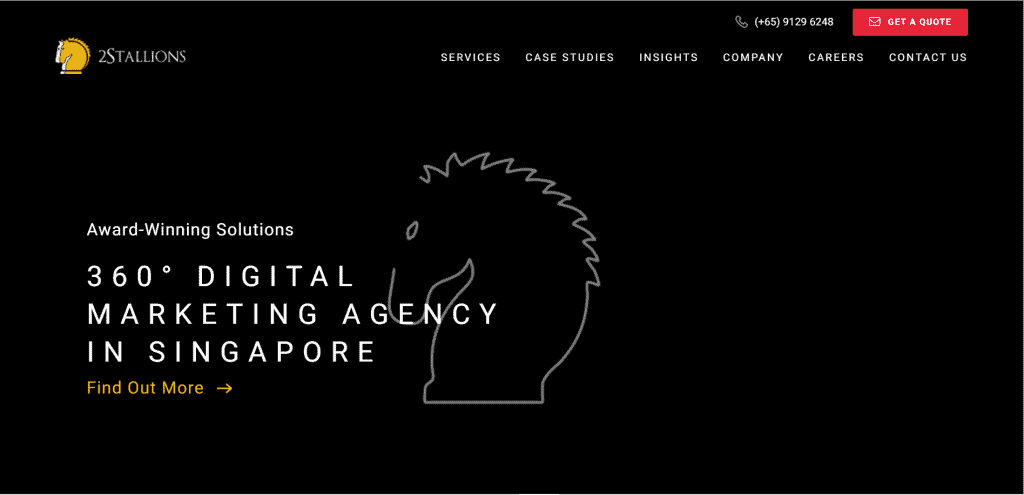 2Stallions is an award-winning digital marketing agency in Singapore specialising in web & mobile development, SEM, SEO & social media management.
Named after the stallion chess pieces, which are known as knights, 2Stallions knows digital marketing is just like playing chess. They think strategically for their clients' businesses to add value and achieve optimal results for them.
Besides digital marketing services, 2Stallions also offers a range of multimedia creative services. They offer a full range of creative visual services, from graphic design to animated video production. They specialise in developing and tailoring the visual tools you need to communicate your message.
8. Impossible Marketing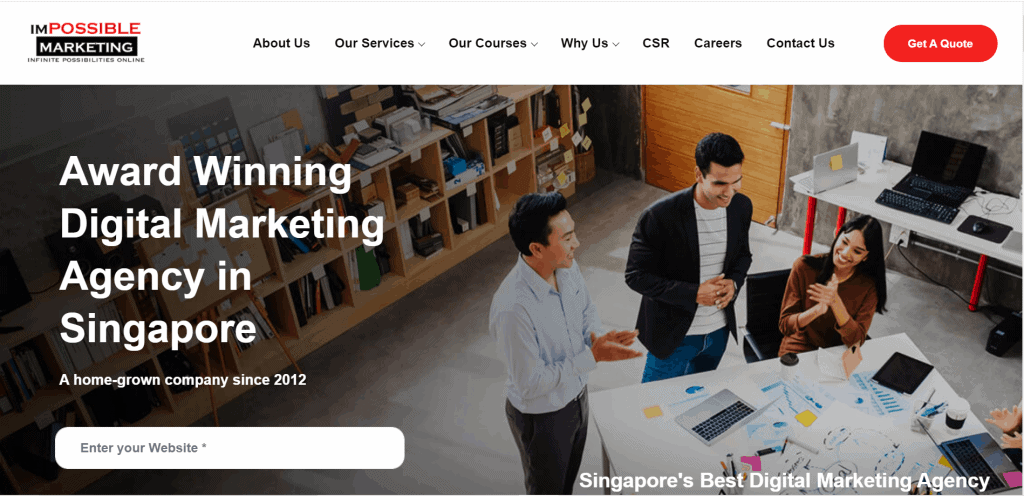 Impossible Marketing is a digital marketing agency built by locals, for the locals. Since 2012, they have helped more than 1000 brands in the region grow their online presence. They have accreditations from Google, Yahoo, Bing, and Facebook.
The company is known for its social media marketing services. As a Facebook Preferred Agency Partner, they have managed >SGD$2 million of Facebook ads for hundreds of brands. Attesting to their social media expertise, Impossible Marketing is a Finalist at the Most Effective Use of Digital at the MARKies Awards 2020.
If you're risk-averse, you can rest assured knowing that the company provides free social media marketing services for the first two months. The company also sends its clients a monthly report and a quarterly review for campaign updates.
9. Brew Interactive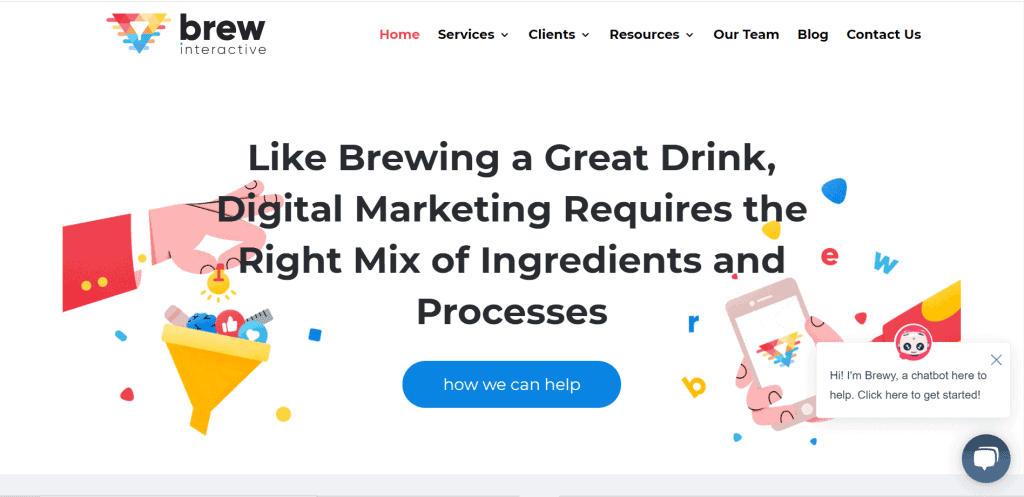 Since Brew Interactive was founded as a digital marketing agency in Singapore in 2009, they have sought to differentiate themselves from their competition.
Unlike smaller digital agencies in Singapore, they don't believe in relying on templatised strategies. They create completely customised approaches based on your business goals and organisation boundaries. When necessary, they will re-strategise their creative strategy and pivot as your company evolves.
The budget-friendly company also offers a much more conservative pricing compared to larger agencies, and they don't work with any minimum budget.
If you're looking to target Chinese customers, Brew Interactive is the go-to digital marketing agency in Singapore. They have a WeChat marketing service that incorporates Baidu SEM, WeChat eCommerce marketing and Douyin advertising to help you brand establish a strong presence in the burgeoning Chinese market.
10. AP Media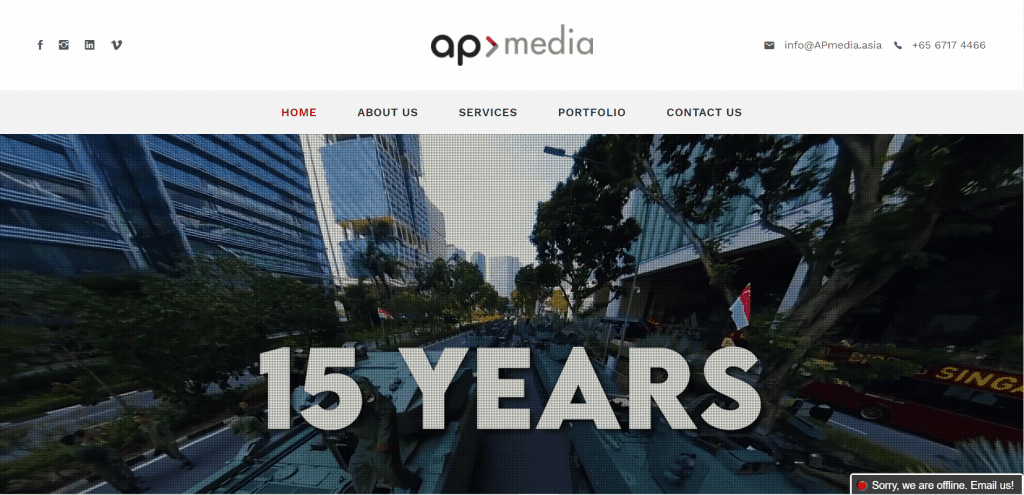 As one of ASEAN's leading media and integrated marketing agencies, AP Media specialises in interactive media, video content and business consultancy and is a veteran player in the video advertising market with over 15 years of experience.
For those looking to conduct virtual marketing tours in view of the COVID-19 situation, you may wish to give AP Media's services a try. Combining augmented and virtual reality, AP Media is capable of producing 360 degrees interactive campaigns.
They can even hold broadcast livestreams for live events and activations for your brand. These include 360 degrees multicast multi-stream solutions.
Conclusion
Do you have any reviews and comments to share regarding our choices for the best digital marketing agency in Singapore?
While SBO is committed to supporting our local businesses, we welcome any feedback and anonymous sharing regarding your experience with the listed digital marketing agency in Singapore.
We hope that this guide will be useful in helping you to make an informed decision when it comes to finding the best digital marketing agency in Singapore.
However, before you decide which digital marketing agency to hire, there are a few factors to consider. Do check out this article to help you make an informed decision.