10 Best Digital Display in Singapore That Makes You Visible to the Masses [2023]
Make your business visible to the public with the best digital display in Singapore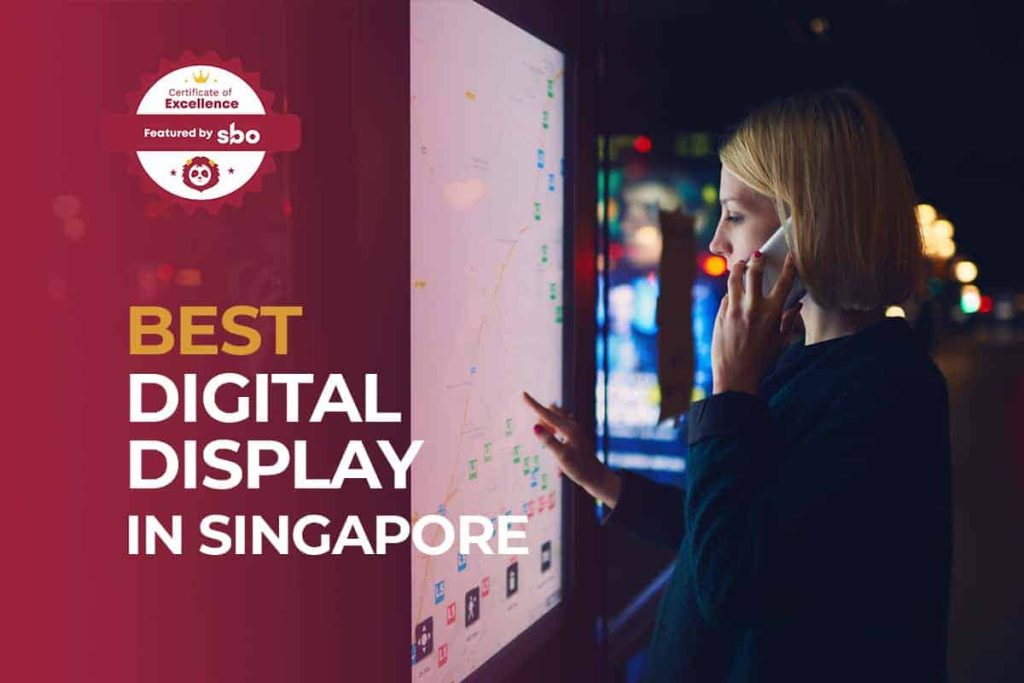 Are you looking to expose your business in a modern and tech-savvy way? If this is so, you can consider getting the best digital display in Singapore to get your business visibility to the masses.
By using this modern gadget, your customers will be able to know immediately what your business is about, what products that are available for sell as well as the discounts and promotions that are offered.
In this post, we've gathered all the necessary details including unravelling reviews and testimonials to derive a list of the 10 best digital display in Singapore that makes you visible to the masses.
1. Anjels Media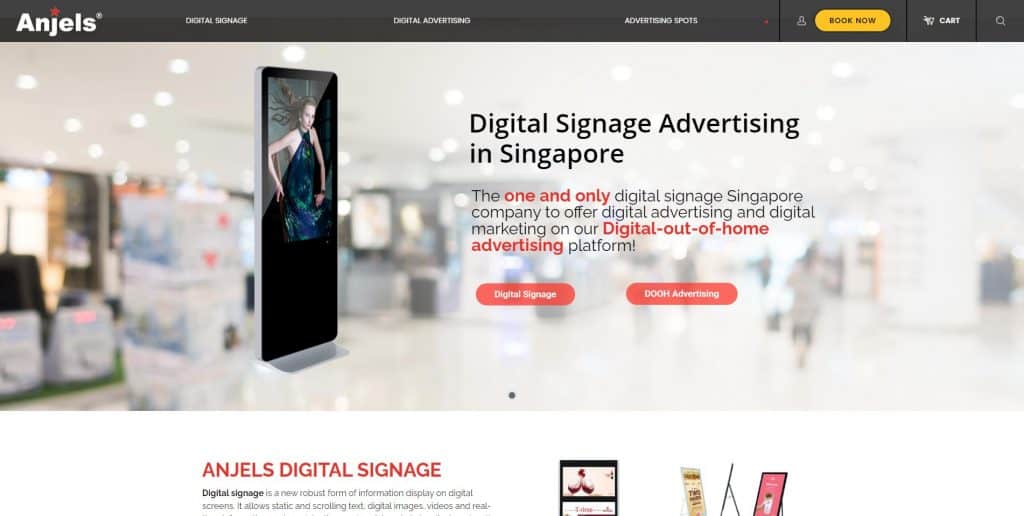 Anjels Media is the one and only digital signage company in Singapore that offers digital advertising and marketing on their Digital-Out-of-Home advertising platform.
They are dedicated to helping all business owner clients achieve a low barrier of entry into the realm of the tal world. In order to help them, Anjels Media offer 2 options.
With the first option, clients have the choice of having full ownership of the digital signage system through an outright purchase. They can opt for the basic system package that comprises of Anjels Digital signage software application and media player. This package will be ideal for clients with existing digital screens. They also opt for the full system package which will include digital displays or display signage kiosk with digital signage application. It comes with a 1-year warranty, service and maintenance.
Alternatively, clients who go with the second option can enjoy the benefits of digital signage without incurring high cost through a subscription of the display or the entire system. No upfront capital investment or yearly investment fee is required. Clients can benefit from a free software upgrade.
2. Zoom Visual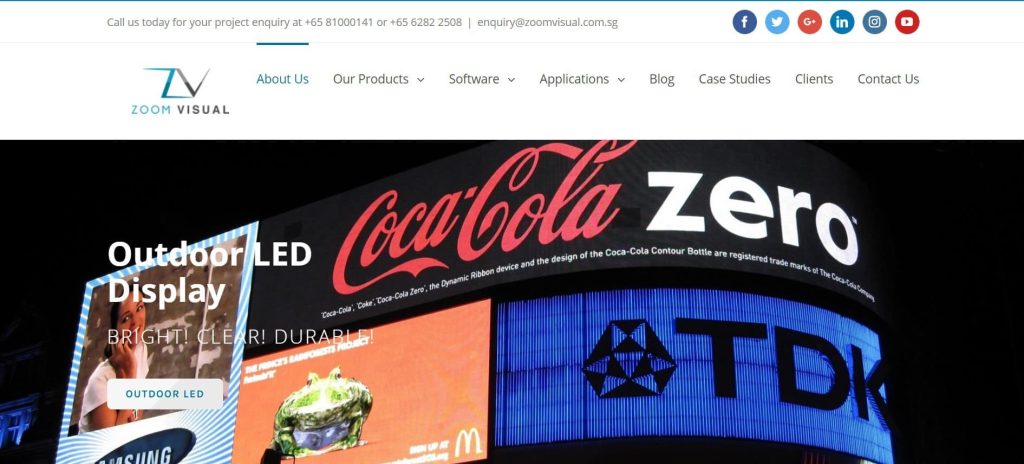 Zoom Visual is a premier digital display provider in Singapore with more than 15 years of experience in the advertising and IT industry. They aim to supply their clients with the most creative and reliable LED advertising display solutions that are available in the market.
They offer a full spectrum of products such as indoor LED screen display, outdoor LED screen display, transparent LED screen display, curve & flexi LED screen display as well as the LED digital signage.
Versatile, practical and cost-effective, their products are used in a wide range of marketing or branding applications such as indoor and outdoor events, exhibitions, concerts and cinemas.
3. Ascenstar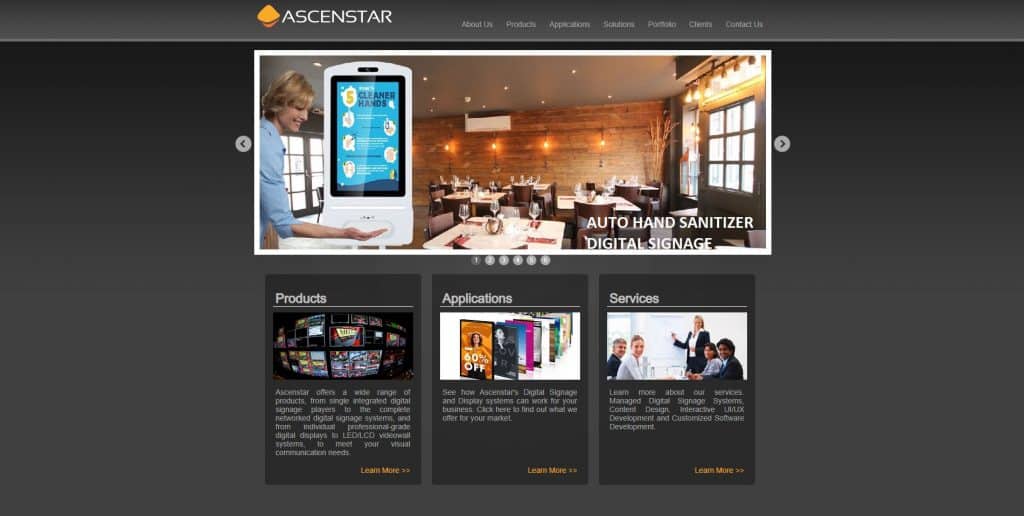 Founded more than 10 years ago, Ascenstar has become a reputable provider of digital signage, video display and interactive display systems.
They offer a wide range of products such as digital signage players, integrated digital signage display and auto hand sanitiser digital signage.
Ascenstar offer various types of digital signage players from stand-alone premium digital screens with integrated media players to networked professional displays with custom-designed hardware/software systems that deliver rich graphics and audio.
Their integrated digital signage display are highly versatile and readily deployable. They are easy to install, space-saving and have minimum wiring.
With the pandemic still a concern, Ascenstar has introduced the DigiSanZ-22, a smart integrated digital signage system with automatic hand sanitiser dispenser.
4. Hype Tech Advertising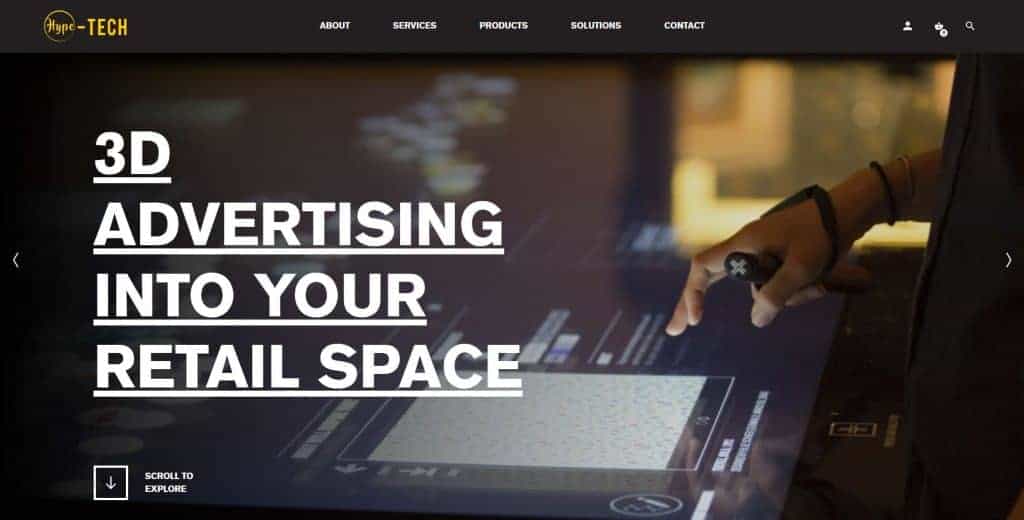 Hype Tech Advertising offers a wide range of electronic advertising displays with various features to meet your advertising needs.
These displays offered are namely 3D/LED Advertising Display, advertising/media player, interactive digital display and digital signage. These high-tech displays are special in their category because they are able to render form and image in 3D.
To add value to its customers, Hype Tech Advertising offers content creation services to help clients come up with attractive content to engage their audience.
5. SkyMedia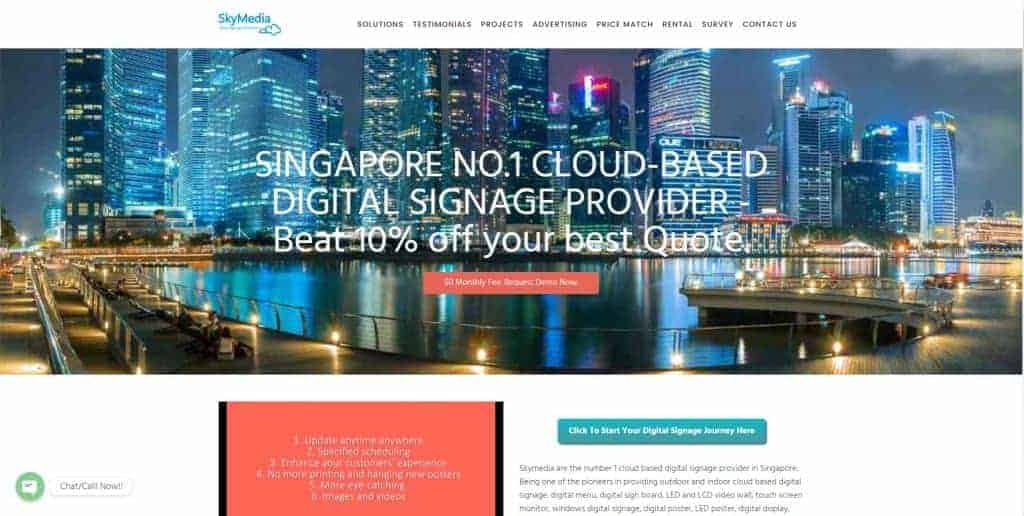 SkyMedia is Singapore's No.1 cloud-based digital signage provider. Customers can benefit from a one-time charge for their easy-to-use cloud-based content management system. Hence, no monthly or yearly subscription fees are needed.
The range of products offered include signage stands, digital menus and digital signages.
Their digital signages, in particular, come in either small or large screens with the latest technology to display relevant information of your business. Whether you are from the hospitality, education or finance industry, SkyMedia has the ability to meet the needs of their clients.
6. VizanSign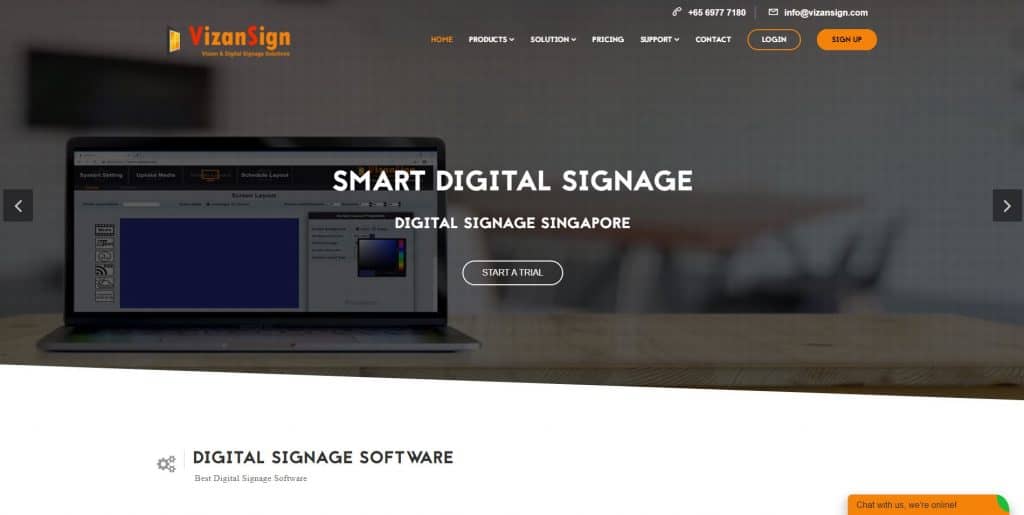 Established in 2014, VizanSign is specialised in providing customisable digital display in Singapore for various organisations such as town centre, universities, sports grounds and shopping centre.
They offer digital signage solutions such as cloud digital signage, local digital signage and USB-based digital signage software. They require no coding which will make your content management process easier and adaptable. This allows you to update content and monitor it closely.
You can be assured that these solutions are the most secured system as all data is stored in a highly secured data centers and the network architecture.
7. Obedience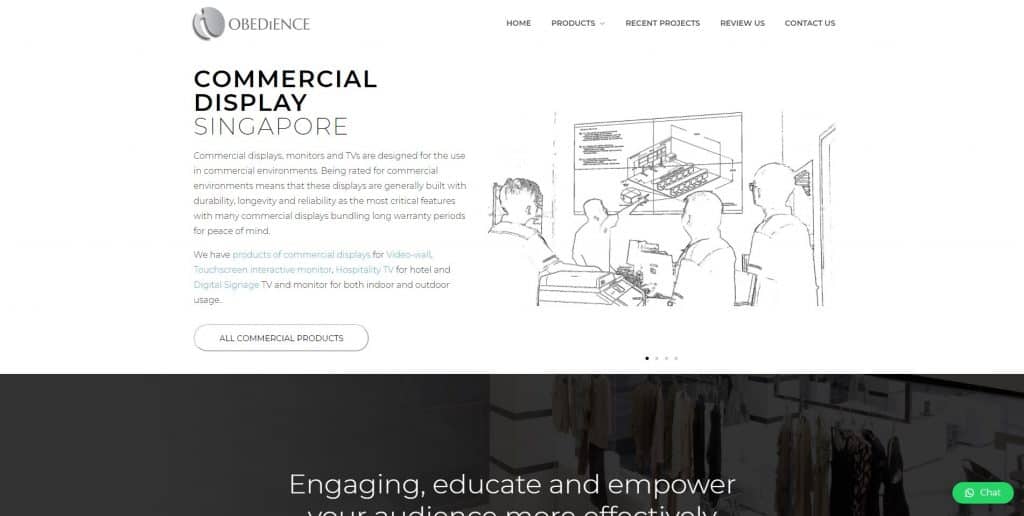 Obedience is an authorized dealer of LG in providing digital commercial displays for various industries such as hospitality, education, finance and retail.
To enhance the client's user experience, Obedience offer various selections of in-house branding mounting systems for TV displays of all sizes.
8. KOO Digital Signage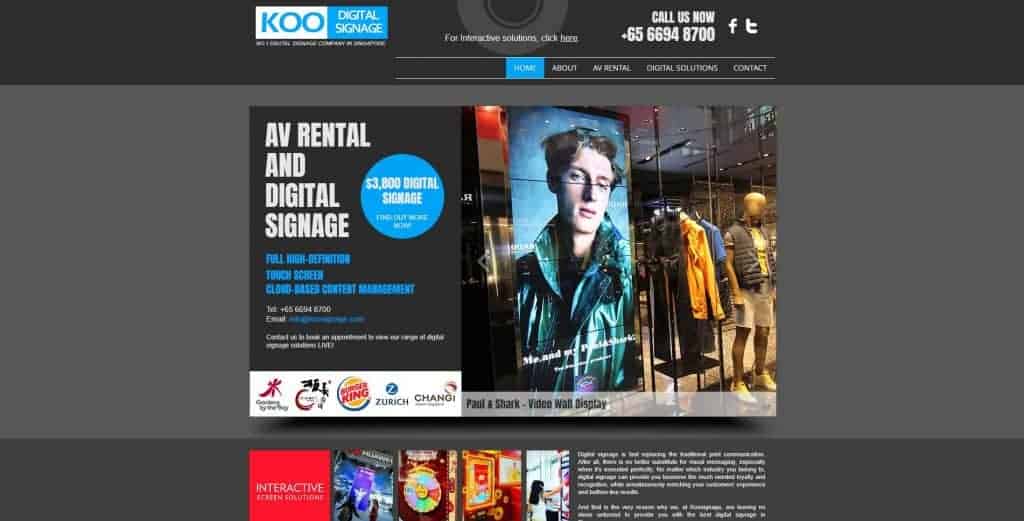 As a leading digital signage company in Singapore, KOO Digital Signage possesses the software and hardware expertise to meet your advertising needs.
They provide digital displays of various forms such as digital kiosk, LED display, video wall, projection, transparent display and mirror display. You will find them suitable for various functions including building directory, check-in kiosk and restaurant menu.
Regardless of the type of digital displays you use, you can be assured a service of the highest quality. We provide quarterly on-site servicing to ensure that your digital display is in working order. We also provide technical support anytime and anywhere.
For cheaper options, we also offer rental services for our digital display in Singapore at a low monthly rate.
9. Big Image Group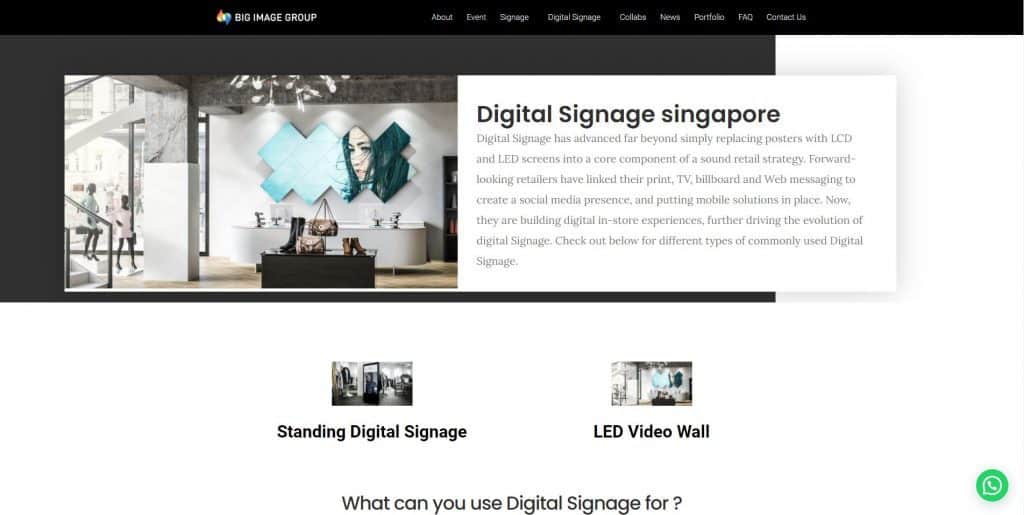 Established in 1995, Big Image Group is constantly striving to become Singapore's leading digital display solutions. Over more than 20 years, they have gained experience and know-how in the advertising display industry.
Big Image Group provide digital displays for various settings such as corporate, restaurants, retail, education, healthcare and Out-Of-Home (OOH) Advertising. They are available in the forms of a standing digital signage and LED video wall.
10. Best View Media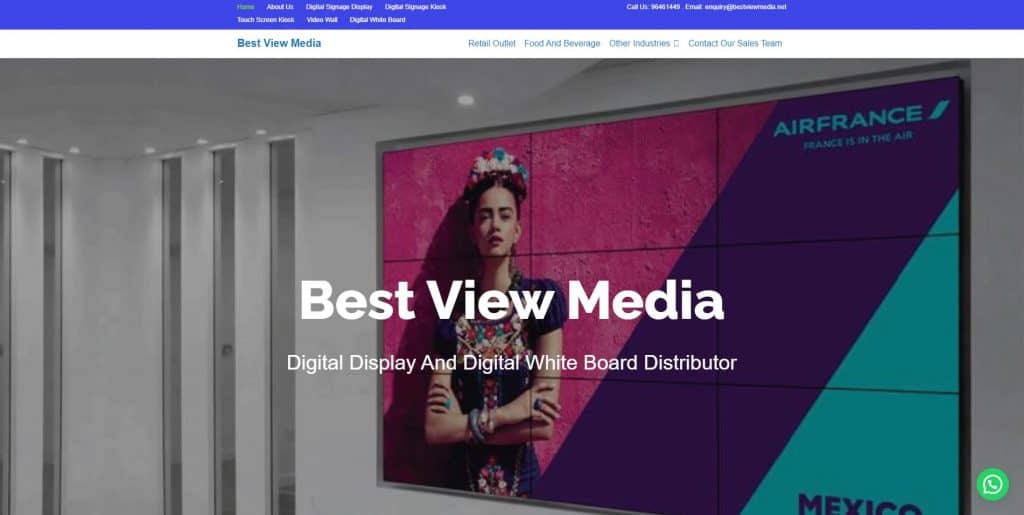 Founded in 2014, Best View Media is a leading distributor of various forms of digital display in Singapore. These are wall mount digital signage display, digital signage kiosk, touch screen kiosk and interactive digital wall.
They are usable for various industries such as the F&B industry where restaurants and cafes can use such displays as a digital menu board. They can also be used in mass events such as exhibitions.
For all digital displays purchased, they offer a 1-year limited warranty and a lifetime support to their clients.
Conclusion
Do you have any reviews and comments to share regarding our choices for the best digital display in Singapore?
While SBO is committed to supporting our local businesses, we welcome any feedback and anonymous sharing regarding your experience with the listed digital display in Singapore.
We hope that this guide will be useful in helping you to make an informed decision when it comes to finding the best digital display in Singapore.
Explore More Content