10 Best Advertising Agency in Singapore For Your Business [2023]
Calling for all business owners as we have compiled the 10 Best Advertising Agency in Singapore for you!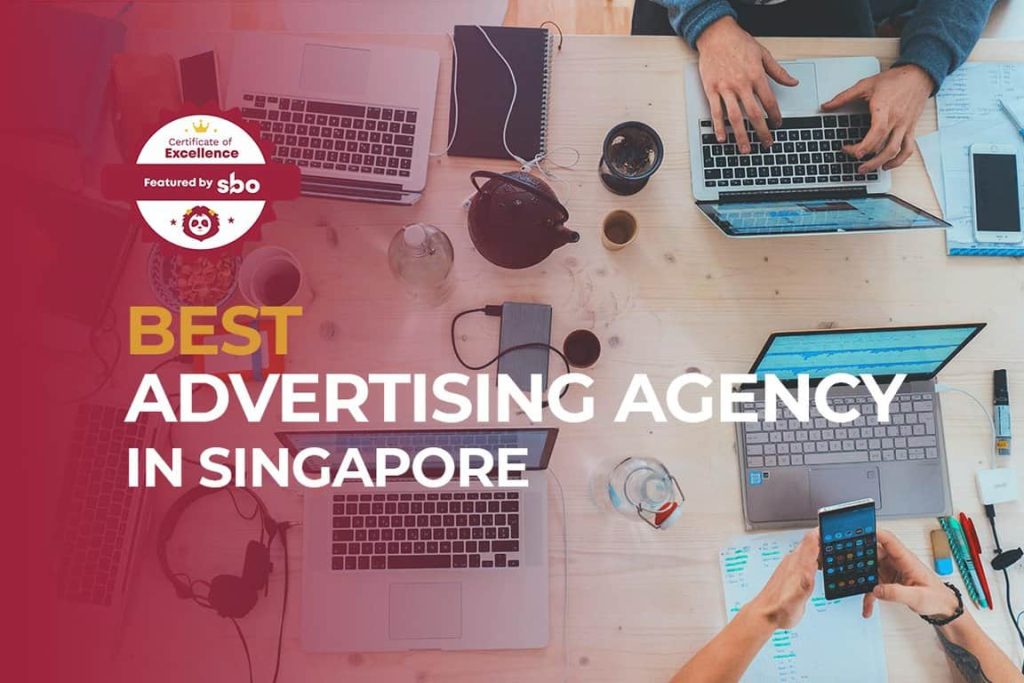 Are you a business owner that struggles to find ways to reach more customers? Are you no longer able to think of other creative ways to promote your business? Why not leave it to the professionals to help you?

Be it a product or service, the 10 Best Advertising Agency in Singapore that we'll be compiling today, would be able to help your business to attract your target audience!
How Does Advertising Agency Help my Business?
Before that, let's understand the function of an advertising agency!
It is a service provider that supports its customers in the areas of idea generation, consulting, and realization of both marketing and communication measures. With their knowledge of the market and their creativity, an advertising agency will be able to find strategies to link your products to their target audience!
1. ENCE Marketing Group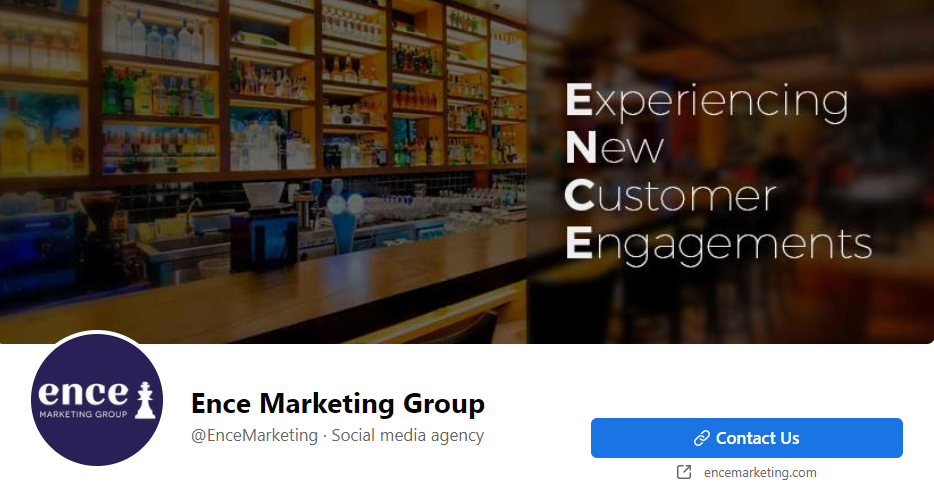 With expansions to close to 10 countries in the world, ENCE Marketing Group will not disappoint you for your every marketing need.
ENCE stands for Experiencing New Customer Engagements. They offer all the marketing solutions you need to run a successful business. Being a KPI-driven marketing agency group that puts their assurance on every marketing dollar you spend, they help to bring your customer awareness and marketing engagement to a whole new level.
2. iFoundries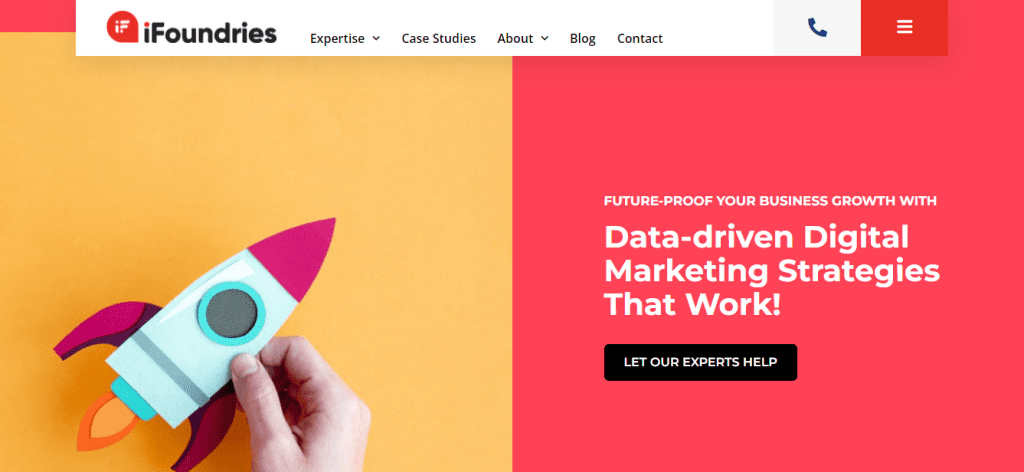 iFoundries is a trusted digital marketing agency with long-standing web design expertise in Singapore, best known for helping companies grow leads and sales with data-centric strategies. Offering an end-to-end suite of digital solutions, iFoundries also helps you build your audience with great digital content and user experience, grow your email list faster, attract and nurture your leads into sales.
You can also start profitable membership programs, sell online courses, physical products, and digital products online with their e-commerce solutions. Regardless of whether you are running a small business or a big corporation, iFoundries will be able to play an integral part in your digital transformation journey.
3. Best SEO Marketing Pte Ltd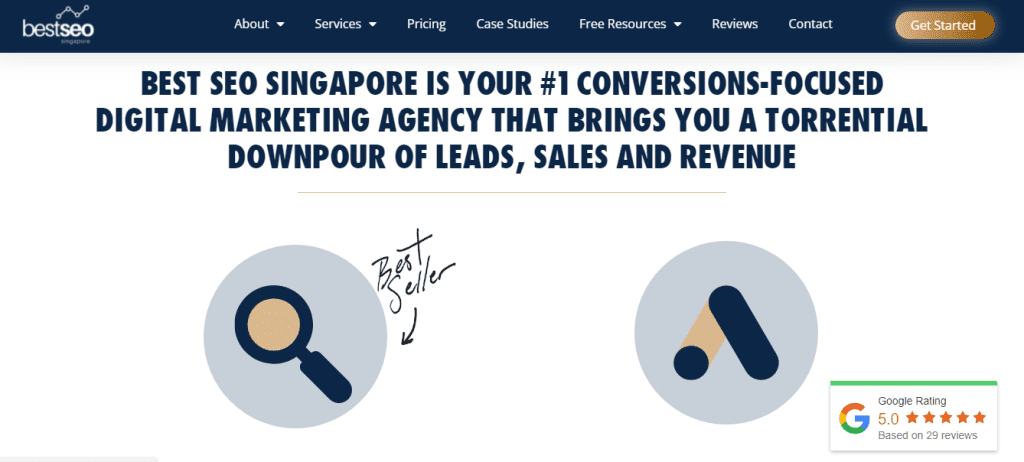 Located in the North, Best SEO Marketing is a digital marketing agency that provides services such as Social Media Marketing and Online Reputation Management to drive revenue straight into your business.
All businesses are hungry for growth and most importantly, revenue. To fulfil this goal, Best SEO promised revenue instead of clicks, impressions, likes, and shares.
Reviews credited their success to their efficiency, creativity and their passion for getting the work done. By going the extra mile for their clients, they have gained reputation in the industry as being committed and professional.
4. First Page Digital Singapore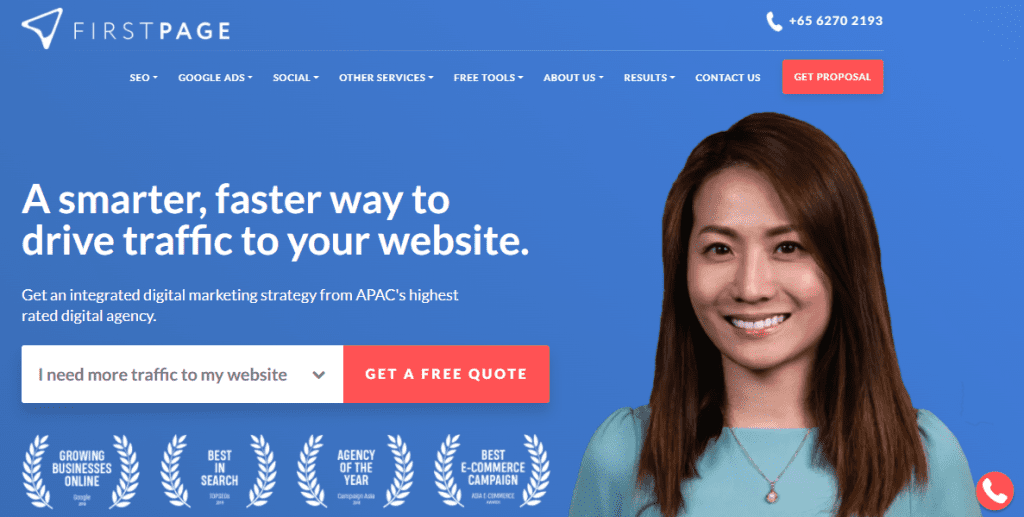 "With a 360° view of your business goals, we implement an integrated digital strategy that's validated by data. We collaborate and integrate seamlessly with your team to ensure all parties are aligned. Think of us as an extension of your marketing team."
– Shane Liuw (General Manager of First Page Digital Singapore)
Digital Marketing has done amazing things for the world of business. As Singapore's most reputable Digital Agency, First Page Digital know most marketing campaigns could still be improved. Especially in the agency world, they weren't satisfied with how most clients were treated by their competitors – they were kept in the dark and much of their hard-earned money went to admin fees rather than their actual campaigns.
With their huge team of specialists that has both the skills and knowledge required to grow your company, you can put your faith in their services and advice.
5. Impossible Marketing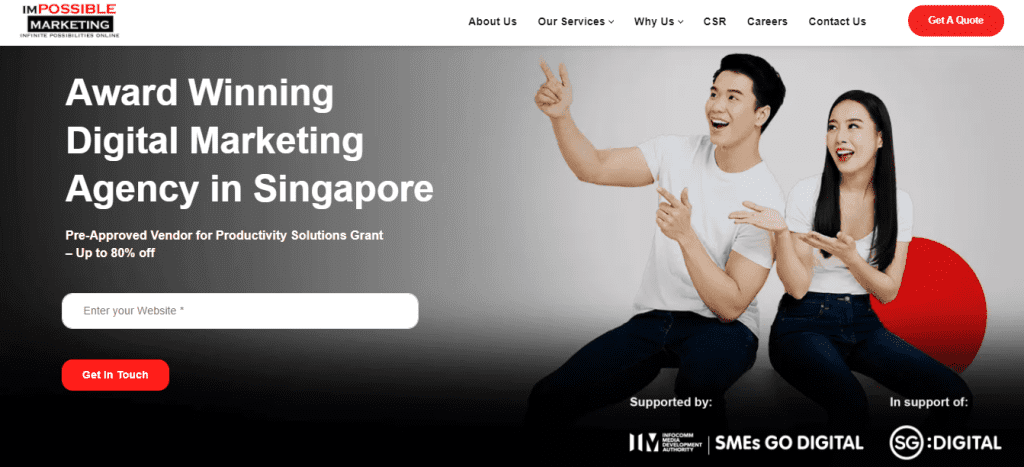 Impossible Marketing is a digital marketing agency built by the locals, for the locals. Since its establishment on 2012, they've helped more than 1000 brands in the region, big and small, grow their online presence. With accreditations from Google, Yahoo, Bing, and Facebook, they know just all the right tips and tricks to get your brand found online.
With over a hundred perfect reviews, many support the company for its professionalism, responsiveness and quality of service provided. Try Impossible Marketing now!
6. Next Level Singapore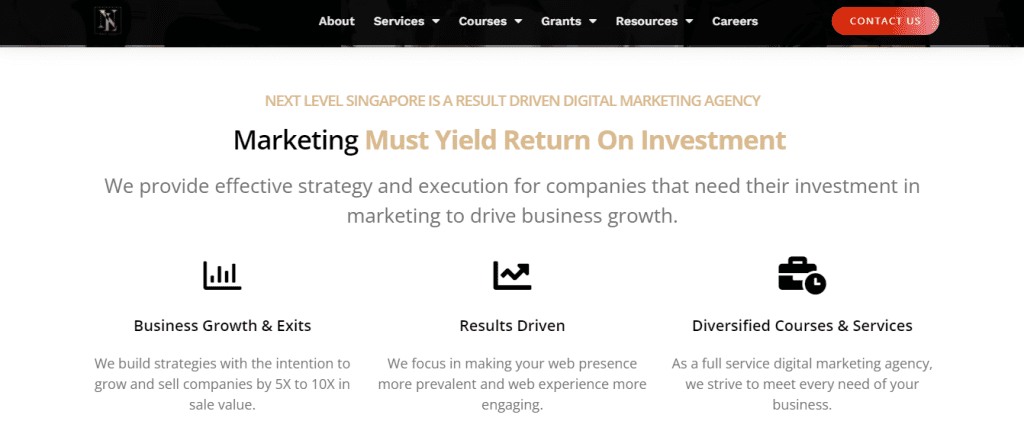 Recently, Surge Digital launched Next Level Singapore, their sister brand that strives to help more business owners grow their companies and shape the career paths for individual professionals. Many learners, who applied the strategies that were taught in the course, experienced an increase in revenue in their business and even widened their customer base.
At Next Level Singapore, they offer an extensive range of courses in Digital Marketing, e-Commerce, and Business Management. All courses are designed to provoke business thinking and empower entrepreneurs to challenge conventional wisdom in the aggressive market.
7. Ant Team Social Media Marketing Agency In Singapore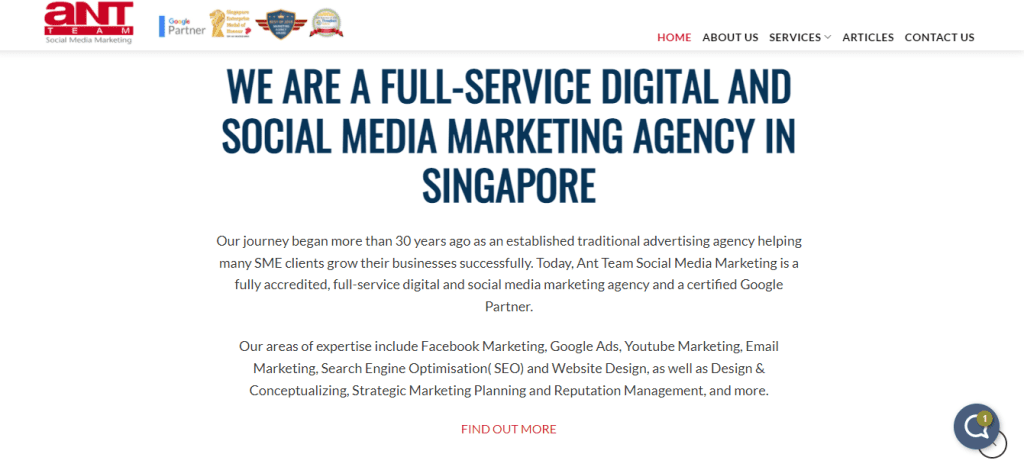 Ant Team started its journey more than 30 years ago as an established traditional advertising agency helping many SME clients grow their businesses successfully. Today, Ant Team Social Media Marketing is a fully accredited, full-service digital and social media marketing agency and a certified Google Partner.
Their areas of expertise include Facebook Marketing, Google Ads, Youtube Marketing, Email Marketing, Search Engine Optimisation (SEO), and Website Design, as well as Design & Conceptualizing, Strategic Marketing Planning and Reputation Management, and more.
8. SEO Agency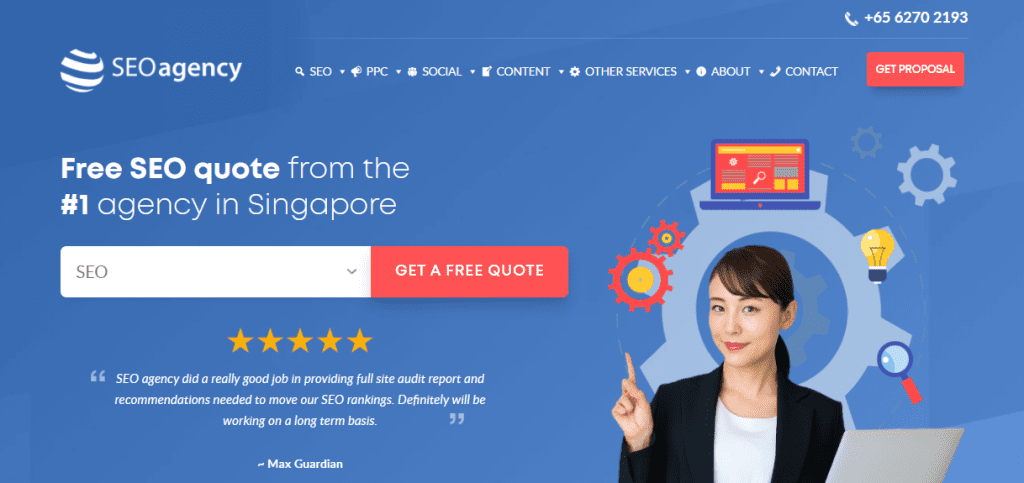 SEO Agency is an SEO company trusted by hundreds of Singapore businesses like yours. Their SEO services will boost the visibility of your business and gain you more customers than ever before. No matter what the size of your business is or what industry you're involved in, their SEO packages are tailored to deliver the best results for you.
With offices in Singapore, Hong Kong, Thailand, and Australia, SEO Agency is Asia's largest web marketing firm. Backed by a team of experienced, strategic, technical, and creative specialists, they drive digital success for your company. Their technical and content teams will optimize your site using meticulously researched and chosen key phrases, ensuring top SEO results, which will enable your website to attract a significant increase in targeted traffic.
9. The Little Black Book (Social Media Agency)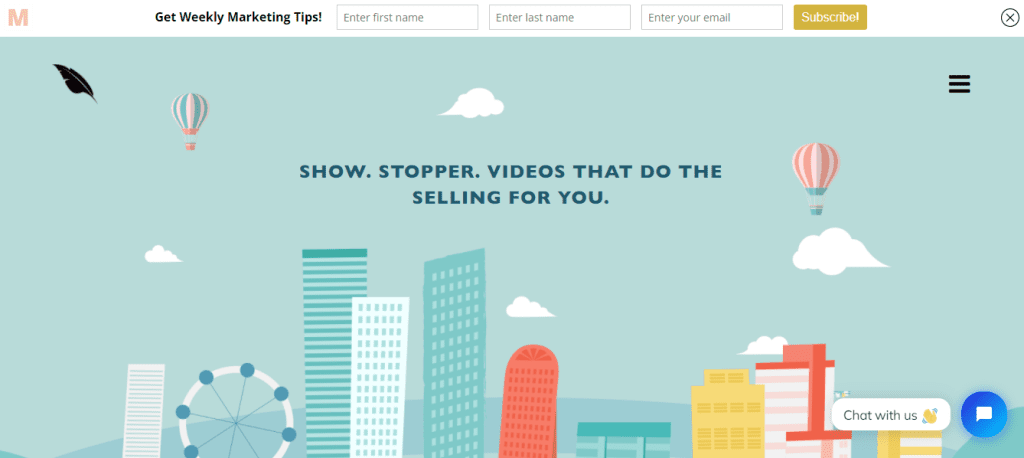 The Little Black Book is an animation company that makes them an expert in today's digital landscape. They don't just do amazing creative work, they tap into the power of social media to make sure the right people see them. By engaging them, they provide a one-stop service that goes from planning, execution, optimisation and reporting.
Reviews have praised their creativity and attention to details, that brought them more clients. Being an animation company, they produce great content and illustrations. Check out some of their past work here!
10. Notion Age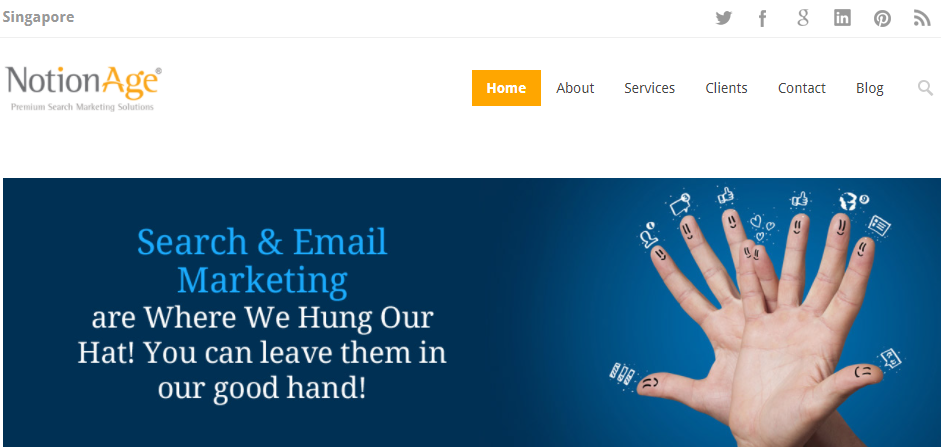 Notion Age is an experienced and passionate digital marketing team of SEO/SEM experts that provide only high-quality premium SEO (Search Engine Optimisation), SEM (Search Engine Marketing), website development, and digital marketing solutions to help brands and businesses achieve their business goals. Over the years, they constantly set high expectations in themselves, and that enables them to deliver excellent digital marketing services to all their clients.
At Notion Age, they guarantee the best Return on Investment (ROI) in your search marketing investment. With many past experiences of working with top-notched large enterprises and SMEs, they are confident in providing you with the service that your company requires.
Conclusion
We hope that the above-compiled list of the 10 Best Advertising Agency in Singapore would be able to aid in reaching more people for your business.
For those who are intending to start your own business in the future, look here as we have an exclusive chat with Julia, the founder of the Playdate store! We hope you find some inspiration in her sharing.
Featured Image by Marvin Meyer on Unsplash
Explore More Content
Are you featured in this?
Display this exclusive SBO badge proudly on your website and get more sales!