Get the Best Company Incorporation Services in Singapore to Kickstart Your Business Journey [2022]
Kickstart your entrepreneurial journey with the 10 best company incorporation services in Singapore.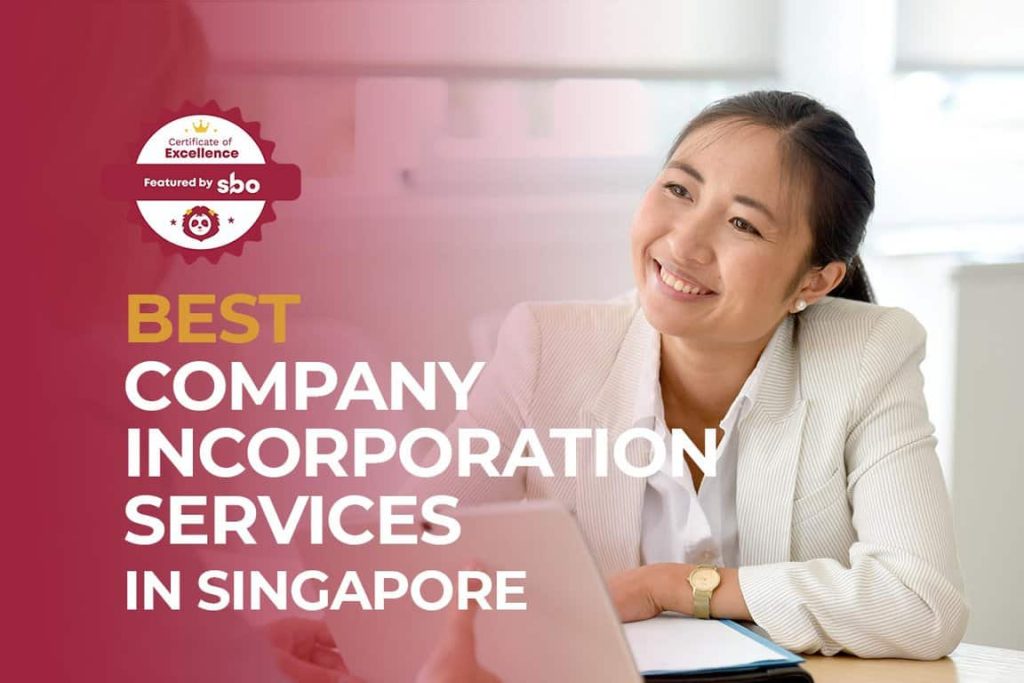 Even though Singapore is one of the easiest countries in the world to set up a business, it does not means that there is no paperwork requirement at all. All companies still have to adhere to the Companies Act.
To set up a local company in Singapore, you will need to determine company type, paid up capital, business profile, financial year end, appointment of directors, company secretary, share capital, constitution, registers and other obligations. If you are thinking of setting up a new business in Singapore and you prefer professional incorporation services to kickstart your journey right, check out the some of the best company incorporation services in Singapore!
1. Biz Atom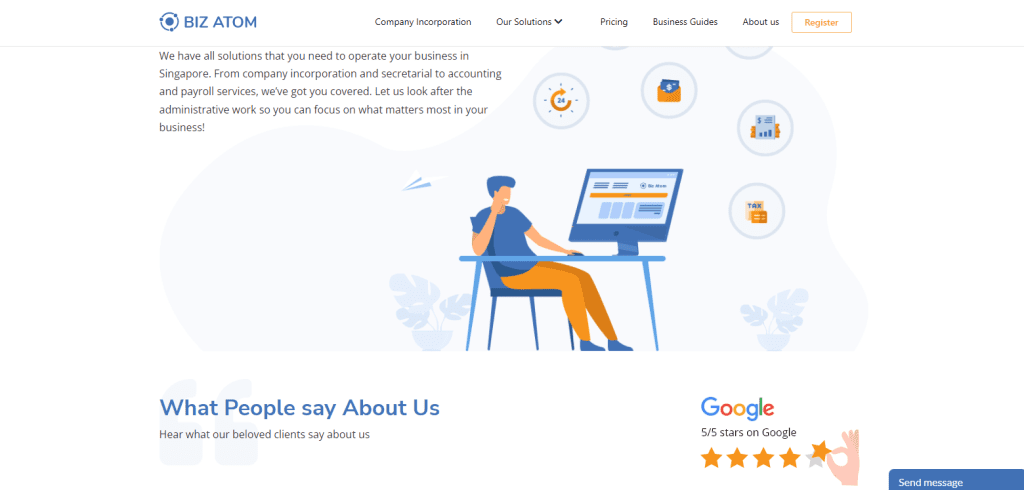 First on the list of the best company incorporation services in Singapore is Biz Atom, which has a whole suite of business solutions one will need to operate your business in Singapore. Services range from company incorporation and secretarial to accounting and payroll services, allowing you to focus on what matters most in your
business.
Their experts are committed to guiding you through every step, and am always available and ready to answer your queries anytime. If you are keen, all services can be done online via their platform, from service requests to document signing.
2. J Accounting Pte. Ltd.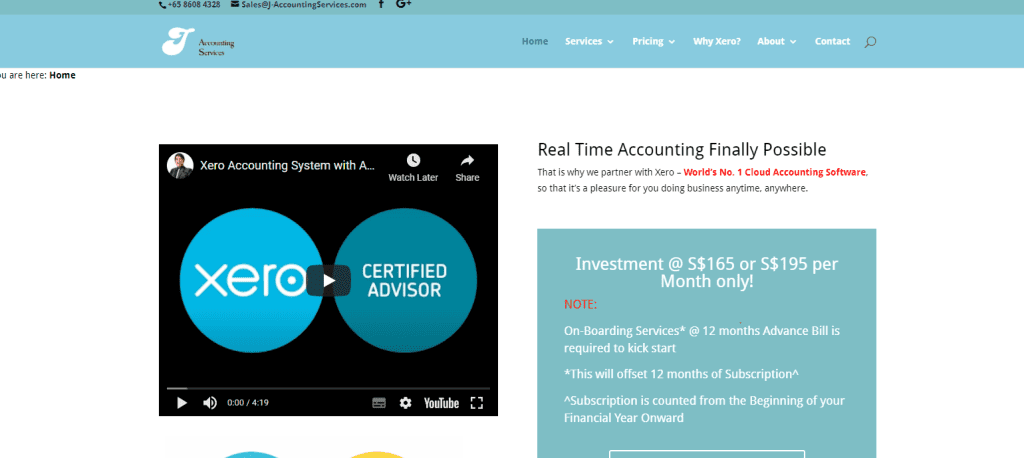 J Accounting Pte. Ltd. is a one-stop partner for your business as with other small and medium sized enterprises. Their goal is to help build a world in which people with passion have the resources and opportunities they need to overcome their obstacles and live their dreams.
They partnered with Xero, the World No. 1 Cloud Accounting System, providing their clients with productivity enhancement, business cost reduction and peace of mind guaranteed all at the same time.
3. 3E Accounting Pte Ltd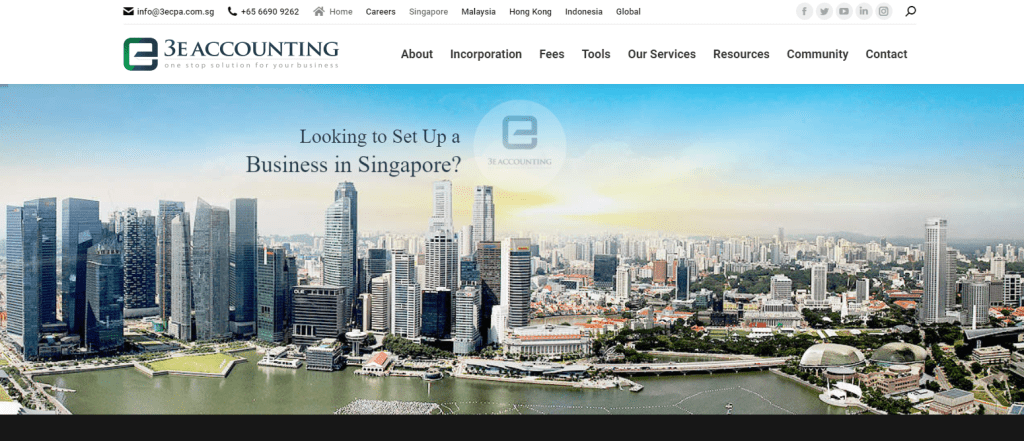 3E Accounting Pte Ltd. provides a full range of fast, responsive services while ensuring their high quality service standards. They specialise in business formation and company incorporation in Singapore quickly and cost-effectively, allowing you to concentrate on building your business while they take care of all the administration and compliance matters for you.
They have thousands of satisfied customers to prove their exceptional quality and can even setup Company for you within just an hour!
4. Hawksford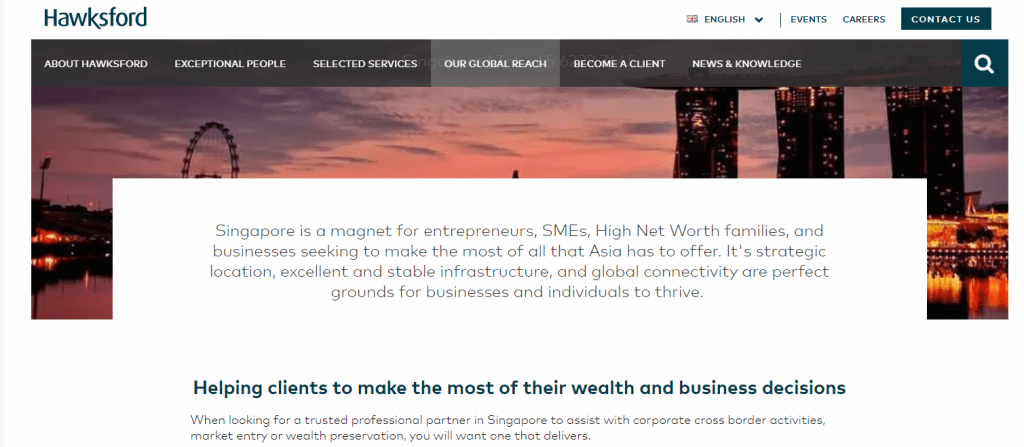 At Hawksford Singapore, they are one of the leading trust and corporate service providers in Singapore and have helped 1000+ businesses successfully incorporate in Singapore. They also have a dedicated private client wealth team, which is regulated by Monetary Authority of Singapore, and provides independent expertise to help their clients make the most of their business decisions and wealth.
5. AG Singapore – Accounting & Auditing Services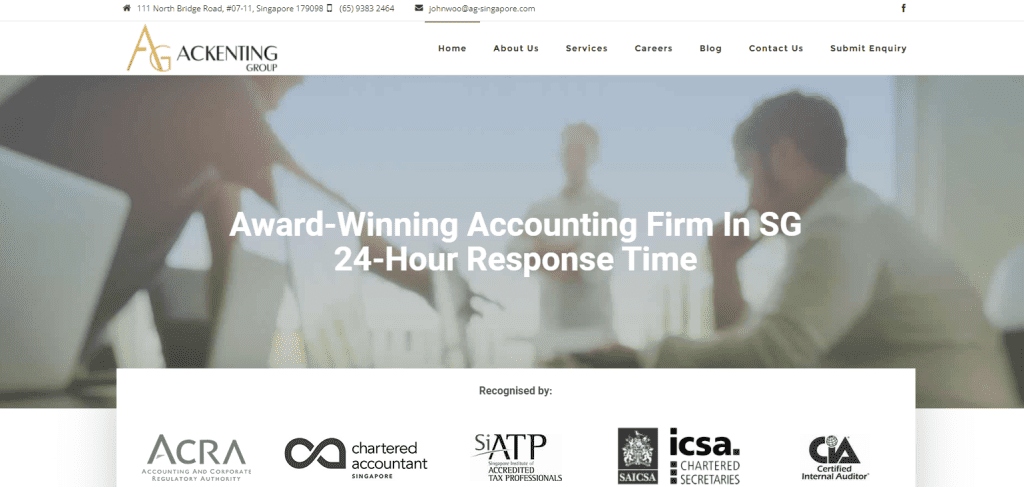 AG Singapore- Accounting & Auditing Services is a group of award-winning professional accounting firms with a headquarter in Singapore and a presence in Malaysia. They provide a full suite of corporate advisory solutions & accounting services to clients across various industries, including logistics, Oil & Gas, Construction & Engineering, Marine, F&B, Printing, Car Dealer, Manufacturing and more.
As a "one-stop-shop". AG is one of the only accounting firms in Singapore that can serve all your outsourced business needs. They have a team of highly experienced professionals with high quality skills, expertise and in-depth knowledge of statutory accounting regulations to deliver major accounting services such as audit, corporate financing, payroll and tax.
6. SBS Consulting Pte Ltd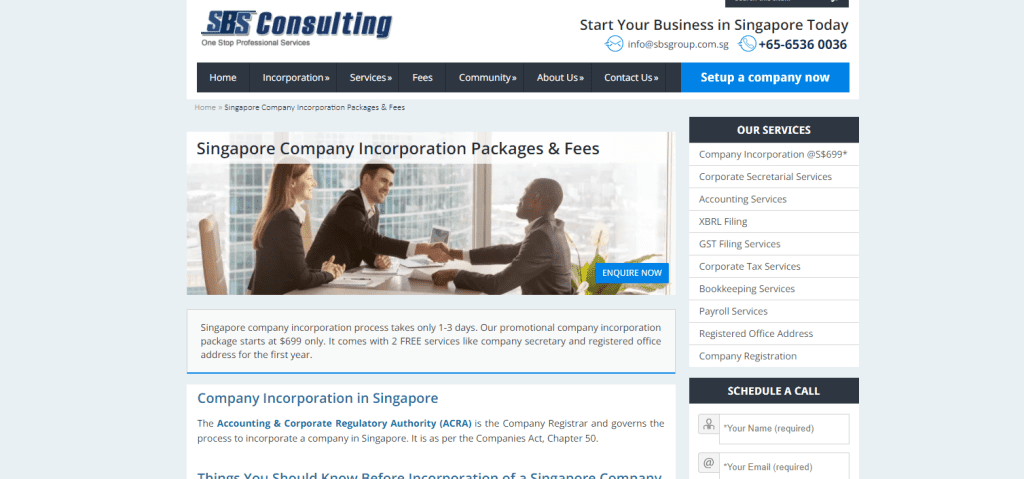 Incorporated in 2010, SBS Consulting Pte Ltd is a Singapore based company registration firm offering a host of corporate services for local and foreign entrepreneurs in the Singapore company incorporation. Their aim is to extend professional business support to entrepreneurs for company incorporation in Singapore with assured sincerity and confidentiality.
Their services include company registration, accounting services, payroll, auditing, IT consulting, software development, immigration and statutory administration services to start-up, medium-sized and large business entities.
7. Piloto Asia – Singapore Company Registration Service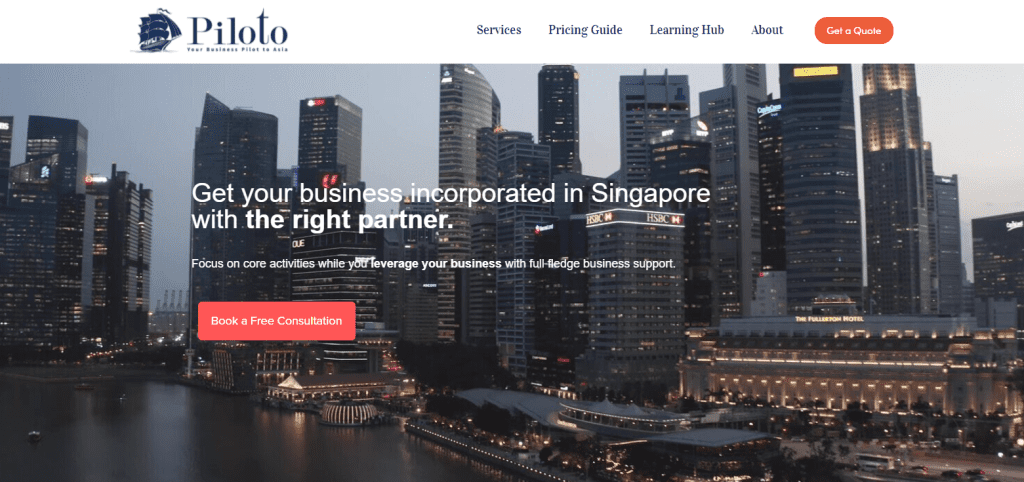 Piloto Asia offers a full range of corporate service in-house and in conjunction with their robust local network. By adopting a personal and consistent approach, they take pride is their exceptional customer service that is delivered by their experienced relationship managers and accountants.
Piloto Asia wishes to support your business and family not only with business services, but also with your investments and immigration needs in Singapore.
8. Osome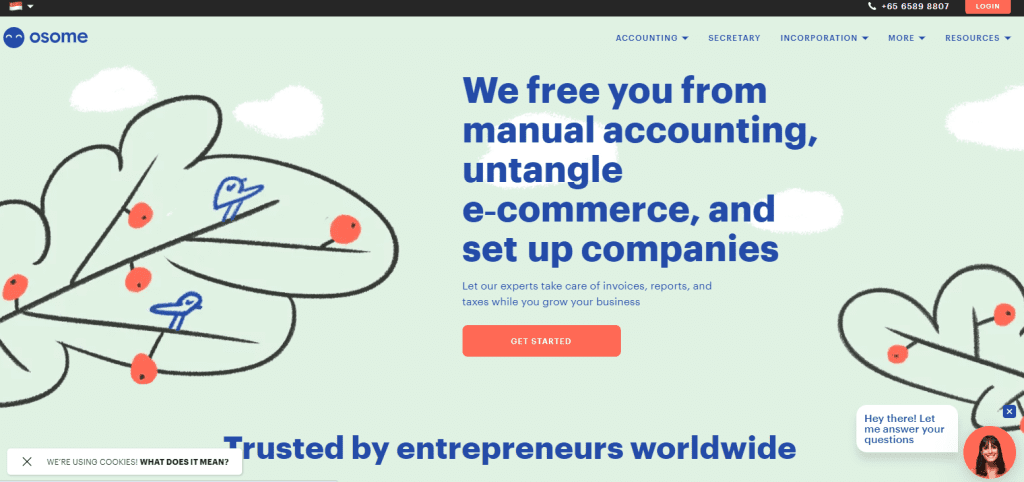 One of the greatest perks of Osome is that they operate 24/7. This means that you can engage their services whenever and wherever you need to. They believe that entrepreneurs are society's problem solvers, who see opportunities in complexities and drive us towards progress.
Osome wish to help entrepreneurs focus on driving their business forward by helping them handle all the routine tasks. If you need any form of documents sorting, you can count on Osome to help you categorise, tag, and store them. Then they will create management reports, tax returns, and draft resolutions.
9. CorporateRoom Services Pte Ltd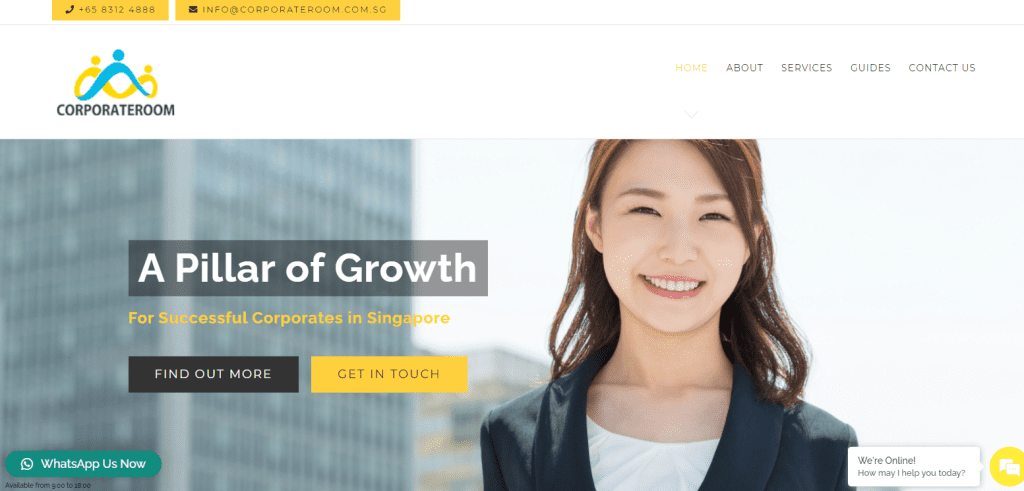 CorporateRoom Services Pte Ltd has a team of specialist company secretaries and regional connections that can provide businesses with the right platform to help their clients as their preferred corporate services partner for Singapore and the Asia Pacific.
They believe good corporate governance is the most fundamental building block for companies, from which sustainable business growth can prosper, and are always ready to assist you with your queries, and provide no-obligations advice to first better understand your needs.
10. Bestar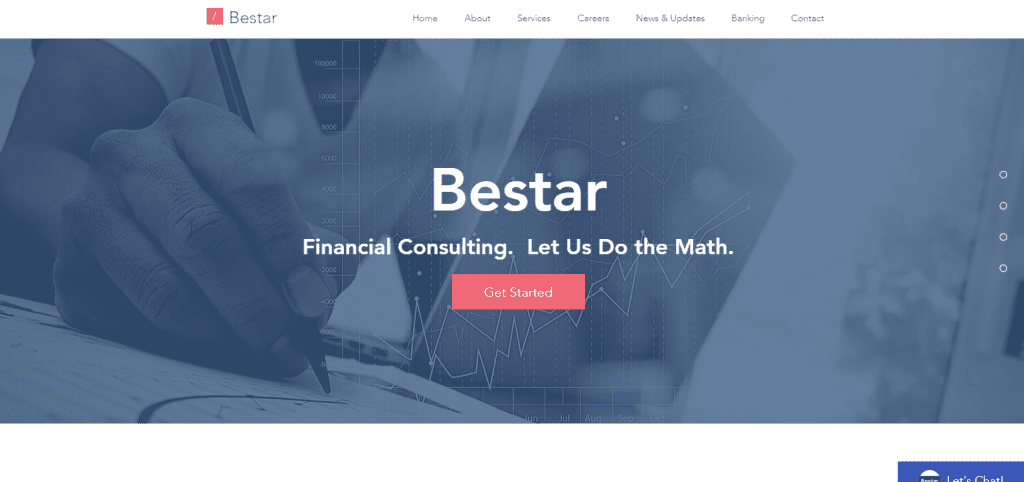 Last on the list of the best company incorporation services in Singapore is Bestar, which provides Singapore company registration, corporate secretarial services, financial advisory, bookkeeping, compilation, tax, single family office advisory, audit, due diligence, company valuation, M&A, risk management, liquidation, employment pass application, payroll outsourcing, HR consulting, IT audit, IT, software and related services.
​At Bestar, they work closely with their clients, helping them to mitigate risks and grasp opportunities. Bestar seeks to deliver results with a team of professionals providing comprehensive, integrated services to clients around the world across all sectors.
Conclusion
Do you have any reviews and comments to share regarding our choices for the best company incorporation services in Singapore?
While SBO is committed to supporting our local businesses, we welcome any feedback and anonymous sharing regarding your experience with the listed company incorporation services in Singapore.
We hope that this guide will be useful in helping you to make an informed decision when it comes to finding the best company incorporation services in Singapore.
Explore More Content
Are you featured in this?
Display this exclusive SBO badge proudly on your website and get more sales!