10 Best Litigation Lawyer in Singapore To Settle Lawsuits Civilly [2021]
Lawyer up yourselves with the top litigation lawyers in Singapore, for civil or corporate disputes.
Management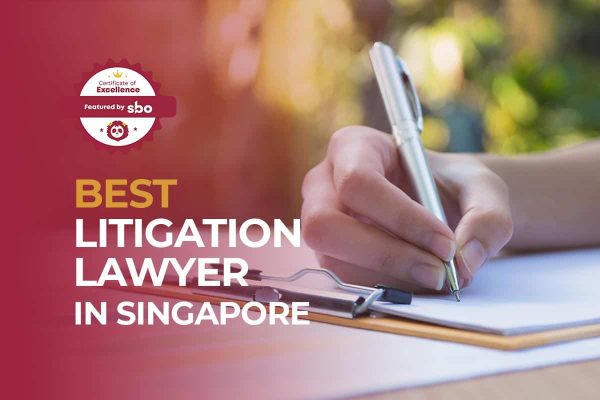 Our team at SBO.sg is committed to being a one-stop avenue to connect local businesses and consumers. We hope that our research efforts can help you save time and money by finding you the best deals without having to search around the vast world-wide-web.
Receiving a lawyer's letter or being the sender can be a daunting matter to tackle, with all the legal proceedings to handle and the anxiety surrounding possible financial repercussions.
Litigation lawsuits could be something that one might face in one's career or personal life. They refer to lawsuits that seek compensation from another party, with or without criminal implications.
Hopefully, none of our readers will ever land themselves in such hot water, but it's always better to have a good grasp of the best litigation lawyer in Singapore should you or your close ones face civil or criminal lawsuits.
1. RBN Chambers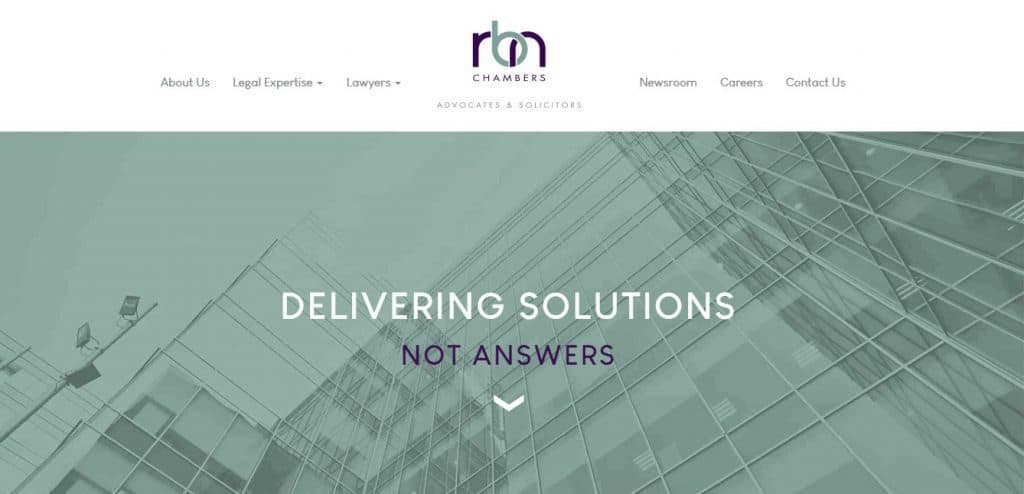 Right off the bat, we have RBN Chambers, headed by one of the most seasoned litigation lawyers in Singapore with years of law experience under his belt.
Specialising in litigation and arbitration, their methodology when presented with a client's case would be to first adopt the Alternative Dispute Resolution (ADR) approach.
This includes mediation or arbitration, which provides a flexible, less time and financially consuming method of solving disputes for the client.
The scope of their litigation services encapsulates both civil and commercial cases, along with arbitration services for those looking to settle their disputes before bringing it to court.
Their utmost dedication and sincerity towards their clients have earned them generous reviews on their website, and noteworthy claims that involve securing up to USD$80 million for a commercial client.
2. IRB Law LLP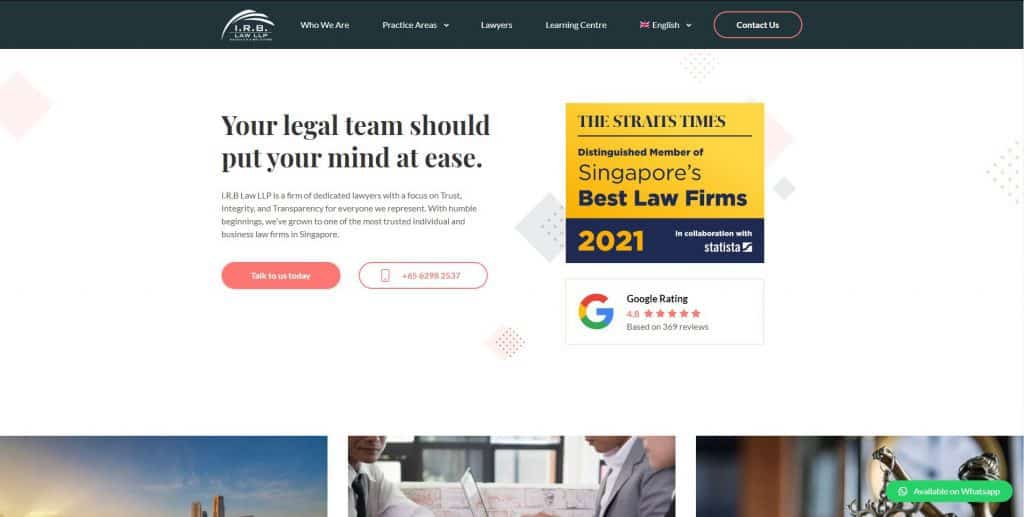 Next up will be IRB Law LLP housing some of the best litigation lawyers in Singapore, with their presence well-spread across the country.
They believe in upholding integrity by providing the most professional legal advice to their clients, with a strong team of lawyers regulated by the Law Society. On top of that, their fees are kept economical and transparently priced to assure their clients of their honesty.
Their civil litigation consultations are complimentary for the first charge, with an all-rounded approach to your claim and the possible outcomes surrounding it. Feel free to drop them a message or head to their offices, conveniently located islandwide!
3. Farallon Law Corporation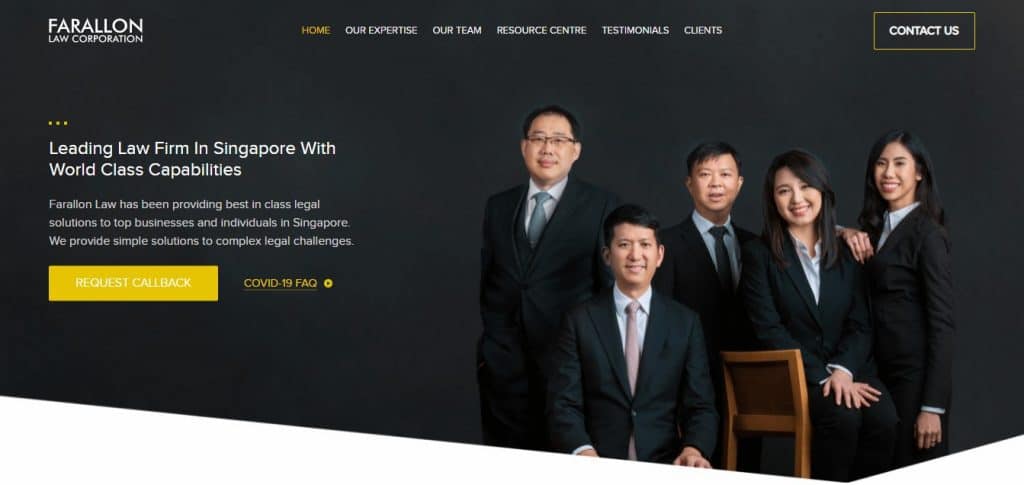 Both companies or individuals can seek professional litigation services at Farallon Law Corporation, an independent boutique law firm in Singapore.
Despite being one of the smaller-scaled law firms here for less than 10 years, they have accumulated positive appraisals and testimonials from satisfied clients.
The firm stands out in terms of their efficiency, affordability as well as their transparency towards their solutions for the clients.
With a strong team of litigation lawyers in Singapore, they offer bespoke solutions for cases regarding contractual disputes, negligence claims, defamation and more.
4. Godwin Campos LLC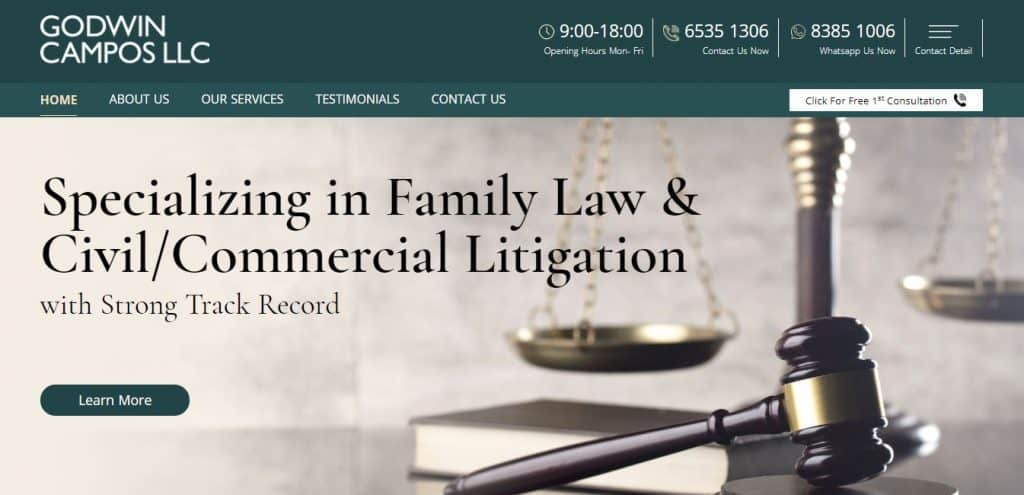 With some of the strongest track records, multiple awards clinched and over 30 years of legal experience under their belt, it's no wonder that this law firm made its way to our list.
Their main area of focus lies in both civil and commercial litigation, ranging from disputes regarding employment to contracts, shareholders, and property to name a few.
Their initial consultations for their clients are made free of charge as well, with their founder Mr Godwin Campos overseeing these requests. His extensive knowledge regarding Singapore's legal system will certainly be of great help!
5. Covenant Chambers LLC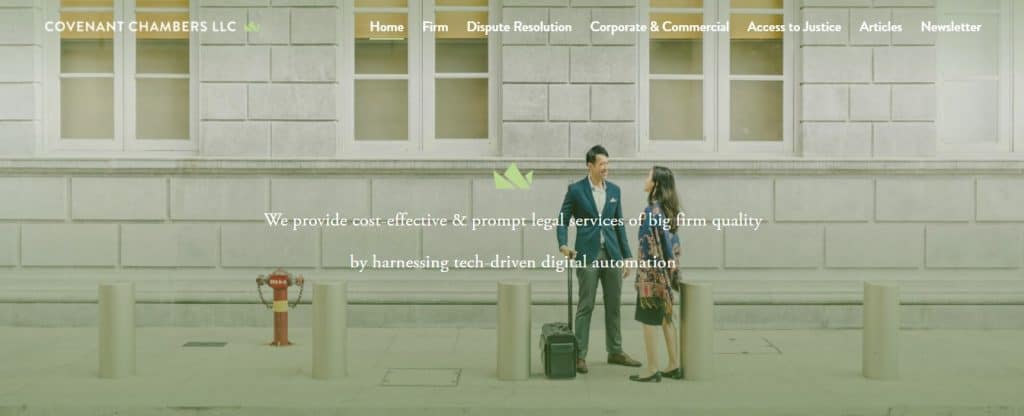 Covenant Chambers LLC is known for its client-focused approach towards achieving desirable outcomes, through the combination of innovation and legal knowledge.
The firm is proudly accredited by SmartLaw, a Law Society of Singapore Recognition Scheme which recognises legal law practices in the country that have embraced technology in their operations (through the usage of smart management software or increasing their online presence).
Apart from civil and commercial litigation, their dispute resolution services encompass international arbitration, family law, real estate disputes, mediation and many more.
6. Yuen Law LLC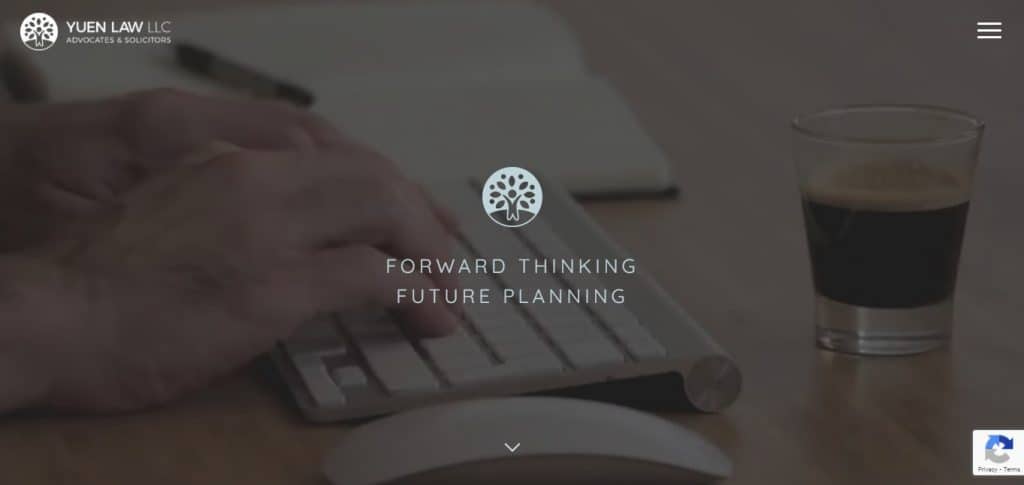 Yuen Law LLP is the firm to head to for some of the best litigation lawyers in Singapore, since its establishment in 2012.
The firm prides themselves on their cost-effective strategies while offering a multitude of legal services that consists of civil and commercial litigation.
Another notable edge over their industry competitors is their strong ties with overseas partners and alliances, assuring clients that deal with transnational legal lawsuits.
They have also recently been featured in The Straits Times as one of Singapore's best law firms, alongside other awards clinched by their team here.
7. A. Rohim Noor Lila LLP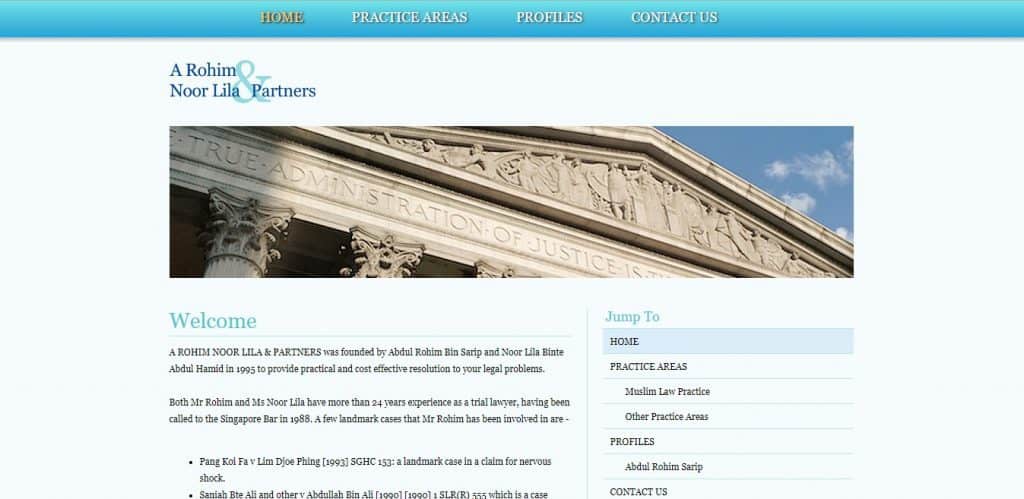 For the Muslims seeking legal advice regarding Syariah laws in Singapore, A. Rohim Noor Lila LLP is one of the ideal law firms in the country to visit.
The firm has dealt with matrimonial cases including divorce, inheritance, child custody and estate planning matters.
Of course, they handle civil and commercial litigation cases that surround debt, sale of goods, consumer credit or real estate disputes involving landlords and tenants.
The founder, Mr A Rohim Sarip, is a seasoned lawyer with 24 years of experience in the industry and who is actively involved in community work, being the Immediate Past President of the Singapore Malay Chamber of Commerce and Industry (an independent, non-profit organisation that focuses on matters pertaining the Muslim community in Singapore).
8. WMH Law Corporation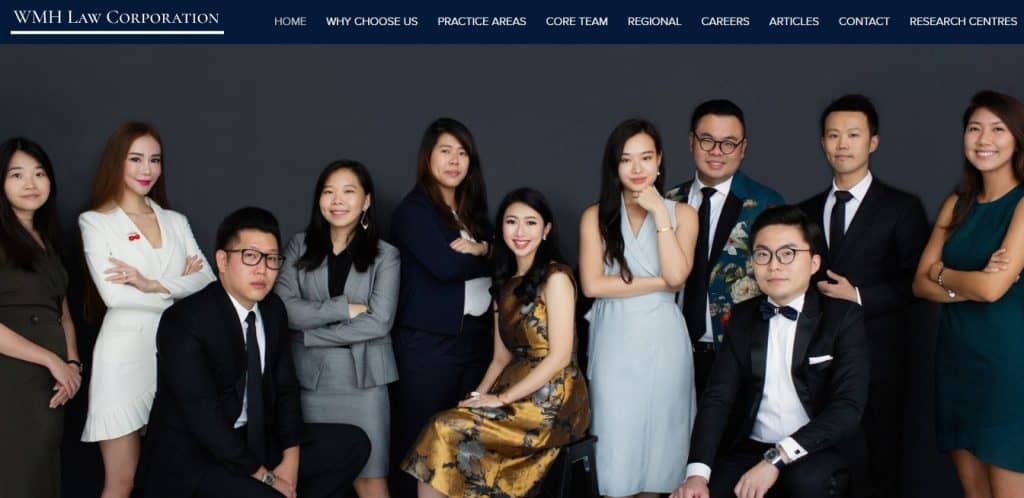 WMH Law Corporation is another boutique law firm in Singapore that has received numerous accreditations and reviews in the legal landscape.
Being a SE Asia Law Awards finalist for 4 consecutive years (2017 to 2020), to being seen on notable news sites such as The Straits Times and Channel News Asia, and also being recognised by Smart Law for incorporating technology, this team of litigation lawyers in Singapore is one worth commending for.
Some of the practice areas of their litigation services involve defamation, debt recovery and insolvency, landlord & tenant and employment, to name a few.
9. Gloria James-Civetta & Co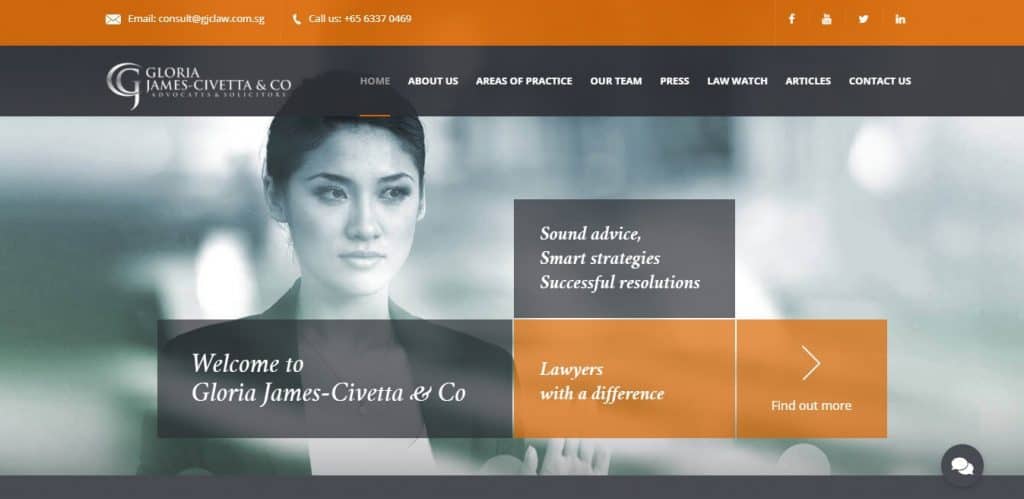 Up next is one of the most well-established law firms with expert litigation lawyers in Singapore, Gloria James-Civetta & Co.
The firm is known to specialize in a wide range of legal practice areas concerning civil, commercial, and corporate law. The founder, Gloria James-Civetta is a well-respected figure in the field who has 24 years of experience in these areas.
She has also contributed valuable, exhaustive knowledge on the Net with her divorce blog, sharing professional advice for those out there facing troubles with family matters such as divorce proceedings, relocation and more.
10. Ramdas & Wong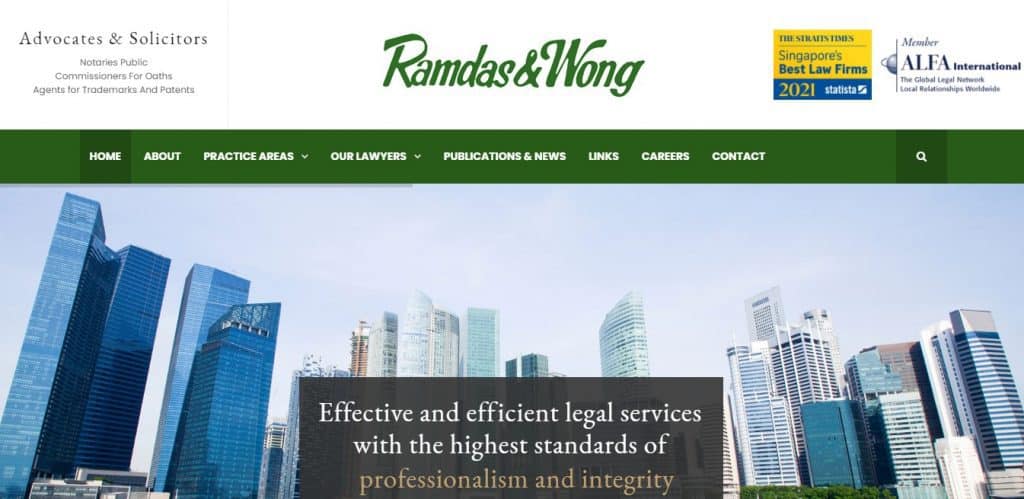 At last, we have one of the longest-standing law firms in Singapore, Ramdas & Wong, which has been in existence for over 42 years and has since expanded from a small office to a full-service law firm.
The firm is also the only Singaporean member of ALFA International, a prestigious international network of law practices that offers them access to world-class legal expertise.
Additionally, they have been featured on The Straits Times as one of the best law firms in Singapore, alongside other contenders of the list here like Yuen Law LLC and IRB Law LLP.
With these accreditations, one can be safely assured of being served with the best litigation lawyers in Singapore!
Conclusion
Lawsuits are no small affair, and it is critical to hire the best defender to fight your case and let the matter rest.
Be it civil or commercial cases, these law firms mentioned above have accumulated years of legal experience with talented, passionate litigation lawyers in Singapore to bring forth your best interests in court.
Apart from litigation cases, one of the common run-ins with the law would be divorces. Look out for our recommendations for the best divorce lawyers in Singapore!
In this article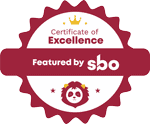 Are you featured in this?
Display this exclusive SBO badge proudly on your website!