10 Best Employment Lawyer in Singapore for Dispute Resolution [2022]
Find the best employment lawyer in Singapore to resolve your employment disputes.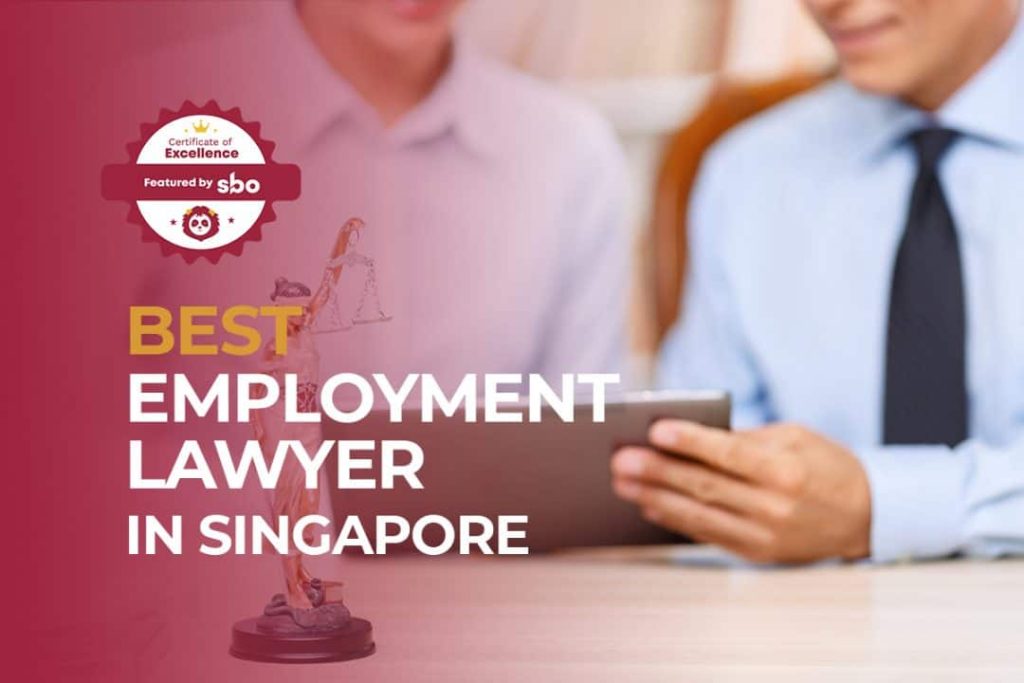 As a result of the COVID-19 pandemic reaching Singapore's shores, there was a jump in the number of wrongful dismissal claims in the second quarter of last year, in tandem with the decline in local employment figures during the same period.
A total of 436 such claims were lodged under Section 14 of the Employment Act between April and June by employees who were unhappy over the abrupt manner in which they were let go due in part to restrictions in face-to-face meetings during the circuit breaker. Others cried foul against "disguised retrenchments".
This is where an employment lawyer in Singapore comes in to help you resolve any disputes you may have with your employer. In this post, we've gathered all the necessary details to compile a list of the 10 best employment lawyer in Singapore.
1. RBN Chambers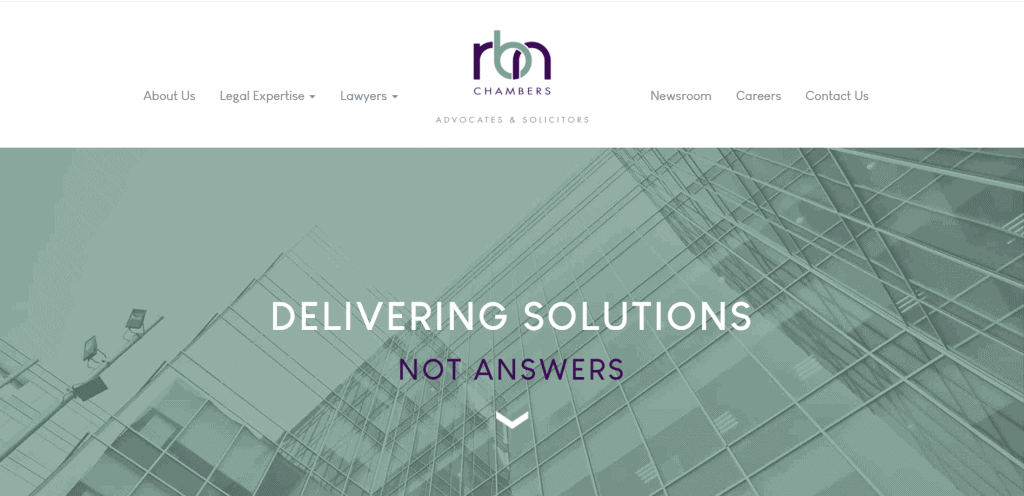 At RBN Chambers, their employment lawyers are trained to represent you in all types of employment-related disputes, including unfair dismissal, breach of contract, discrimination, harassment, whistle-blowing, and injunctive proceedings.
Their employment law team is headed by senior lawyer Ramesh Bharani Nagaratnam. The employment lawyer in Singapore is an experienced litigation & arbitration lawyer, as well as a Certified Practicing Accountant (CPA) in Singapore. He has more than 15 years' experience in the law and accountancy disciplines.
One of their notable briefs was when they successfully defended a US multi-national corporation in Singapore against its former employee in an action for unfair dismissal and breach of the implied terms of the employment contract.
2. Farallon Law Corporation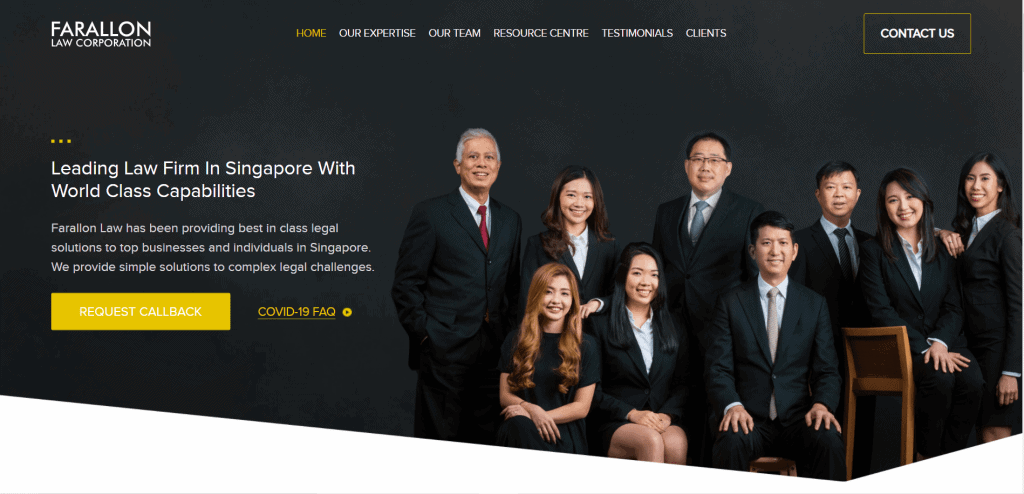 Farallon Law Corporation is a boutique independent law firm in Singapore that is focused on delivering effective legal advice and representation to all their clients.
Their team has achieved favourable results for clients in all levels of court in Singapore, from commercial high-stakes cases to employment law proceedings. They are recognised regionally by the high quality of legal services they provide.
The employment lawyer in Singapore is headed by Managing Director Nicholas Tang, an Advocate & Solicitor of the Republic of Singapore. The lawyer is qualified to practice law in Singapore, New York (USA), Hong Kong and England and Wales (UK).
The services provided by the employment lawyer in Singapore include:
Drafting Of Employment Contracts
Employment Contract Disputes
General Employment Matters
Drafting Of Confidentiality Agreements
Non Disclosure Agreements
Breach Of Employment Contracts
3. TSMP Law Corporation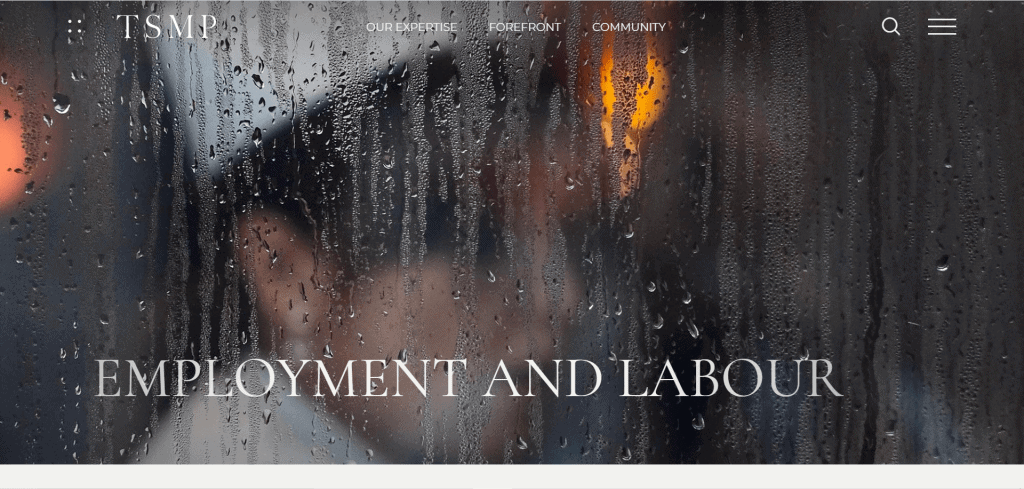 As a pioneer of specialised employment law practices in Singapore covering all aspects ranging from non-competition and dismissal to harassment and data privacy, TSMP Law Corporation is the go-to firm for corporates and C-suite individuals looking to navigate Singapore's complex employment landscape.
The boutique law firm in Singapore was founded in 1988 by Dr. Thio Su Mien and Ms. Tan Bee Lian, both of whom are iconic law figures in the local scene.
The employment lawyer in Singapore has acted for multinationals like Chevron, Citibank and IBM in advisory, transactional and contentious employment work.
One of their successful briefs was when they represented technology and engineering multinational Emerson in obtaining High Court non-compete and confidentiality injunctions and damages against its former director who had joined Chinese multinational Huawei in the data centre network power industry.
4. Rajah & Tann Singapore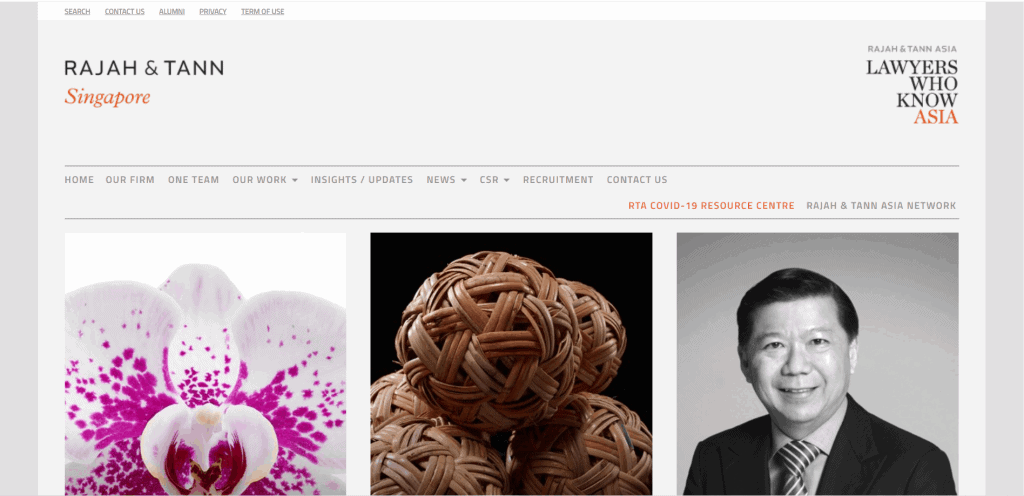 Made up of partners drawn from Rajan & Tann's corporate and dispute resolution departments, Rajan & Tann's employment law team provides seamless support in relation to a broad range of employment and executive compensation issues for clients ranging from large international corporations to senior executives.
The employment lawyer in Singapore routinely covers a very large amount of ground. Regardless of whether they are advising large corporations on cross border employment policies, designing new compensation plans, or acting to resolve potentially expensive disputes, you can count on Rajan & Tann to help organisations and individuals work together in a more productive fashion.
Their lawyers are among the best in their field. Kala Anandarajah and Abrul Jabbar have both been cited as leading employment lawyers in AsiaLaw Leading Lawyers.
On the contentious front, their specialist partners, including Andre Yeap SC and Francis Xavier SC, have a proven track record of successfully handling the entire range of employment disputes in both courts as well as arbitration settings.
5. GJC Law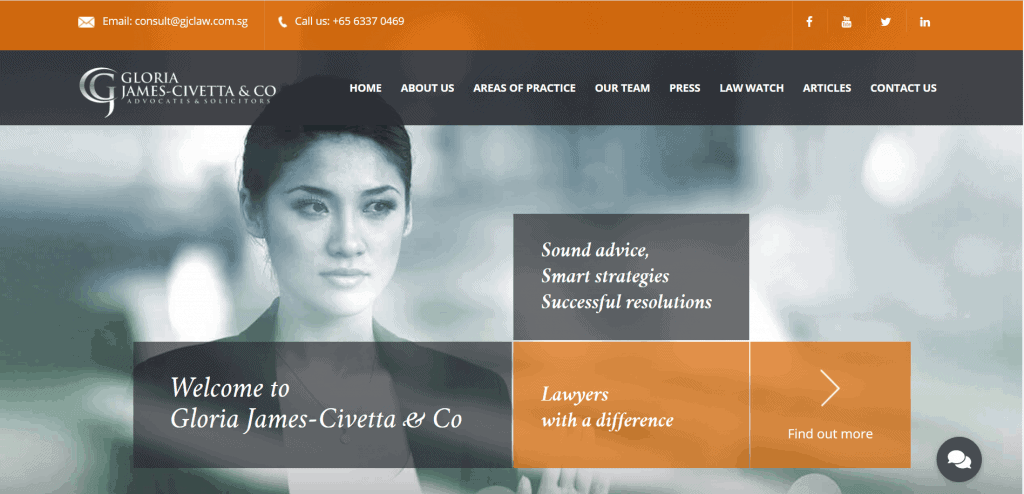 At GJC, their team of employment contract lawyers offers comprehensive services to corporate and individual clients on the drafting and vetting of employment contracts, and the resolution and settlement of employment contract disputes.
Headed by senior lawyer Gloria James-Civetta, they provide services such as:
Drafting and reviewing of commercial agreements
Advising and drafting of employment contracts and employers' handbook.
Advising employers and employees on their rights under the applicable laws and regulations.
Advising on disputes arising from employment and commercial agreements.
The employment lawyer in Singapore can also assist both business employers and individual employees in dealing with issues arising from the termination and/or disputes on the terms of an employment contract. Their team possesses substantial experience in working with senior executives to manage, settle and resolve termination of employment as well as related employment disputes.
6. PDLegal LLC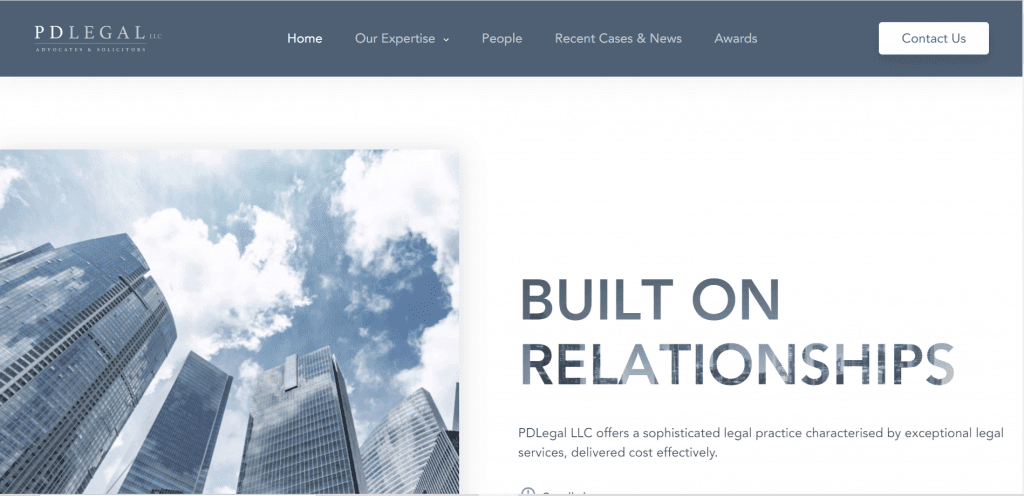 PDLegal LLC, headed by Managing Partner Peter Doraisamy and Senior Associate Mato Kotwani, is often engaged to navigate Singapore's employment landscape.
The Labour and Employment team at PDLegal LLC has extensive expertise and has been retained by Individuals, Companies, and Corporations seeking legal representation on employment law matters in both Singapore and Asia.
The employment lawyer in Singapore covers almost all aspects of Labour and Employment law, from non-competition, dismissal and harassment to corporate employment policies, employee stock option schemes and data privacy.
7. CNPLaw LLP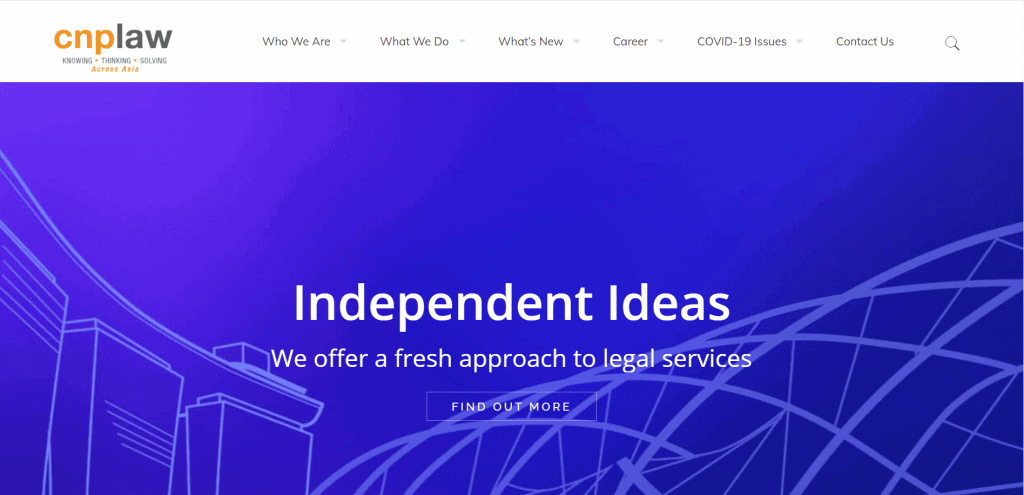 CNPLaw LLP provides legal advisory services to their clients and works with them in the preparation and review of employment contracts and related documentation to ensure that they are in line with their expectations. In doing so, they play a role in shaping human-resource policies that strike a balance between the commercial objectives of employers, and the individual rights and interests of their employees.
Having an appreciation of how improved productivity is a corollary of a happy workforce, they also advise clients on various employee and workplace initiatives.
One of the popular forms of employee incentives are share-option schemes, and their employment and tax law practice collaborate with each other to effectively advise clients on the implementation and tax treatment of such schemes.
The law firm's employment contracts and relations team is headed by Partners Pradeep Kumar Singh, Bill Jamieson, Wong Pei-Ling, Kenn Lim and Quek Li Fei.
8. WongPartnership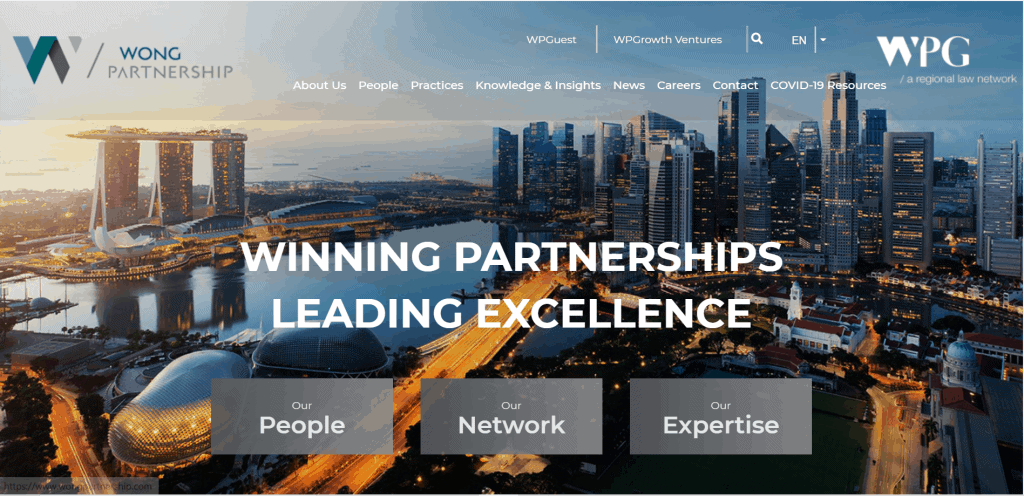 Founded by Senior Counsel Meng Meng Wong, WongPartnership's Employment Practice is cross-disciplinary in nature and their team encompasses lawyers well-versed in corporate practice, as well as disputes, work. They draw on the best of both worlds in providing practical solutions for their clients in employment law.
They implement staff procedures and manuals, advise on benefits and incentives, manage retrenchment exercises, and assist in employee misconduct investigations.
They regularly advise on implications arising from the relocation of employees and termination of employment for both employers and employees. They also work with their clients on employment issues related to carve-out and bolt-on transactions.
They collaborated with Randstad Singapore in authoring the inaugural Randstad Singapore Workpocket 2015/16, a Human Resource (HR) guide designed to provide sound advice for HR managers and business owners to manage talent challenges.
9. Md. Nasser Ismail & Co
At Md. Nasser Ismail & Co, their team of employment lawyers offers services to corporate and individual clients on the drafting and vetting of employment contracts, the resolution and settlement of employment contract issues and the structuring of employee incentives, benefits and compensation schemes.
As a full-fledged Singapore law firm, Md. Nasser Ismail & Co is able to advise both corporate and individual clients on various visa and Employment Pass applications and the best manner to obtain Singapore Permanent Residency for employees.
As a hub for international trade and commerce, Singapore has a substantial expatriate population from around the world. The employment lawyer in Singapore, with its diverse background and international outlook, takes pride in advising their clients to best structure contracts for employees, permanent or short term assignments, transfers and other relevant cross-jurisdiction arrangements, taking into consideration issues such as taxation and immigration requirements.
10. Godwin Campos LLC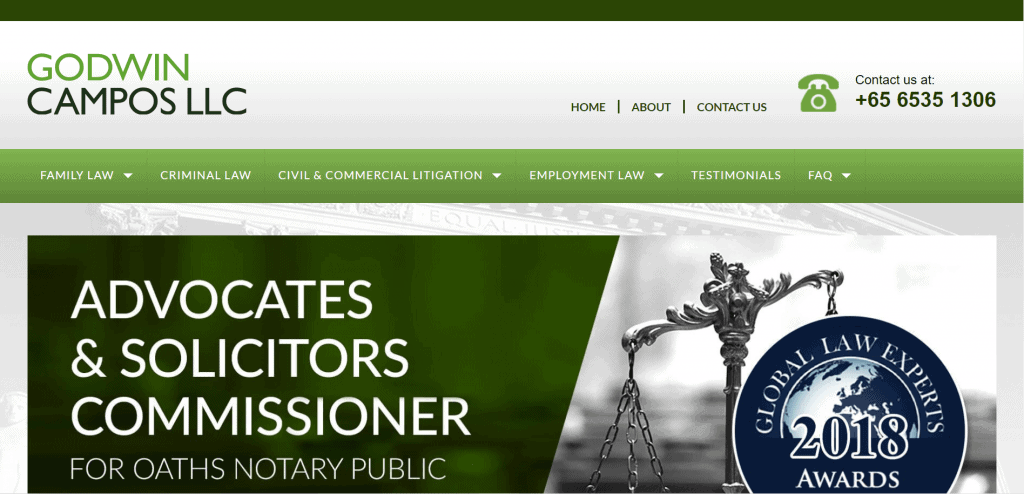 Founded by senior lawyer Godwin Campos, Godwin Campos LLC has distinguished itself from other law firms in Singapore by providing world-class legal services.
Established in 2003, the employment lawyer in Singapore will ensure that your obligations are properly evaluated and that your rights are effectively protected.
Whether you are an employer or an employee, they want your matter to be resolved as smoothly as possible. Common employment-related issues include termination of employment, unfair dismissal, retrenchment, restraint of trade/restrictive covenant clauses, trade secrets & confidentiality obligations and the rights & obligations of both employer and employee under an employment contract.
Conclusion
Do you have any reviews and comments to share regarding our choices for the best employment lawyer in Singapore?
While SBO is committed to supporting our local businesses, we welcome any feedback and anonymous sharing regarding your experience with the listed employment lawyer in Singapore.
We hope that this guide will be useful in helping you to make an informed decision when it comes to finding the best employment lawyer in Singapore.
Explore More Content
Are you featured in this?
Display this exclusive SBO badge proudly on your website and get more sales!