10 Best Debt Collector in Singapore to Recover Your Funds [2023]
Who said debt collectors are all "Ah Longs"?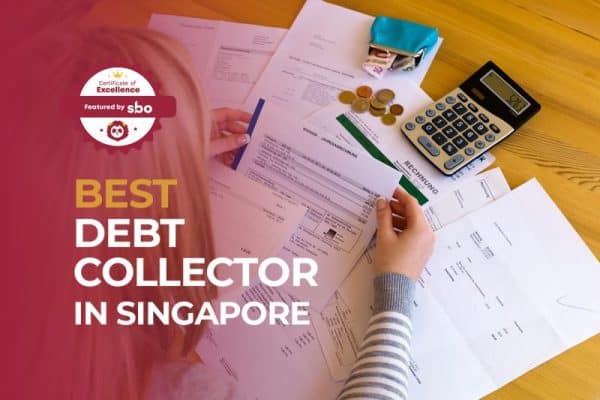 Red paint. Pig heads. Constant harassment. Well, if these were the first images that came to your mind upon hearing the phrase "debt collector in Singapore", we don't blame you. Interestingly enough, these images have become outdated.
Illegal moneylenders are now turning to modern-day techniques like shaming borrowers on social media and making use of FoodPanda riders to harass borrowers (how terrible!).
As the saying goes, a leopard will never change its spots.
But did you know that there are licensed debt collectors in Singapore who use legal methods to collect your debts?
These include traditional methods such as mediation sessions to modern ones like hiring a Private Investigator to track down your borrower should he or she go Missing-in-Action.
These debt collection companies are registered with the Accounting and Corporate Regulation Authority of Singapore and they operate within legal boundaries.
In this post, we've gathered all the necessary details to compile a list of the 11 best debt collector in Singapore to recover your funds.
1. Debt Collection Pte Ltd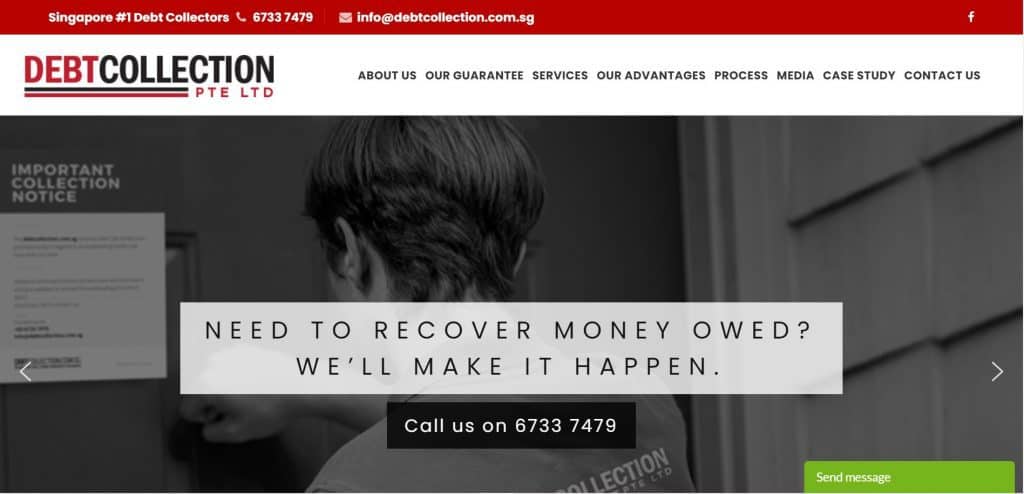 Debt Collection is a Singapore debt collection, recovery agency and credit management specialist.
The debt collector in Singapore helps Singapore businesses, both small and large, to safeguard their cash flow and minimise risk.
Their skilled and experienced field officers can be deployed to assist in the recovery of your debt if necessary.
They understand that sometimes personal visits may be necessary in order to get your money back.
In addition, their field officers serve legal documents and make discreet inquiries and interviews when appropriate.
Their state-of-the-art technology also enables them to help them clients conduct forensic company checks to determine credit limits of their potential customer. These checks come with detailed reports containing their findings.
2. Resolute Debt Recovery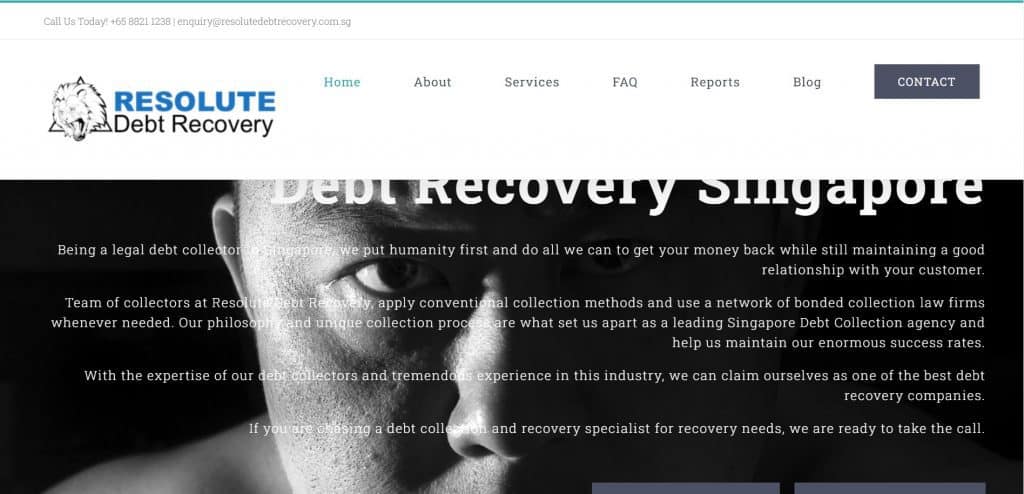 Since 2012, Resolute Debt Recovery has been serving as a trustworthy debt collector in Singapore that helps businesses to collect unpaid accounts swiftly.
The debt collector in Singapore distinguishes itself from its competitors through the following Unique Selling Propositions:
Professional Calls – The purpose is to find out the main reasons of non-payment, classify the type of debtors, and then devise collection strategies.
Team Work – All their collectors are professional, well-trained and familiar with debt collection laws in Singapore.
Personal Visits – Personal visits serve as an intensified collection action to impose additional pressure on the debtor to call forth payment.
They will also carry out research on your case and assign you debt recovery lawyers who have handled similar cases before to lend you a helping hand.
3. DMS Debt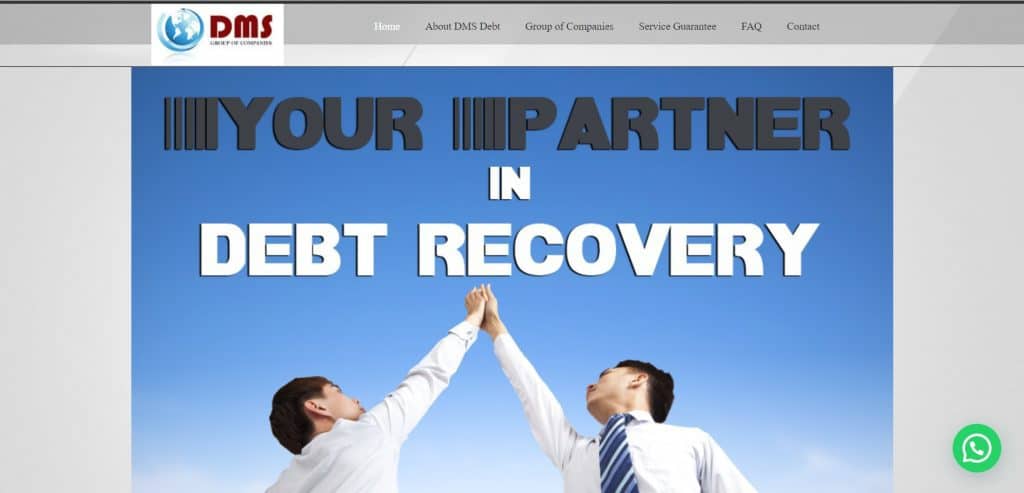 Whether it's overdue accounts, unpaid invoices or arrears, DMS Group has the solution. They are an organisation of the highest moral standing and their practices are tailored to deal with the debtors in accordance with the law.
Their affiliated company, Global Debt Management, possesses a team of trace agents who are some of the most experienced in the business.
They are equipped with the latest databases, technology and software needed to ensure results in the quickest possible time.
The debt collector in Singapore offers reports which provide information about the applicant's current financial situation, credit score, payment history, as well as personal data, like employment and address history.
As a service guarantee, the debt collector in Singapore promises to refund to you the full working allowance together with the service guarantee fee, if within a three-month period, from the date the unsuccessful case was returned to you, another debt collection agency manages to retrieve the full debt for you.
4. Atradius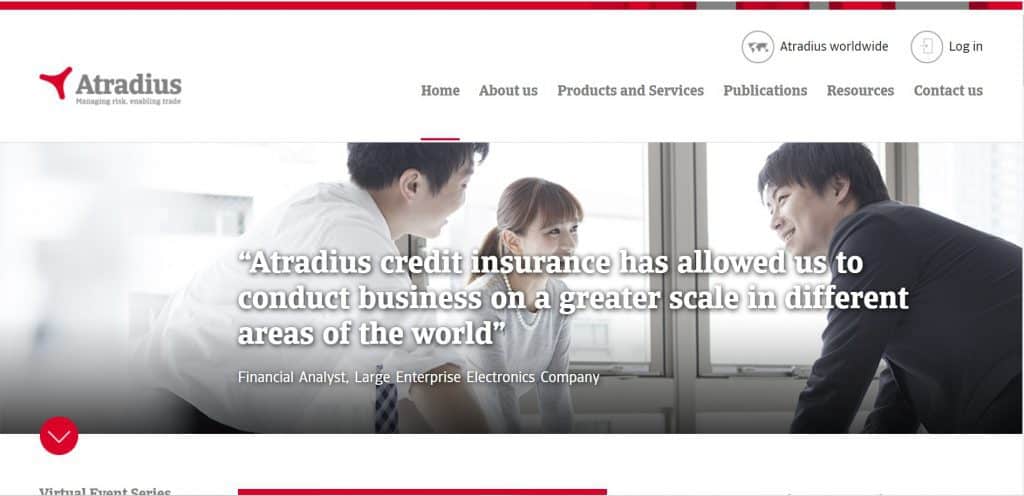 Specialists in trade credit insurance and debt collections, Atradius is committed to building strong relationships with its customers.
Having had a presence in Singapore since 2007, the debt collector in Singapore has a team of Underwriters, Account Managers, Debt Collections Specialists, Finance and support staff.
No matter where you, or your debtor, are located in the world, Atradius can support your collection of invoices in any country, time zone, currency and language.
As an Atradius customer, you're also automatically able to access and benefit from their debt collections service, Atradius Collections. This is a feature of all their Credit Insurance policies and will not incur any additional cost for you.
The debt collector in Singapore also offers a standalone Atradius Collections service to organisations that are not Atradius Credit Insurance customers.
5. KX Unit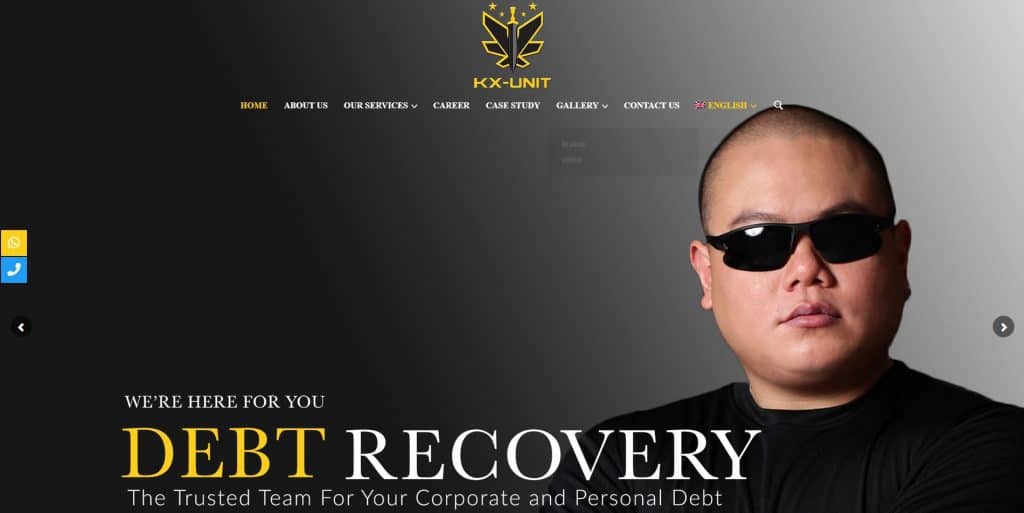 KX Unit appreciates that the business climate in Singapore requires the need for professional and effective debt recovery procedure within a legal jurisdiction.
This is why collection officers from KX Unit go through three basic training sessions: basic industry-related laws, temperamental reconditioning and dynamic negotiation.
Together with the use of technological gadgets, KX Unit commits itself to carrying out the most appropriate yet effective collection methods that best serve the public interest.
Besides their debt collection services, KX Unit also provides anti-scam consultancy which aims to help their clients to do an in-depth assessment on companies that they intend to invest in.
This will help their clients to make a more informed decision before they invest in these companies.
6. JMS Rogers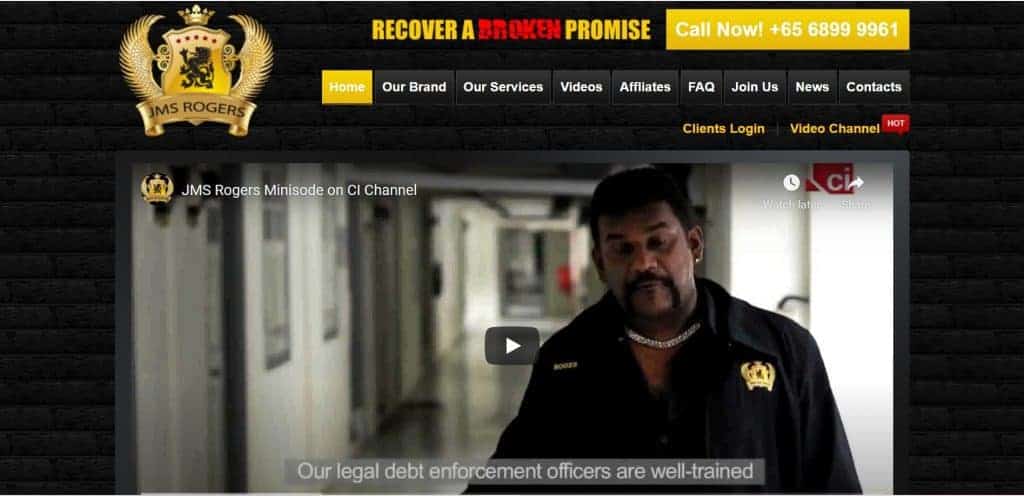 JMS ROGERS® is a brand established in 2004 as a dedicated Debt Recovery & Collection entity.
The debt collector in Singapore is known for providing a valued professional service catered to all forms of corporate and individual customers, in recovering goods and monies owed.
They exercise creative and professional debt recovery methods without undue harassment or harm. That is their distinction against other service providers.
Their Field Enforcement Officers are trained and certified by their in-house trainers who have decades of extensive legal, professional and customer-oriented experience.
They ensure that their clients' name would never be tarnished under any circumstances and that they will always be held in high esteem.
JMS ROGERS® also takes great effort to ensure that their processes and methods are in compliance with the various legislation, including the Personal Data Protection Act (PDPA).
Lastly, the debt collector in Singapore associates with other professional associates such as private investigators and has a panel of solicitors/lawyers at their disposal.
This ensures the most cost-effective solution for their clients.
7. Debt Collector Singapore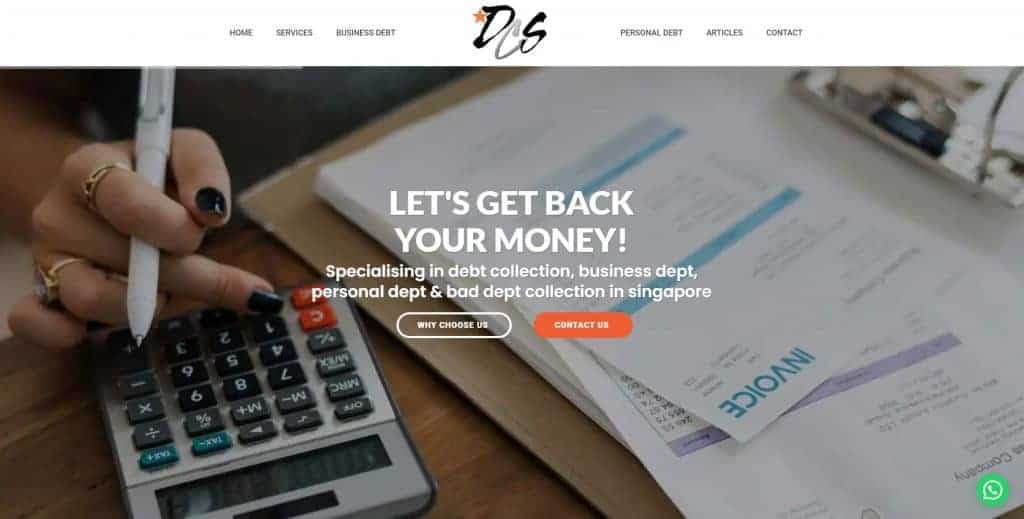 Debt Collector Singapore is one of the country's leading debt collection services. They provide a prompt and professional service that has served businesses and corporations well in helping them to recover debts from debtors.
Their services are more focused on the client's current circumstances which will allow their clients to be given the appropriate help needed for the immediate situation.
When approaching them for debt collection service, you can be assured that they will provide expert pieces of advice on matters relating to debt collection, undivided customer support and assistance as well as legal advice on litigation matters.
8. Abacus Credit Management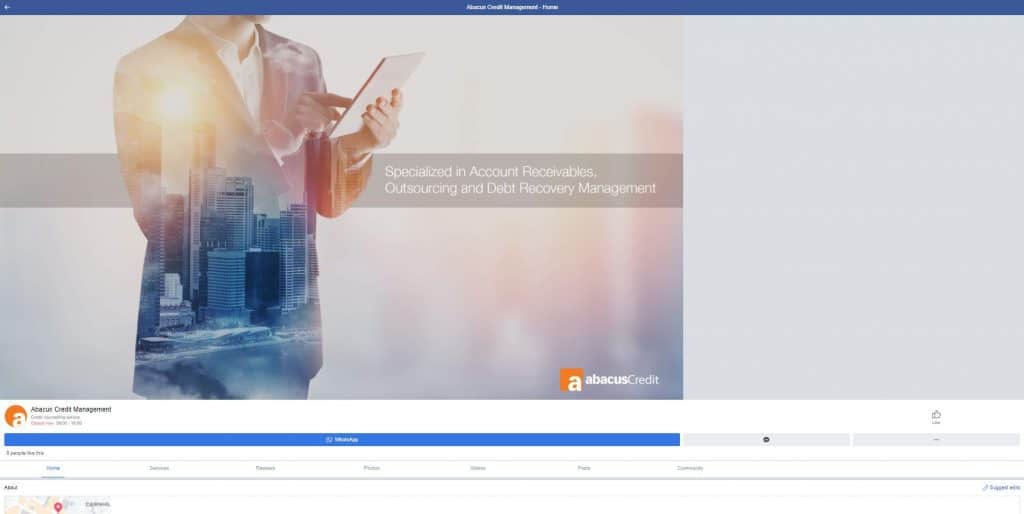 Founded in 2005, Abacus Credit Management is a longstanding and experienced player in the debt collection industry.
The company has since shifted their focus towards corporate clientele with larger debt portfolios, without neglecting its SME clients.
Abacus Credit Management stresses the importance of integrity and professionalism in the industry.
The debt collector in Singapore welcomes both process and compliance audits as part of a smooth partnership with clients – one built on trust.
Abacus Credit Management aims to preserve the relationship between creditor and debtor wherever possible.
As such, they provide a host of targeted debt collection plans and solutions to best suit their clients.
With their innovative and integrated services, you can rest assured to achieve the highest possible return on each dollar placed.
9. Rocket Debt Collection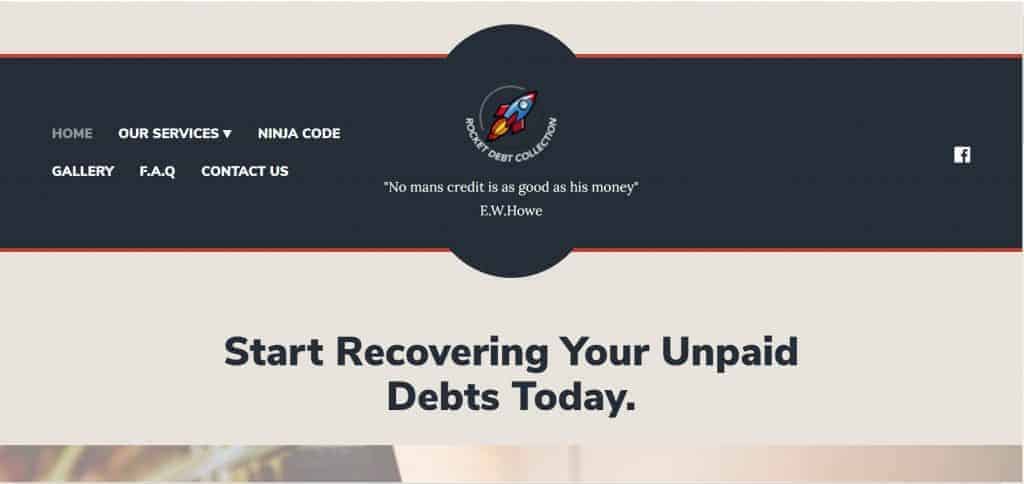 Nominated as the top debt collector in Singapore, Rocket Debt Collection has a three-step approach in place to help you recover your monies.
Once they on-board any Client, their Case Manager will strategise with their Collection Team to establish the best approach towards recovering the debt for their Client.
They will attempt to reach the debtor via phone call and/or posting out registered mails for their first course of action.
At this stage, should debtors be unreachable via phone calls or unresponsive to posted mails, their Collection Team will proceed out to the field to locate the debtors via their business premises or place of residence.
Most debtors will come to an agreement of settling the debt at this point. From phone calls to visitation of business premises or place of residence, Rocket Debt Collection will update clients along every stage of the collection process.
10. Accurate Debt Recovery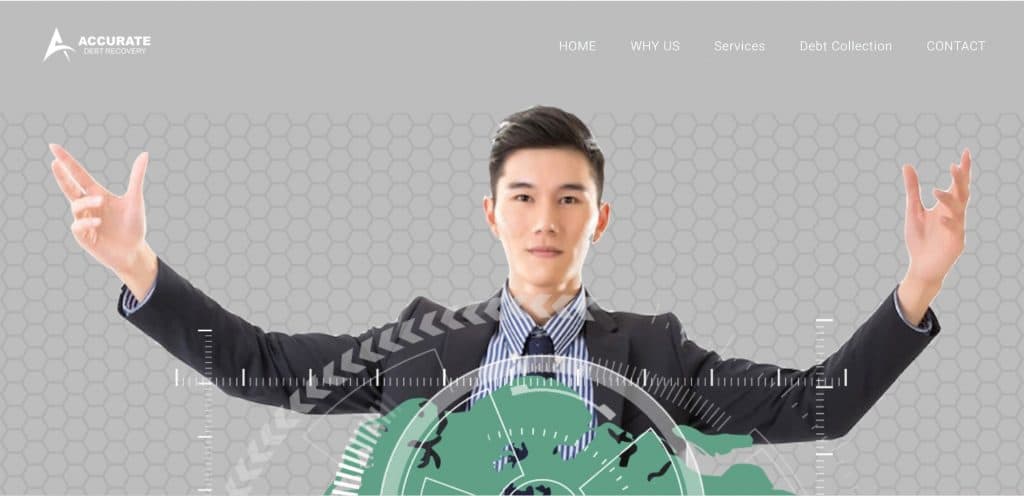 Accurate Debt Collection serves all areas of debt collection, including both commercial and domestic debts – big or small.
The team has been together for over 20 years and is dedicated to serving you throughout the whole process.
You can look forward to enjoying savings on collection costs without the need for expensive and time-consuming litigation.
On average, the debt collector in Singapore resorts to litigation for fewer than 10% of matters referred to them.
They also aim to provide you with every aspect of debt management and debt collection.
Their credit professionals who work in the credit industry every day will assist you with your inquiries and give you the solutions to your problems.
That's not all: Accurate Debt Collection offers an obligation-free consultation.
Conclusion
Do you have any reviews and comments to share regarding our choices for the best debt collector in Singapore?
While SBO is committed to supporting our local businesses, we welcome any feedback and anonymous sharing regarding your experience with the listed debt collector in Singapore.
We hope that this guide will be useful in helping you to make an informed decision when it comes to finding the best debt collector in Singapore.
Explore More Content