10 Best Notary Public in Singapore to Notarize Your Documents [2023]
Notarize your documents with the help of a professional notary public.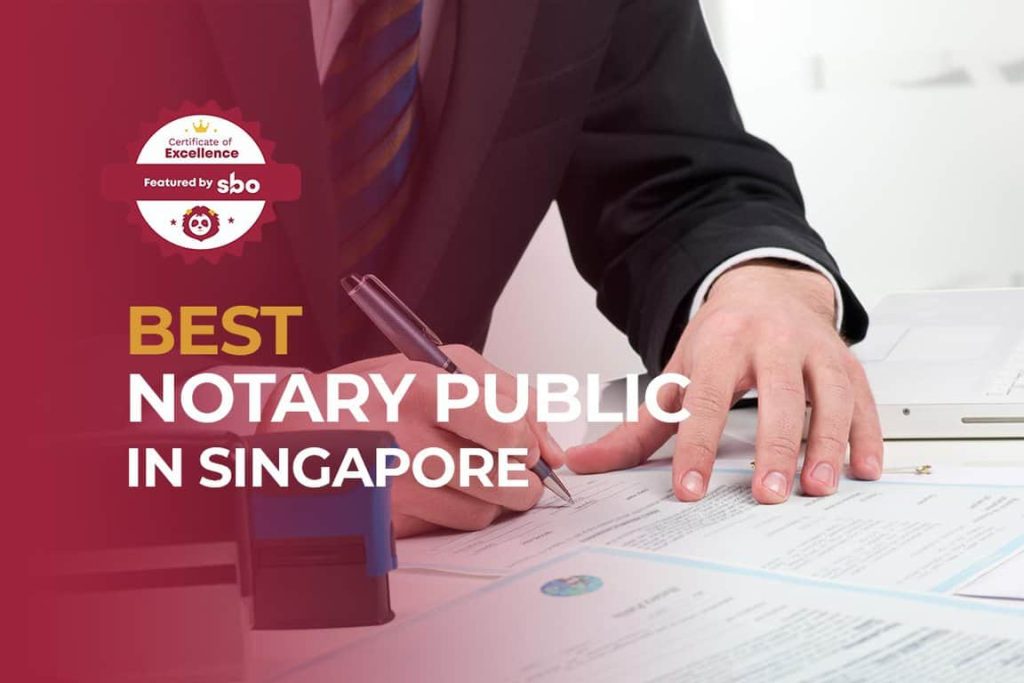 If you're a person who owns businesses and properties overseas and is involved in foreign litigation and matters which require the execution of documents here in Singapore, you will probably find this article very helpful for you.
A notary public, also known as a notary, is a qualified lawyer appointed by The Board of Commissioners for Oaths and Notaries Public to witness the signing of legal documents.
Other services rendered by the notary public include protesting bills of exchange, certifying true copies, entering a ship's protest, etc.
Check out the following 10 Best Notary Public in Singapore you can engage in Singapore to notarize your documents.
1. Notary Singapore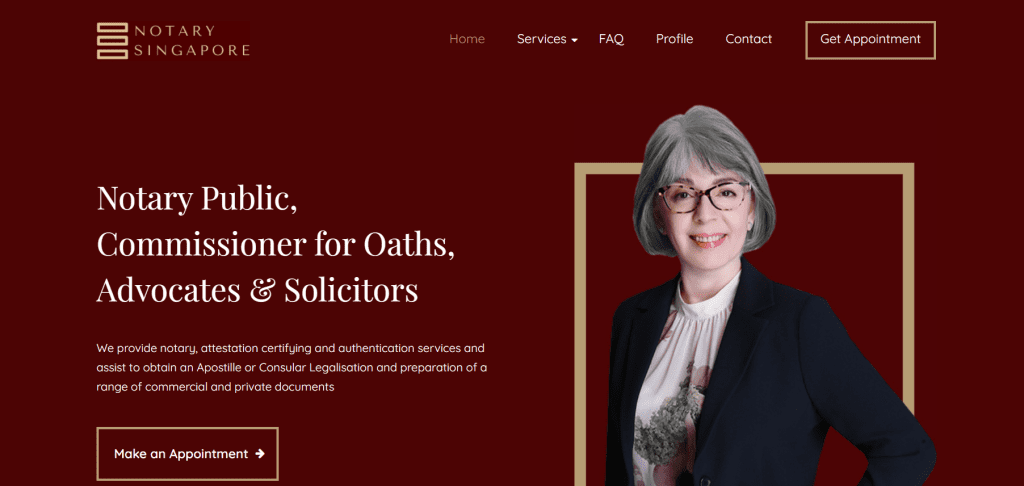 From providing notary, attestation certifying and authentication services to providing assistance in obtaining an Apostille or Consular Legalisation and preparation of a range of commercial and private documents, Notary Singapore is the trusted Commissioner for Oaths, Advocates & Solicitors.
Located conveniently from 3 MRT stations, Notary Singapore is just a 5-7 minutes walk away from Little India MRT, Rochor MRT and Jalan Besar MRT.
2. Singapore Notary Public Harry Sim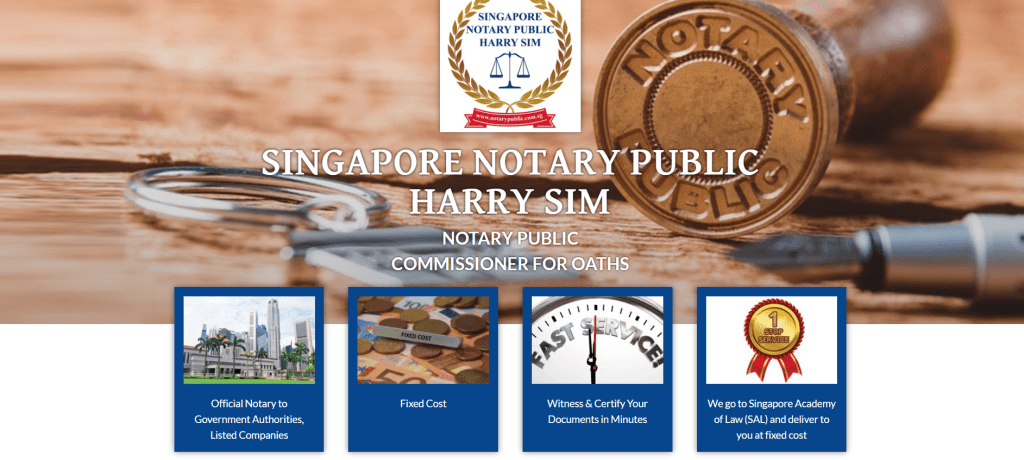 Licensed and appointed by the Singapore Authorities as a Singapore commissioner for Oaths, Singapore Notary Public Harry Sim is proficient and has the power to witness & certify all documents, Affidavits, Statutory Declarations to be used in Singapore.
A one-stop service for notary public services, Singapore Notary Public Harry Sim will witness and certify your documents in minutes and deliver them to you at a fixed cost.
3. Attorneys Inc LLC (Shirley L. Perumpoykail)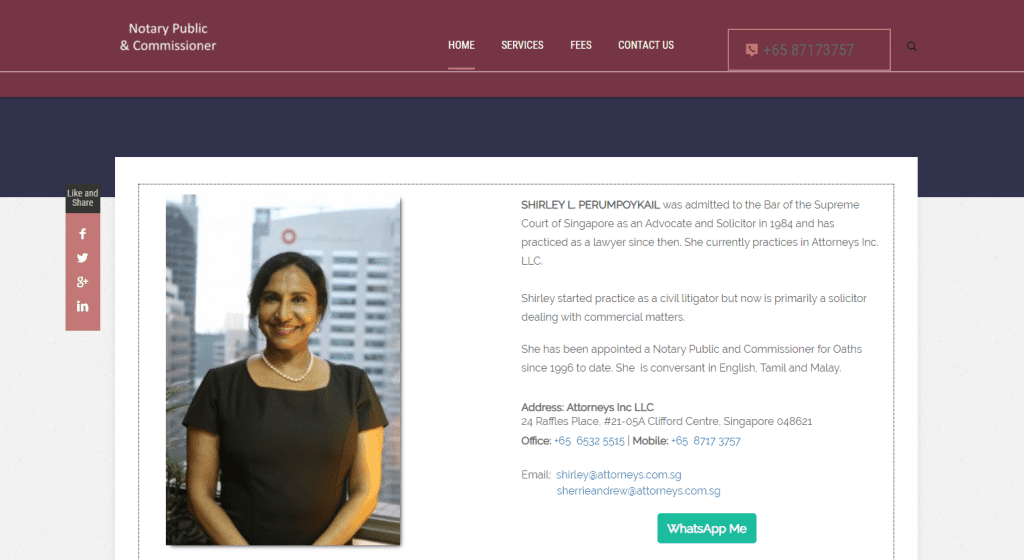 Conversant in English, Tamil and Malay, Shirley has been appointed a Notary Public and Commissioner for Oaths since 1996.
Currently a practising lawyer in Attorneys Inc. LLC, Shirley is now a solicitor dealing primarily with commercial matters.
4. Singapore Notary Public (Marina Bay / Raffles Place)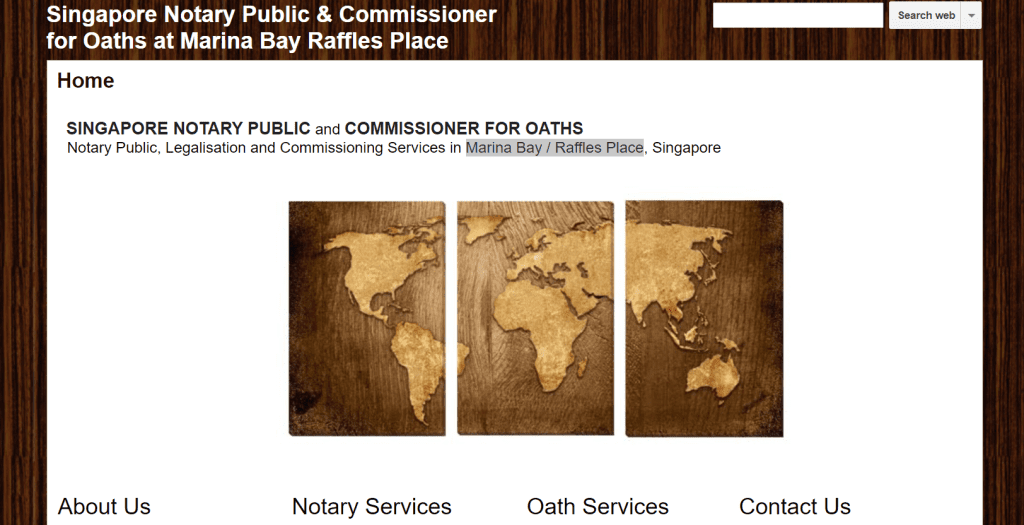 Located in the Central Business District region, Singapore Notary Public provide Singapore Notary Public Services to individuals, businesses and corporate entities whereby your documents will be arranged for authentication by the Singapore Academy of Law, verification by the Singapore Ministry of Foreign Affairs and legalisation by foreign Embassies, General Consulates, Consulates and High Commission.
In addition, Singapore Notary Public also facilitates the notarized translation of foreign documents for submission to Singapore Immigration, Manpower and financial institutions.
5. CONP-SG | Janice Lim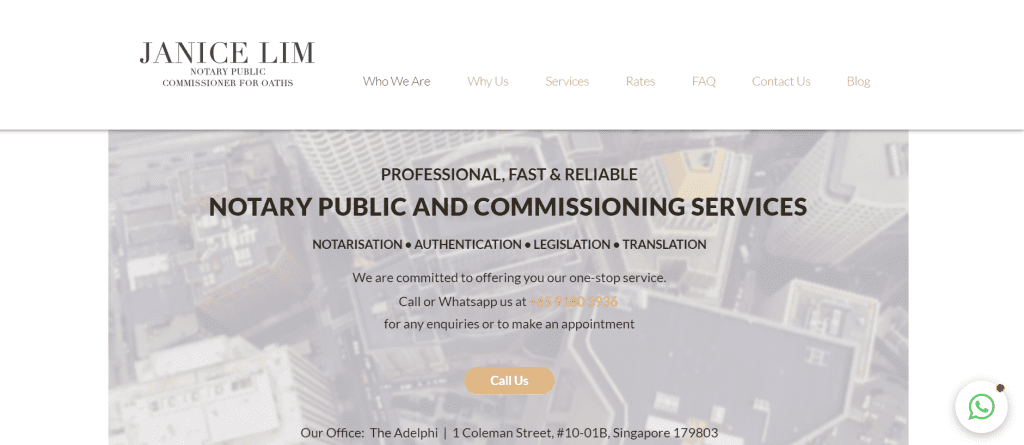 Providing full notary public services for use globally, Janice Lim Notary Public Commissioner For Oaths strives to process your request as quickly and hassle-free as possible, with no GST and hidden costs.
Conveniently located in the same building as the Singapore Academy of Law (SAL), you can just head up to have your document authenticated!
6. Hoh Law Corporation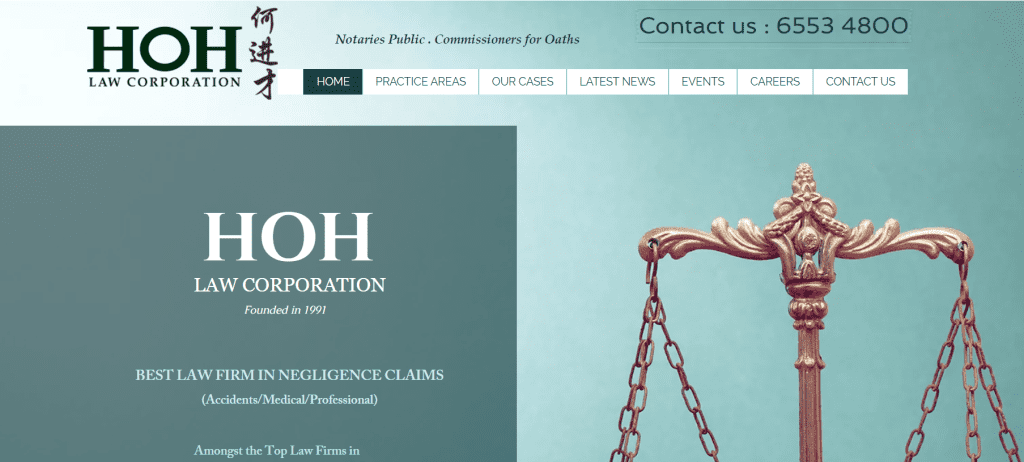 With close to 30 years of experience, HOH Law Corporation was voted as the Best Law Firms in 2021 according to a survey by The Straits Times and Statista
With over 10 branches across Singapore, the firm also offers an immediate or same-day collection of the notarized documents (including SAL authentication).
7. Clifford Law LLP (Michael Loh)
A Notary Public in Singapore for more than 10 years and counting, Michael Loh has helped many clients throughout the years and has expanded his work providing notarial services to authenticate documents to be used overseas, for example, the ASEAN region.
Aside from notarising documents, Michael is also a Commissioner for Oaths who administers oaths for documents.
8. Tan & Yip LLC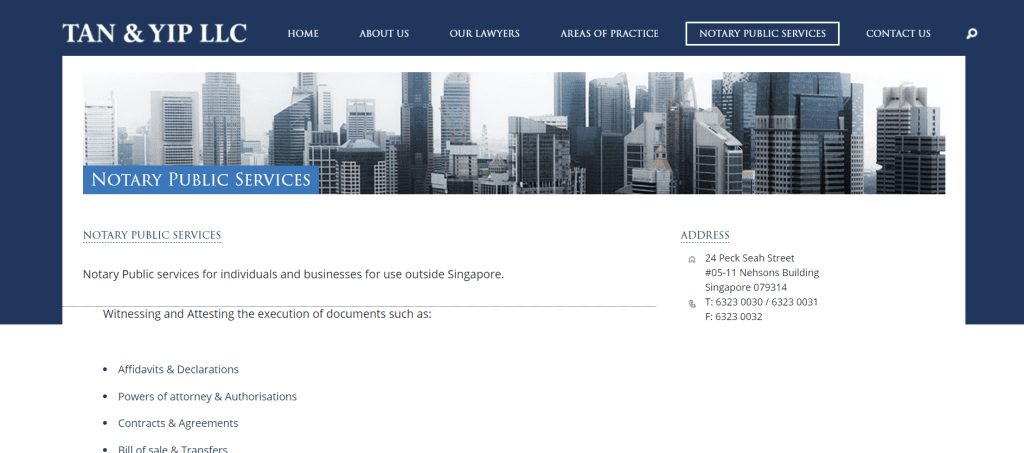 Catering to both individuals and businesses, Tan & Yip LLC offers notary public services for use outside Singapore.
Services provided by the firm include witnessing and attesting the execution of documents and certifying documents as true copies of the original documents.
9. Wordsburg Translations Pte Ltd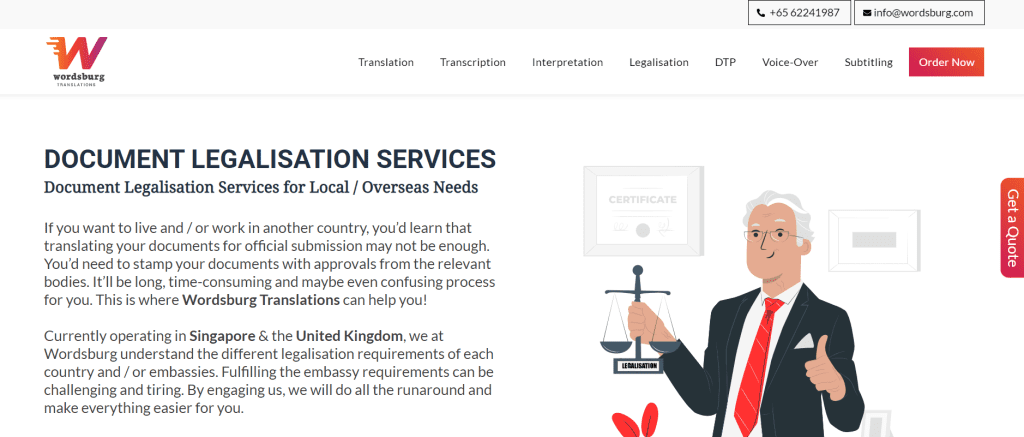 With operations based in Singapore and the United Kingdom, Wordsburg has strong knowledge of the different legalisation requirements of each country and embassies, making it less of a hassle when fulfilling the embassy requirements.
As part of the notarisation, Wordsburg will help you with:
– Notarisation of any Documents
– Witnessing the signature for documents like Power of attorney, contracts, sale deeds, name change declaration
– Oath Affirmation for affidavits or statutory declaration.
– Certifying true copy for any document like birth, marriage, education certificates etc.
10. Notary Public SG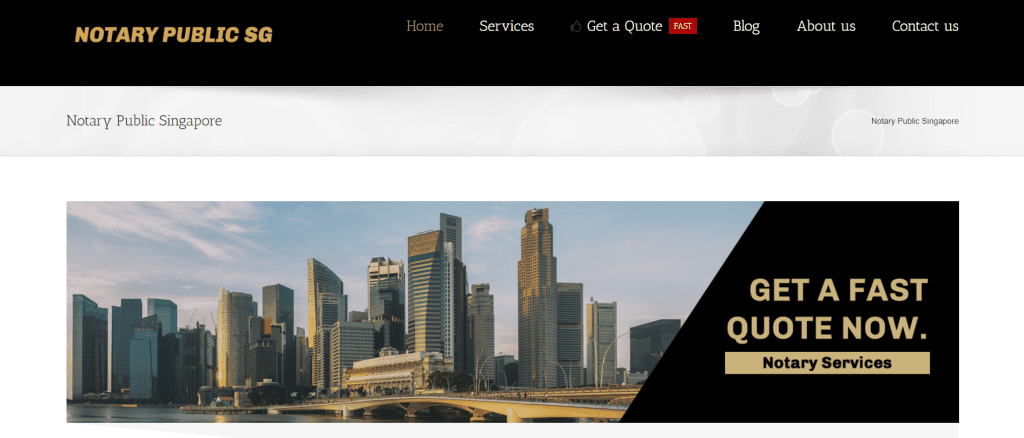 Offering a full range of notarization and legalisation services, Notary Public SG brings you the best licensed and experienced Notaries Public who have a wealth of experience and legal knowledge to get the job done right.
The firm also ensures maximum convenience by going to your location so you don't have to leave the home or office to get to a notary public within the designated hours.
Conclusion
Do you have any reviews and comments to share regarding our choices for the best notary public in Singapore?
While SBO is committed to supporting our local businesses, we welcome any feedback and anonymous sharing regarding your experience with the listed 10 Best Notary Public in Singapore.
We hope that this guide will be useful in helping you to make an informed decision when it comes to finding the best notary public in Singapore.
Explore More Content
Are you featured in this?
Display this exclusive SBO badge proudly on your website and get more sales!