10 Best Criminal Lawyers in Singapore to Get You Off the Hook [2023]
Not a get out of jail free card.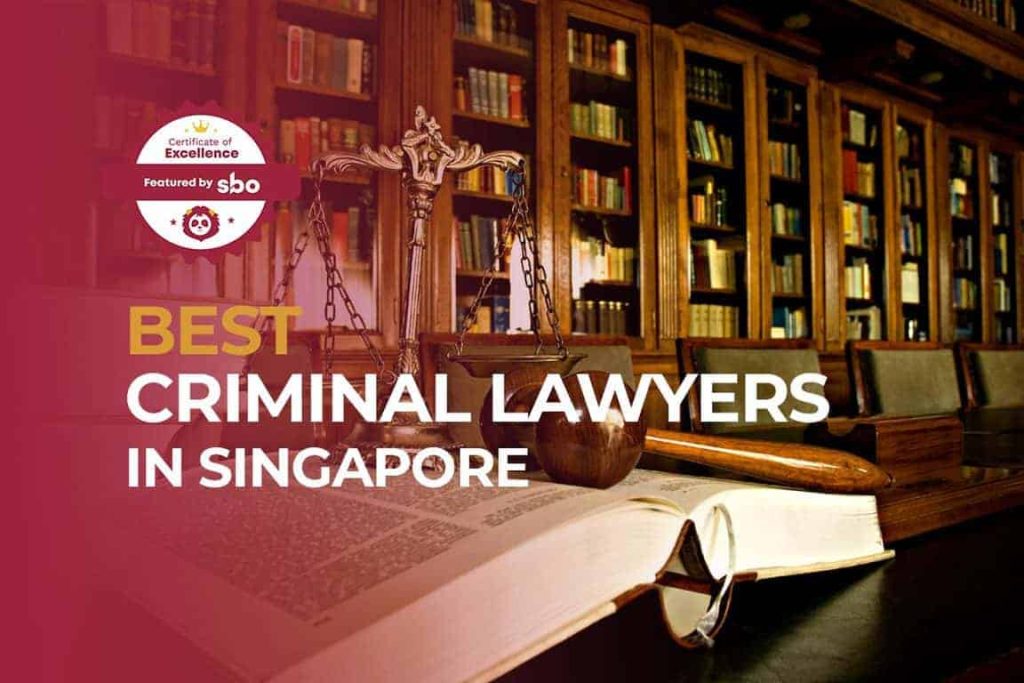 Are you facing a criminal charge in Singapore?
If so, you might want to consider engaging the services of a criminal lawyer in Singapore, who specialises in the defence of individuals and companies charged with criminal activity, to take up your case.
What is a Criminal Charge in Singapore?
A criminal charge is a formal accusation made by a governmental authority (usually a public prosecutor) asserting that an offender has committed a crime.
What Constitutes a Chargeable Criminal Offence in Singapore?
Criminal offence in Singapore is defined as behaviour that has been designated as criminal by legislation enacted by Parliament.
In Singapore, you can be charged for a wide range of criminal offences such as:
Assault
Criminal intimidation
Mischief
Grievous hurt
Theft
For more information, you are encouraged to refer to the Penal Code of Singapore, which sets out general principles underpinning criminal law of Singapore, as well as the elements that constitute and the penalties of general criminal offences.
Will I Get Arrested by the Police?
Upon arrival at the crime scene, the police will assess the situation and determine whether an arrestable offence might have been committed.
If an arrestable offence has been committed, or the police reasonably suspect that an arrestable offence has been committed, the police are empowered to arrest the alleged offender without an arrest warrant.
The police will follow the arrest procedure while doing so.
As a general rule of thumb, the default rule under the Third Column of the First Schedule of the Criminal Procedure Code is that offences punishable with death, or three or more years of imprisonment, are arrestable.
It is important to note that even if the alleged offence is non-arrestable (e.g. an act of mischief), this does not mean that the Police cannot arrest the alleged offender for said offence.
Rather, it means that the Police will need a warrant before they can make the arrest.
If you have been arrested under an arrest warrant, the warrant must be in writing and show the seal of the court, signed by a Judge or Registrar.
What Happens After I Have Been Arrested?
After being arrested and upon arrival at the police station or detention centre, the accused is allowed to consult a criminal lawyer while under police custody within a reasonable time, in accordance with Article 9 of the Singapore Constitution.
However, these requests may be refused if they interfere with investigations.
When Will I Be Charged in Court?
If you are arrested by the police or other law enforcement agencies, you will be brought before the court within 48 hours of your arrest.
The court will then decide whether you should be detained further or placed on bail.
You cannot be held in custody of the Police for more than 48 hours without a charge or court order.
You will be asked to attend at the Criminal Mentions Court when the prosecution is ready to file charges against you.
This usually takes place after the police or enforcement agency have completed their investigations.
What Happens at the Criminal Mentions Court?
Attending at the Criminal Mentions Court is the first stage of the criminal court process, and you can choose to be represented by a lawyer.
You will be formally charged and will have to choose whether to either plead guilty to the charges or claim trial.
In some cases, the judge may order you to be placed in remand.
What Happens if I Plead Guilty?
Pleading guilty means you admit fully to the charges against you.
If you choose to plead guilty, you may be convicted and sentenced on the spot at the Criminal Mentions Court, or the judge may transfer your case to another criminal court for a plead guilty (PG) mention.
It is important to note that if you plead guilty, you cannot appeal against your conviction (which is a formal declaration by the verdict of a jury or the decision of a judge in a court of law that someone is guilty of a criminal offence) later on, but you can still appeal against your sentence or any other order made by the court.
If you wish to retract your plea of guilt after you have been sentenced, you may apply for a criminal revision at the General Division of the High Court.
What Happens if I Claim Trial?
If the accused claims trial, a pre-trial conference will be arranged for his case.
The accused might then be put on bail, or placed in pre-trial remand till his pre-trial conference.
What is a Pre-Trial Conference?
A pre-trial conference is a conference held prior to trial to inform the judge of the progress of the case, allowing him to decide if the case is ready to go to trial.
Trial dates will be fixed only when all parties are ready for trial.
At the pre-trial conference, both you and the prosecution will inform the judge of the evidence you will present at trial and the witnesses you will call.
The judge will also let you know whether criminal case disclosure conference (CCDC) procedures apply to your case.
At this stage, the accused can engage the services of a criminal lawyer in Singapore to represent him during the pre-trial conference and the trial.
Alternatively, the accused can choose to represent himself for the entire case.
What Happens Once the Trial Commences?
Once the trial commences, the charge will be read and explained to the accused, who will either plead guilty or claim trial.
Once the accused claims trial, the court will proceed to hear the case.
After all the witnesses have provided evidence at the trial, the prosecution and Defence will give oral or written submissions.
What Happens Once the Trial Closes?
Following the closing submissions, the Judge will decide whether the prosecution has proved its case against the accused.
If the accused is found guilty, the Judge will convict him of the charge and impose the requisite sentence.
Otherwise, the Judge will acquit the accused and release him.
If I Am Convicted of a Charge, What Next?
Should you be convicted (i.e. found guilty) by the Judge, you can ask your lawyer to help you prepare a mitigation plea to reduce your sentence.
A mitigation plea is an oral or written statement containing information about yourself or the circumstances of the offence that may result in a lower sentence imposed.
The purpose of your mitigation plea is for you to convey relevant mitigating factors so that the judge can arrive at a fair and just sentence.
These can be reasons, facts or circumstances that seek to persuade the judge to exercise leniency or explain why your punishment should be lower.
Thereafter, the Judge will pass a sentence on your case.
Sentencing is the stage in the criminal process where the judge decides the punishment you will receive after you are convicted.
The law prescribes various sentences that can be imposed as punishment, from fines to the death penalty, depending on the severity of the crime committed.
You can probably tell by now that the criminal trial process in Singapore is a protracted process.
If you are in need to hire a criminal lawyer, you are in luck.
In this post, we've gathered all the relevant details to compile a list of the 10 best criminal lawyer in Singapore.
1. Emerald Law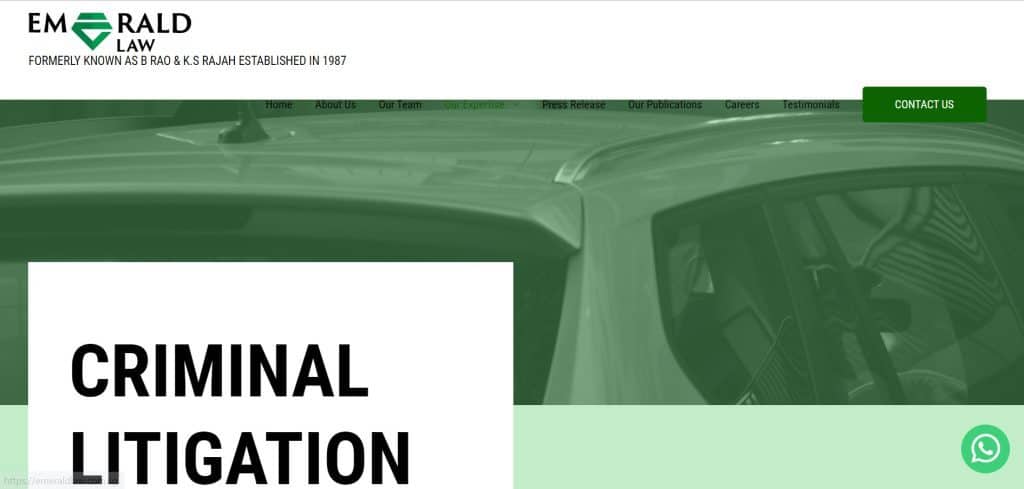 Founded in 1987 and formerly known as B.Rao & K.S Rajah, Emerald Law provides you with a dynamic team of experienced and passionate lawyers.
Headed by Joint Managing Partners Keith Hsu and Mohammad Rizuan, they pride themselves on providing clients with legal and practical solutions for all their matters.
At Emerald Law, their Criminal Defence Lawyers and their team are well-versed in assisting you on any charged that you have been accused with.
With their years of experience, they will be able to assist you in obtaining the fairest outcome in your matter.
They provide service with such dedication that they can even arrange to meet you outside of their normal office hours.
The best part of it all: your first consultation session with the criminal lawyer is free.
Reviews praise the criminal lawyer for keeping clients regularly updated with the progress of their cases.
2. PDLegal LLC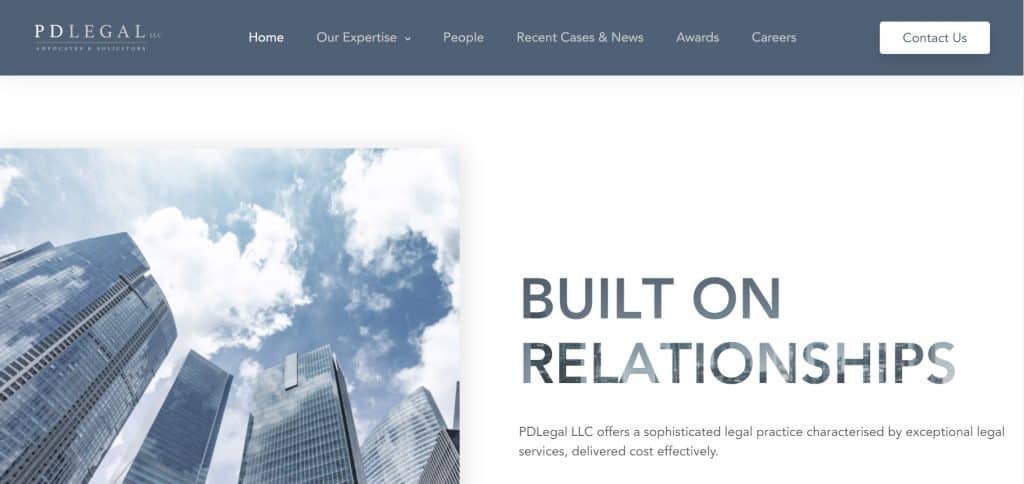 Helmed by Managing Partner Peter Doraisamy, PDLegal LLC is a mid-sized full-service law firm based in Singapore.
With industry recognised expertise, they deliver advocacy and advisory services to their clients, based both in Singapore and overseas, on a wide spectrum of matters.
Their Criminal Litigation Practice is highly experienced and well equipped with the necessary skills to understand the rapidly evolving investigative landscape and criminal justice framework.
Their team is highly experienced in defending clients in all types of offences including white-collar crime and other offences.
Their criminal defence team is experienced in providing representation to clients at all stages of the criminal justice framework from the initial investigation phase through to trials and appeals stage.
Their team is also able to work closely with forensic experts where necessary to identify possible defenses through leveraging on technology and science.
Reviews praise the criminal lawyer for being professional and receptive at all times.
Not only do they provide superb service, but they also add a human touch that transcends it all.
3. Bishop Law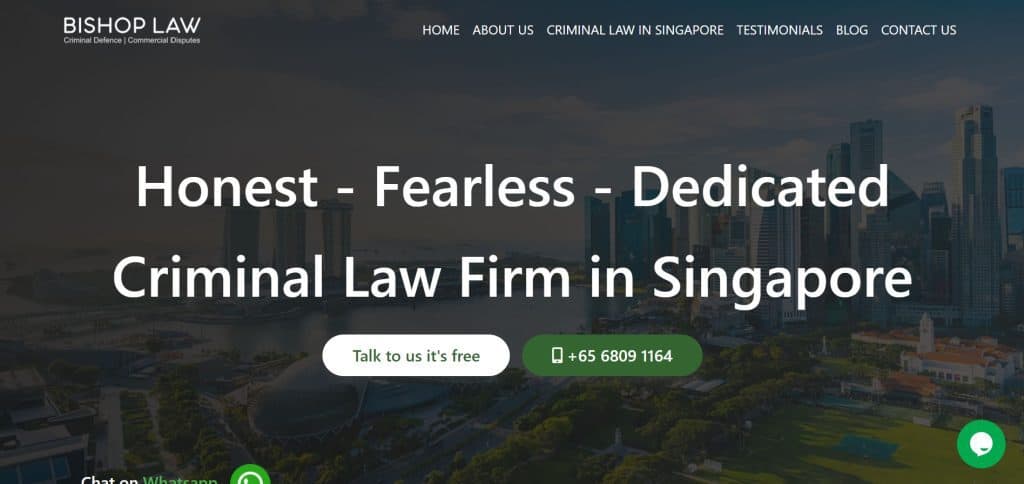 Bishop Law is a boutique law firm in Singapore specialising in Criminal Defence as well as Commercial Disputes.
Their specialist criminal lawyer, Managing Director Jaesh Balachandran, is known for his strong understanding of criminal law in Singapore.
Starting out from the bottom of the legal industry, Jaesh worked his way up and spent time at top Singapore law firms Eugene Thuraisingam and Ramdas & Wong.
He thereafter started his own practice Bishop Law Corporation specialising in Criminal Defence.
Despite his young age, Jaesh is regarded by his clients and peers alike as being one of the best criminal lawyers in Singapore.
He is known for his exceptional understanding of criminality and criminology, as well as his unbreakable trust and absolute discretion.
Reviews praise the criminal lawyer for being thorough yet concise in his dealings with clients.
He was also patient and understanding throughout.
4. Kalidass Law Corporation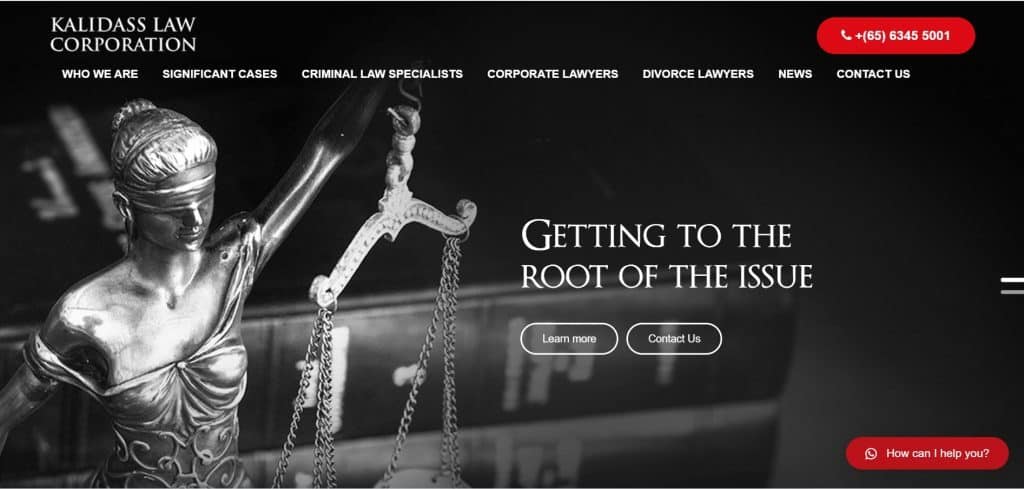 At Kalidass Law Corporation, they pride themselves on the provision of affordable and reliable consultation to all their clients.
Helmed by Kalidass Murugaiyan, the reputable criminal law corporation in Singapore takes a thorough approach, with no small detail overlooked in any case.
Their criminal lawyers are highly experienced in their fields and are able to assist their clients in detail and support them throughout their cases in Singapore.
They take the time to understand their clients on a holistic level: from the past through to the present day, they examine your circumstances from all angles to ascertain every nuance.
This enables them to deliver representation that considers each variable in the equation of your case in Singapore.
Your criminal lawyer will be with you throughout the duration of your case.
The best part of it all: your initial consultation with their criminal lawyer is free, providing them with the opportunity to demonstrate their curated and bespoke level of legal service in Singapore.
Reviews praise the criminal lawyer for the care that they extend to their clients.
They will take the time and effort out of their busy schedules to go the extra mile to ensure that their clients either get the counselling they need, or the opportunity to turn their lives around even after the case is closed, as far as it falls within their abilities or network.
5. Eugene Thuraisingam LLP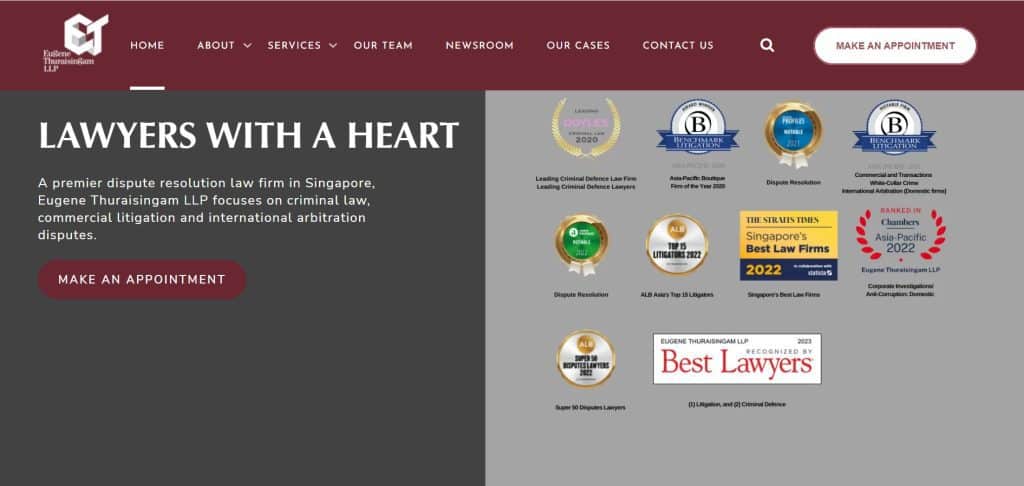 Headed by Managing Partner Eugene Thuraisingam, Eugene Thuraisingam LLP is a law firm in Singapore founded in 2012 with the vision of providing first-class representation in commercial and criminal disputes.
Despite their relative youth, they have achieved significant results in all levels of court, many of which have given rise to reported judgments.
There can be no denying the criminal lawyer's commitment to the task of criminal defence advocacy.
They have obtained landmark judgments, including the Court of Appeal's decision (for the first time in Singapore's legal history) to review its own concluded decision convicting an accused person.
They have obtained acquittals in trial.
They have also achieved client satisfaction in numerous more "mundane" criminal matters, such as successfully persuading the Attorney-General's Chambers to withdraw criminal charges through carefully crafted representations.
Their broad-based practice as commercial practitioners puts them in good stead in their criminal defence work, particularly in criminal appeals involving difficult questions of law and evidence.
Most importantly, they are rooted in the ethics of criminal defence lawyering.
They are unwaveringly honest in assessing the merits of your case, including advising you on the ever difficult decision on whether to claim trial or to plead guilty.
Reviews praise the criminal lawyer for paying attention to the tiny details, and advising clients on what they need to do in a step-by-step manner.
6. GJC Law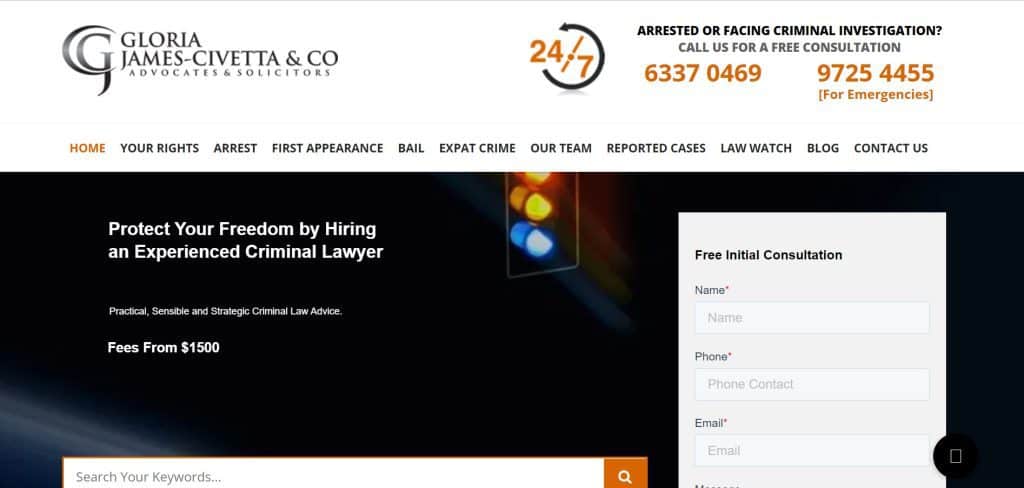 At GJC Law, their Principal lawyer, Ms Gloria James-Civetta, has 24 years of extensive Courtroom experience, representing both local and expat clients in blue and white collar crimes in Singapore.
Gloria and her team take pride in making sure you receive the highest level of Criminal Law Representation possible.
Their criminal lawyers believe in representation at the most immediate opportunity and stress the importance of putting your case forward even if it's at the initial stage of investigation.
Their approach produces results, with clients either having their charges dropped, a stern warning administered, a conditional warning being given or having the matter compounded altogether.
The GJC law team includes legal practitioners with a large team of paralegals & support staff.
They also consult numerous professionals for the benefit of their clients.
Their criminal defence team is available 24/7 for emergencies.
The criminal lawyer offers a flat fee rate for each stage of your case.
Under this agreement, a single fixed price is paid up to a particular stage of the case.
During your free consultation session with them, the criminal lawyers at Gloria James-Civetta & Co will work with you to review the flat fee and payment options available to you.
This type of agreement limits the amount of financial exposure you will have for your case, particularly in a plead-guilty case when charged in Court.
Reviews praise the criminal lawyer for displaying a high level of professionalism.
7. Dhillon & Panoo LLC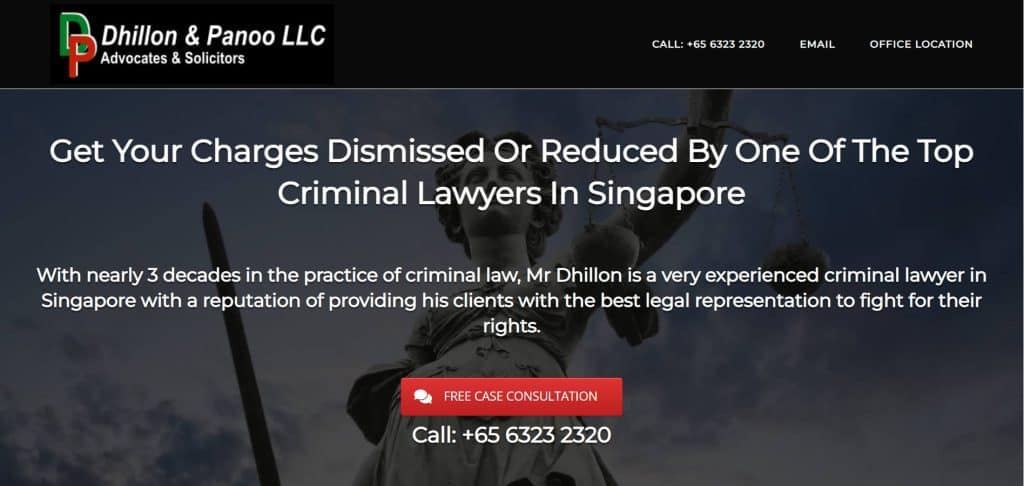 Mr S.S. Dhillon is a 29-year experienced criminal lawyer who prides himself on helping his clients to get the best legal representation.
The criminal lawyer is the founder of Dhillon & Panoo LLC.
Before starting his legal career, Mr Dhillon was working for the Singapore Police Force for five years.
Throughout his years in practice, Dhillon has carved out a formidable reputation for himself within the legal community and beyond.
Well renowned and held in high esteem, Dhillon is celebrated as one of the foremost criminal lawyers among his peers.
Dhillon has worked on such a wide array of cases, ranging from the mundane, straightforward run-of-the-mill cases to much more multifarious defense scenarios in the State and High Courts as well as many Court of Appeal cases.
Be it the defense of simple theft cases or highly charged and explosive criminal cases, Dhillon expends equal commitment to all his clients.
And it is this dedication that has seen him clinching critical acquittals in capital cases.
Reviews praise the criminal lawyer for their reasonable fees.
8. Tembusu Law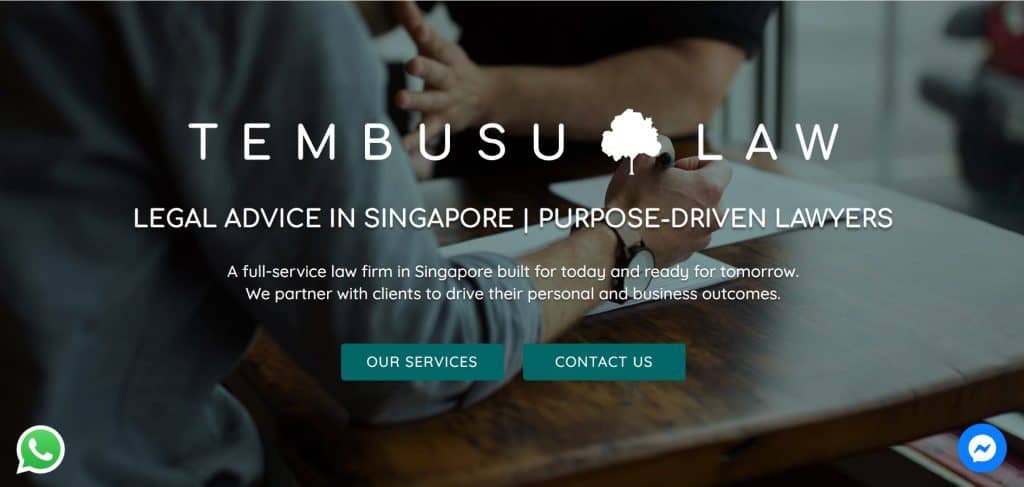 At Tembusu Law, their dedicated team of criminal defence lawyers are experienced in dealing with a variety of Criminal Law offences and cases.
The law firm in Singapore is led by Managing Director Jonathan Wong.
You can rely on them as your criminal lawyer to be dynamic, discerning and decisive in our advice and representation throughout your Criminal case and defence from arrest, investigation to Court.
Their specialist criminal defence lawyers can help and add real value at any stage of your Criminal case:
Organising and assessing the relevant facts to advise you on your potential exposure and liability to Criminal charges, the feasibility of your defence to the allegations and the estimated sentence and punishment.
Briefing and preparing you for Police interviews and statement-recording sessions.
Negotiating with the Police to release you on bail or allow you to travel overseas pending the outcome of investigations.
Communicating with the Police, Public Prosecutor and Attorney-General's Chambers to clarify and explain the circumstance and obtain a favourable outcome such as withdrawing the charges, compounding the offence or amending and reducing the charges.
Presenting a Mitigation Plea to Court to argue for leniency and lower sentence.
Reviews praise the criminal lawyer for being responsive to customers' queries.
They got back to customers quickly, causing customers to be amazed by their efficiency.
9. Quahe Woo & Palmer LLC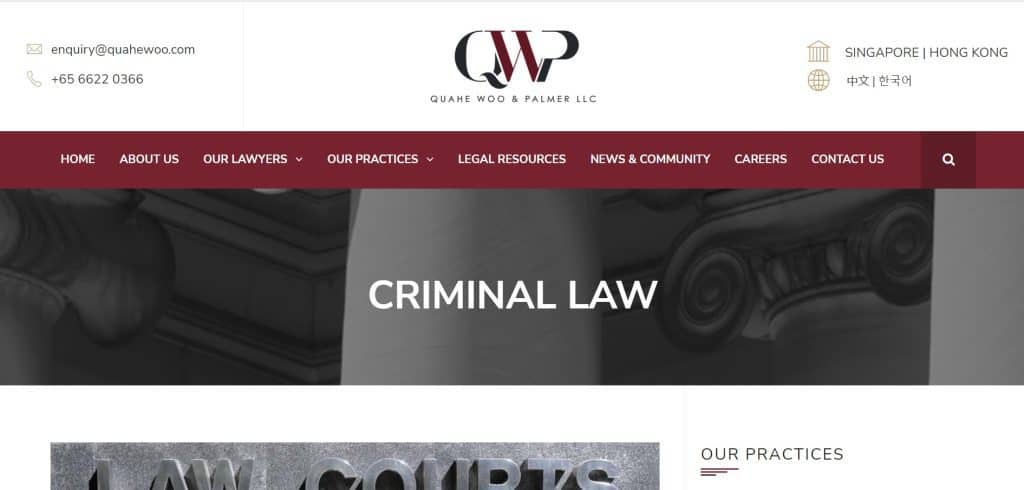 Helmed by lawyers Mr Sunil Sudheesan and Miss Diana Ngiam, Quahe Woo & Palmer LLC has an established and highly experienced criminal law practice that handles an extensive scope of criminal defence cases.
They tailor their strategies according to the facts of each criminal case.
Generally, the assistance they provide include negotiating with Deputy Public Prosecutors from the Attorney General's Chambers or other prosecuting bodies; putting in letters of representations for the withdrawal, reduction or compounding of charges; appearing in Court for trials, plead-guilty mentions and appeals; and preparing written submissions and mitigation pleas to the Court.
Furthermore, they leverage on their extensive network to ensure that their clients have the necessary experts (for instance, psychiatrists, scene reconstruction experts) to assist in their matters at every stage.
In addition to their criminal defence work, they are experienced in advising and assisting corporations with internal investigations into suspected misconduct by employees (for instance, fraud or embezzlement).
They also provide practical solutions in such situations to manage any crisis faced by their corporate clients.
Separately, they also conduct regulatory prosecutions for statutory bodies.
Finally, as part of their pro-bono efforts, their lawyers volunteer criminal legal assistance under the Law Society's Criminal Legal Aid Scheme (CLAS) as well as the Legal Assistance Scheme for Capital Offences (LASCO) as administered by the Supreme Court Registry.
Their pro-bono efforts under CLAS and LASCO complement the cases Mr Sunil Sudheesan and Miss Diana Ngiam handle on behalf of the Association of Criminal Lawyers of Singapore (ACLS) for the Enhanced Guidance for Plea Scheme (EGPS) administered by the State Courts' Community Justice Centre.
Reviews praise the criminal lawyer for listening to clients and understanding their needs.
10. Trident Law Corporation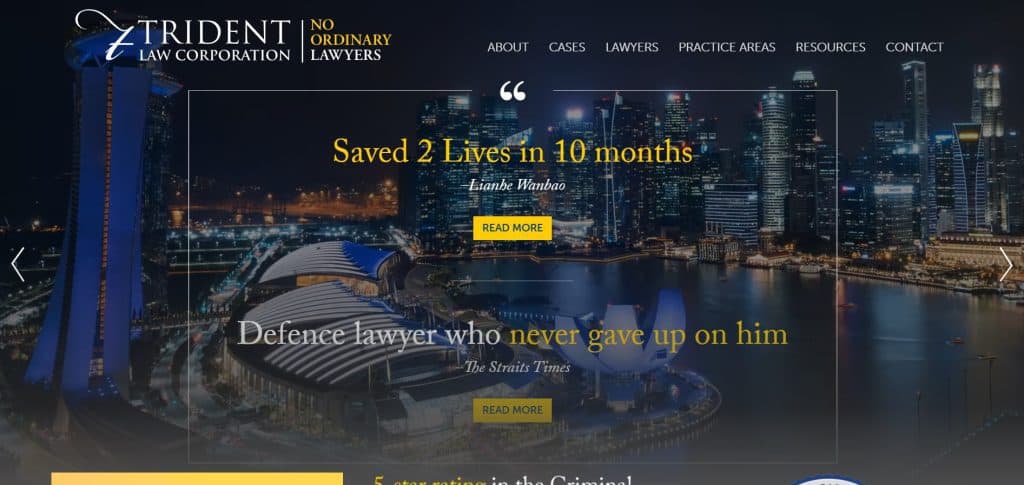 At Trident Law Corporation, they live by three principles: Tenacity, Rigour and Ingenuity.
Trident's exceptional criminal defence team is well known for its devotion to details, their clients' causes and to securing the best outcome for clients.
Led by two top criminal defence lawyers, Trident Law's criminal defence team is well respected for having been at the forefront of several landmark judgments and several "firsts" in Singapore's legal history.
One example was when the Principal of Trident Law Corporation, Mr R. Thrumurgan, secured the first acquittal in a section 300(d) murder charge in Singapore.
Mr. R. Thrumurgan was also the first criminal lawyer to succeed in a drug trafficking trial where the defence was that the accused did not know the specific nature of the drug.
They have handled complicated and complex criminal trials that stretched to almost 100 days in court.
Their criminal law specialists are also regularly engaged to advise clients on international corruption and bribery offences.
Reviews praise the criminal lawyer for showing empathy to their clients.
Their team even went to the extent of making trips to clients' homes when their clients were too ill to go down to their law firm to discuss their cases in-person.
Conclusion
Do you have any reviews and comments to share regarding our choices for the best criminal lawyers in Singapore?
While SBO is committed to supporting our local businesses, we welcome any feedback and anonymous sharing regarding your experience with the listed criminal lawyers in Singapore.
We hope that this guide will be useful in helping you to make an informed decision when it comes to finding the best criminal lawyers in Singapore.
Explore More Content