11 Best Mobile App Development in Singapore to Move Ahead [2022]
Going mobile is more than just creating an app! Get the end-to-end service you need with the 10 best mobile app development in Singapore.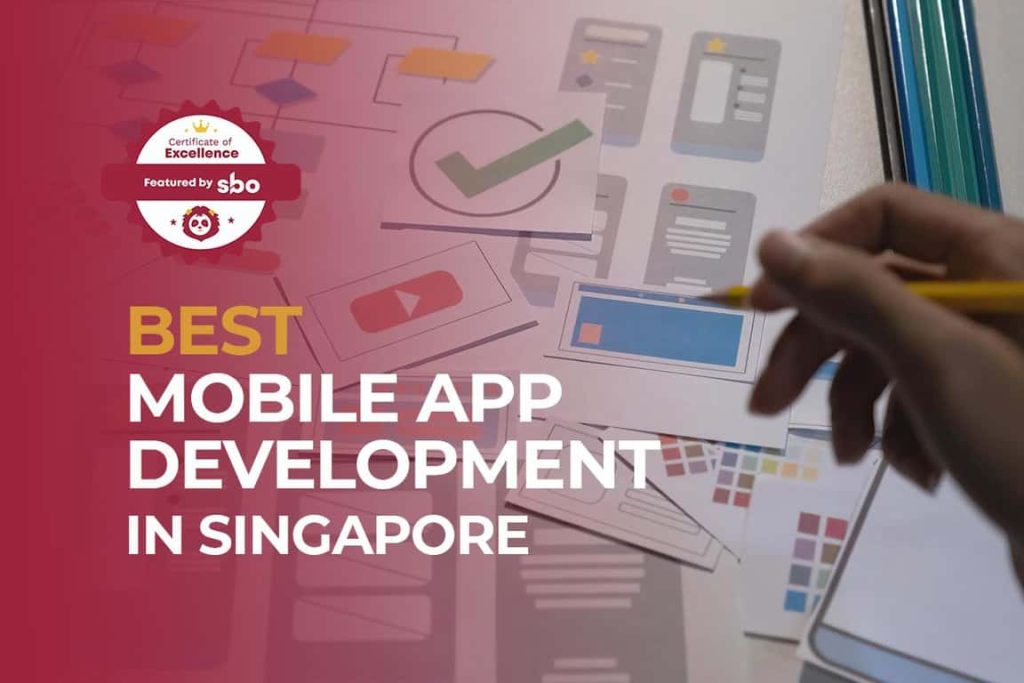 Mobile apps exist all around us today for different functions.
Whether that's your handy calendar, favourite game, or even to trade cryptocurrency, they have met immense popularity and prevalence over the years.
And why not, when they provide so much convenience and help to us on the go?
If you're looking to create your own mobile app to market, don't fret over the small stuff. A good way to get started is by leveraging the skills and knowledge of an experienced mobile app development company in Singapore.
Eager to know how? Let's find out with the 11 best mobile app development in Singapore now!
1. Kaddra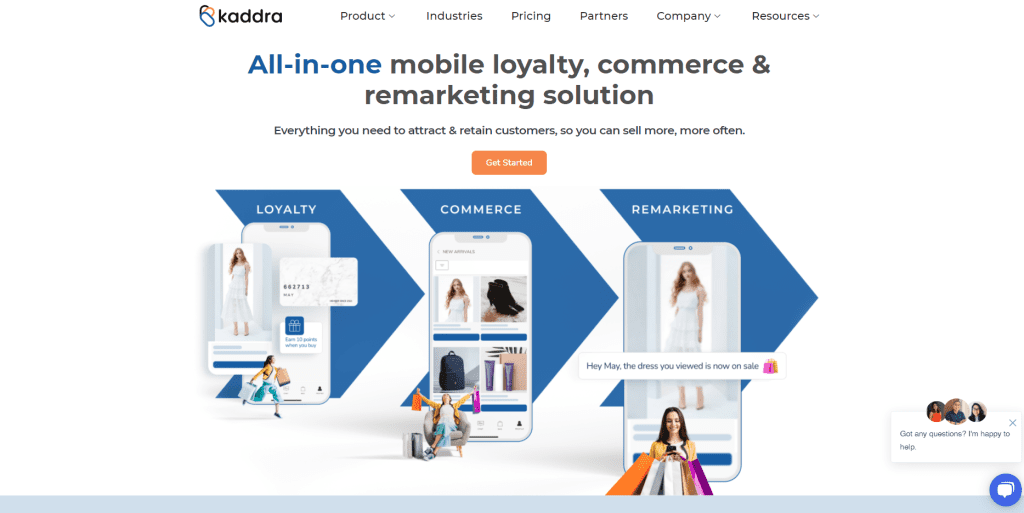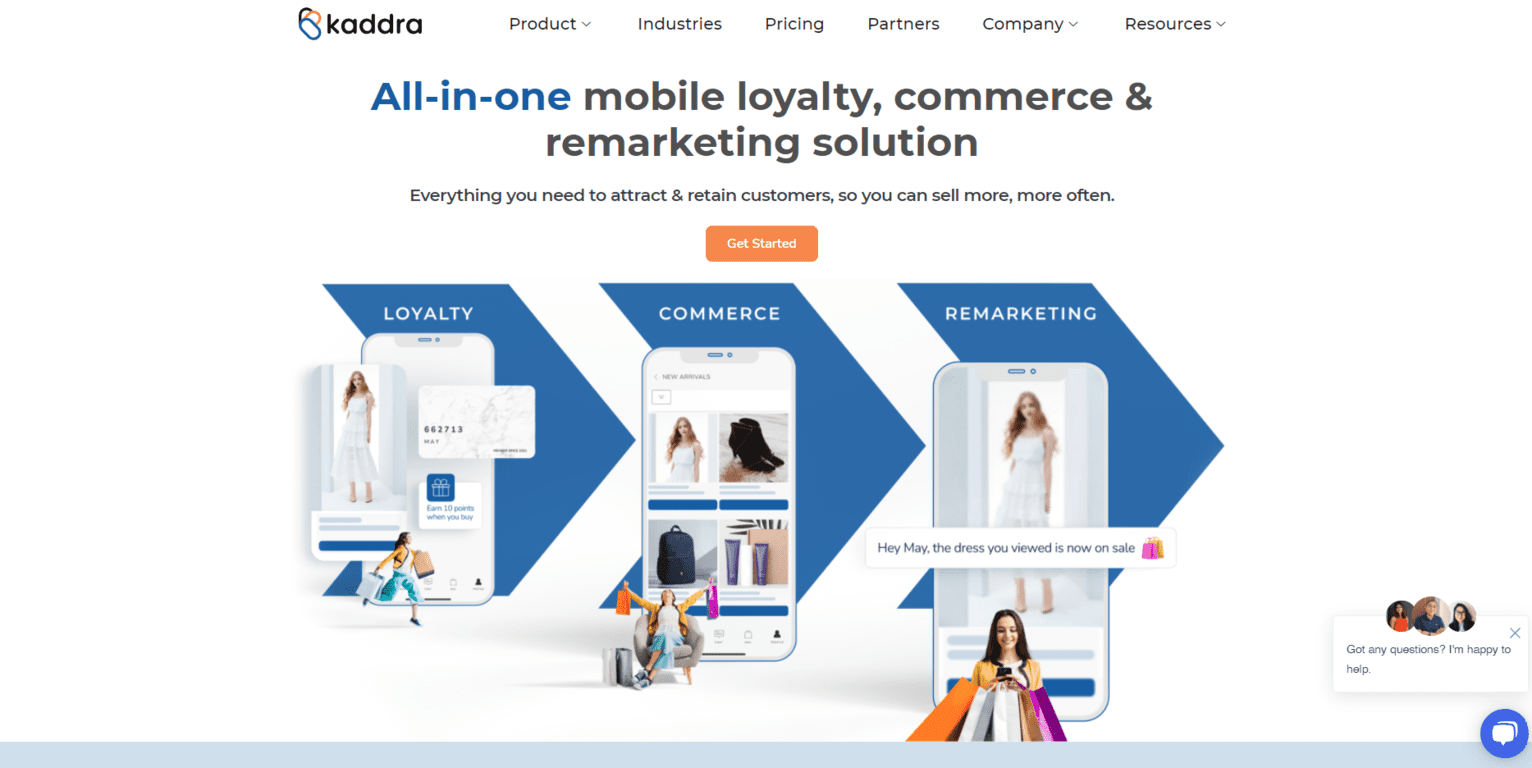 Due to rapid technological advances (and also the on-going pandemic), more and more people are now used to shopping on their mobile phones, so it just makes sense to have a better mobile experience
Kaddra is a Singapore-based technology company providing mobile-first loyalty and commerce solutions by connecting businesses with their customers through a white label cross-channel platform.
With their mission to innovate in the loyalty, sales and marketing space, and provide state-of-the-art technology for the next generation of businesses, Kaddra have been building powerful tools since 2017 to help their clients connect to their own customers.
With the average purchase conversion rate in typical web e-commerce being just 2.58%, clients using Kaddra's mobile commerce solutions have managed to convert an incredible six times more sales at 18%!
On average, they've managed to increase the repeat purchase rate to 57%, the average conversion rate by 18%, and gain 39% new users monthly.
International & local brands like MAKE UP FOR EVER, iROO, Yole, and Maison Kayser are using Kaddra's mobile remarketing solution to engage and attain higher revenue from their repeat customers. The Wine Odyssey shared how their sales grew by 31% using Engage, Kaddra's remarketing tool.
Tap onto the 80% subsidy from the PSG Grant (extended till 31 March 2022) to get a branded mobile app for your business, from just S$19.80/month.
2. Vinova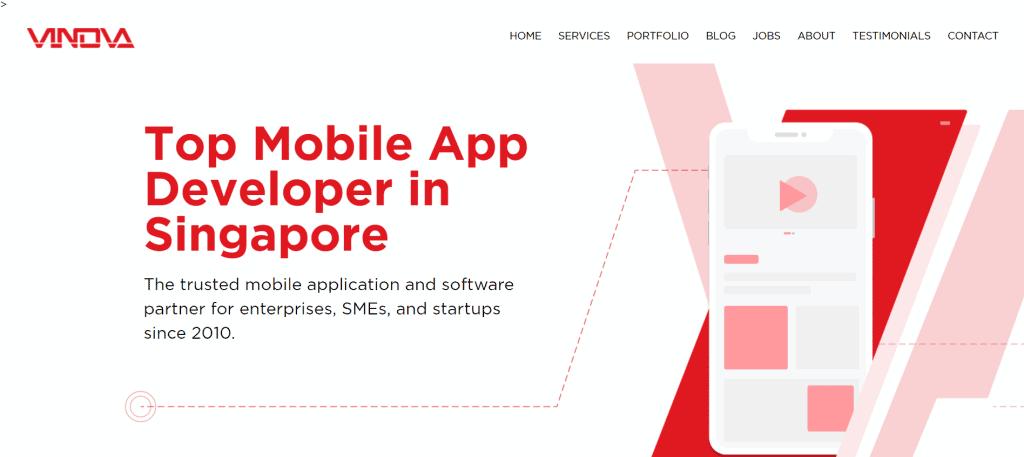 Vinova is a leading web and mobile developer in Singapore that has been serving customers for 10 years.
It has more than 60 developers across Singapore and Vietnam, with some well-known apps including:
The Straits Times
The Business Times
STOMP
Prudential
OCBC
A decade after inception, it continues to go by its core value of developing better ways to do things, and to create exceptional solutions to help its customers.
Apart from mobile app development, it also produces web applications, games, and more.
3. Singsys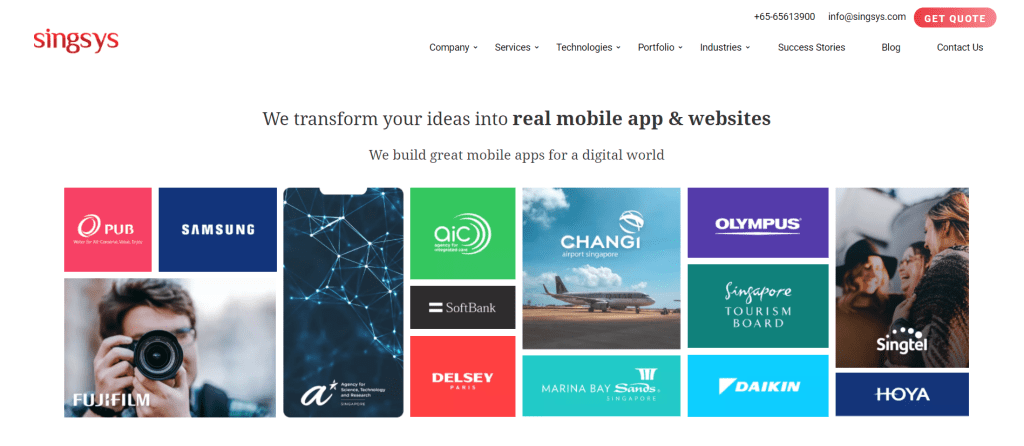 Singsys is a local mobile app and web development agency that provides personalised solutions to clients all over the world.
Armed with 10 years of experience and a support base of more than 180 IT professionals, it's well-positioned to meet your needs. Its skills spans across these frameworks, and more:
React Native
Flutter
Xamarin
Java
Microsoft C#
Python
It is also well-versed in offering a multitude of services for a range of industries, which means that it's highly capable of creating what you need.
4. Codigo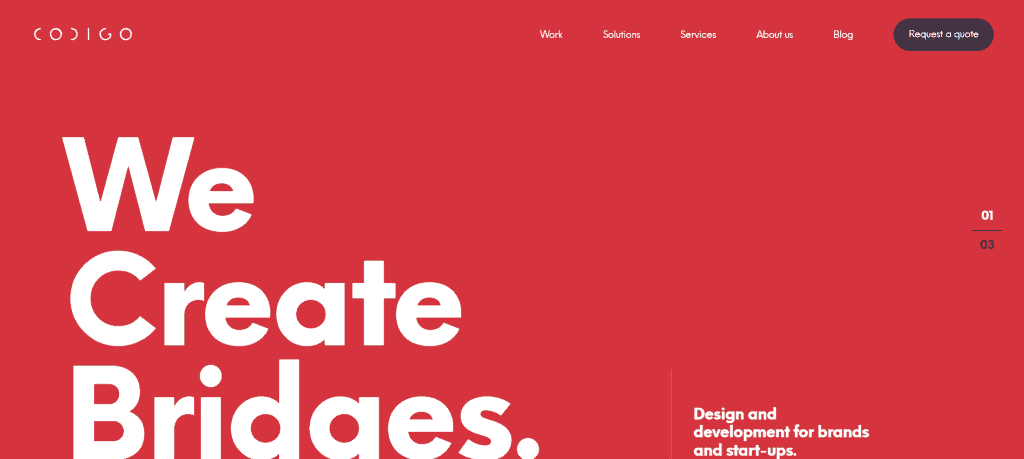 Award-winning mobile application developer Codigo has footprints in Singapore, Vietnam, and Myanmar.
It specialises in iOS, Android apps and backend web applications. Whether it's mobile applications, web development, content management systems (CMS) or UI/UX design, Codigo has done it all.
Some of its prestigious clients are:
OCBC
Furama Hotels
Don Don Donki
FWD Insurance
HBO GO
FairPrice Online
Get started on building the mobile app of your dreams by collaborating together with them for world-class expertise and advice!
5. Swag Soft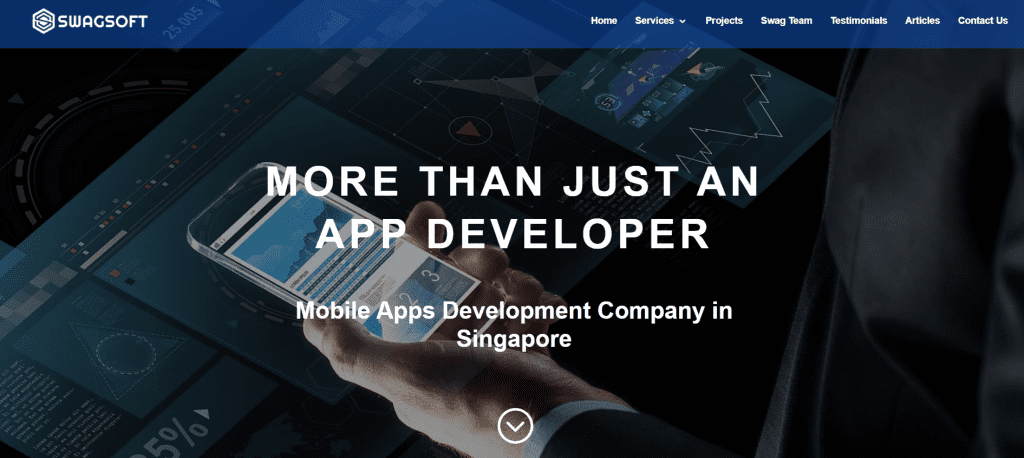 Swag Soft is an experienced mobile app development company that is proud of every app and game that leaves its digital doors.
All of its team members have more than 3 years of experience with a good balance of expertise ranging from programming and design to marketing. Its services include:
VR development
AR development
Mobile apps development
Game development
Enterprise apps development
To give back to the community and encourage other aspiring students pursuing an education in mobile app or game development, it has a scholarship programme that awards US$1,000 yearly.
6. SleekDigital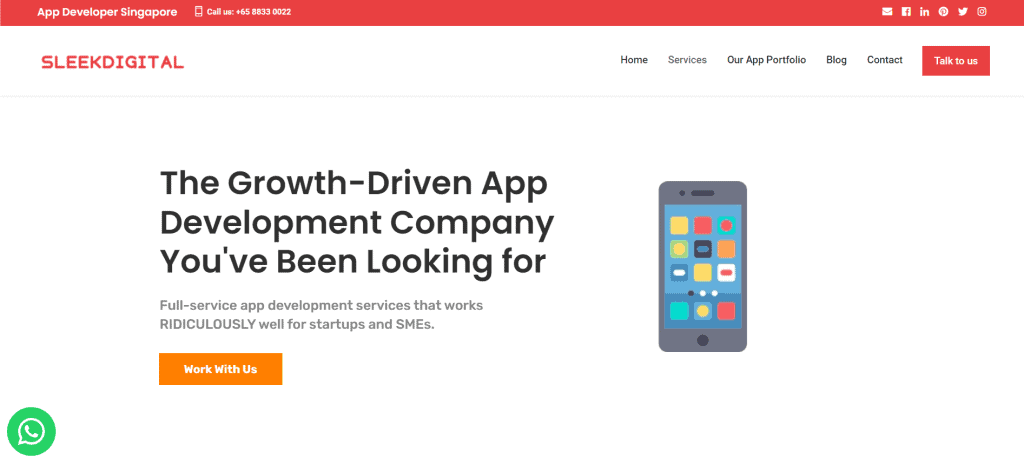 SleekDigital delivers personalised app development services and a slew of other offerings, like:
Mobile app design
Mobile app maintenance
Mobile app consultation
iPad and tablet software development
From the start of the mobile planning phase to providing support before launching the app, the team is fully capable of helping you at every step of the way.
Every app is unique and special to their customers, which means that no 2 apps are the same. You can even check out their blog for informative pieces of content!
7. Originally US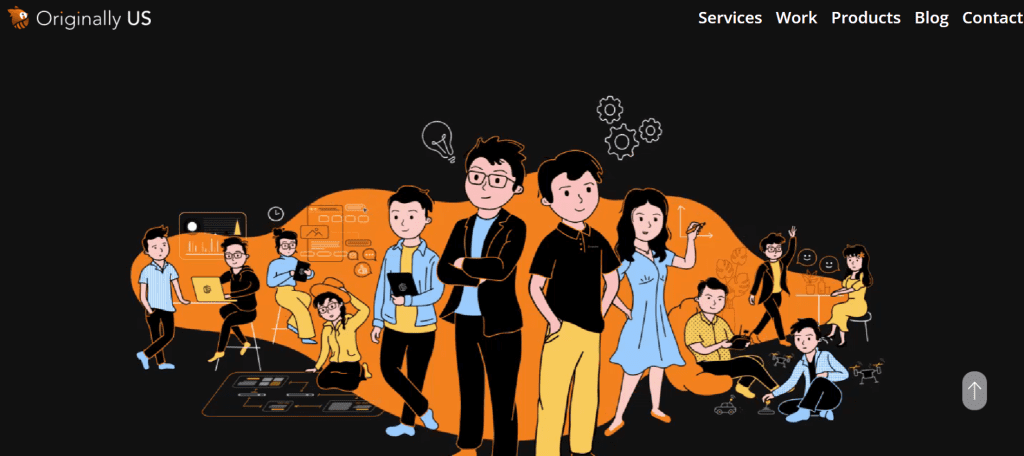 Joining the ranks is OriginallyUS, an award-winning app development company in Singapore.
A reliable full-service provider, it provides a complete range of mobile application development services to international brands, government bodies, and MNCs.
If you're worried about the cost of developing your app, you can even have a rough idea with its blog article here. It uses an experienced in-house development team to give you the best that your money can buy.
Its advisory board includes members who hold prestigious positions in the industry.
8. Hipster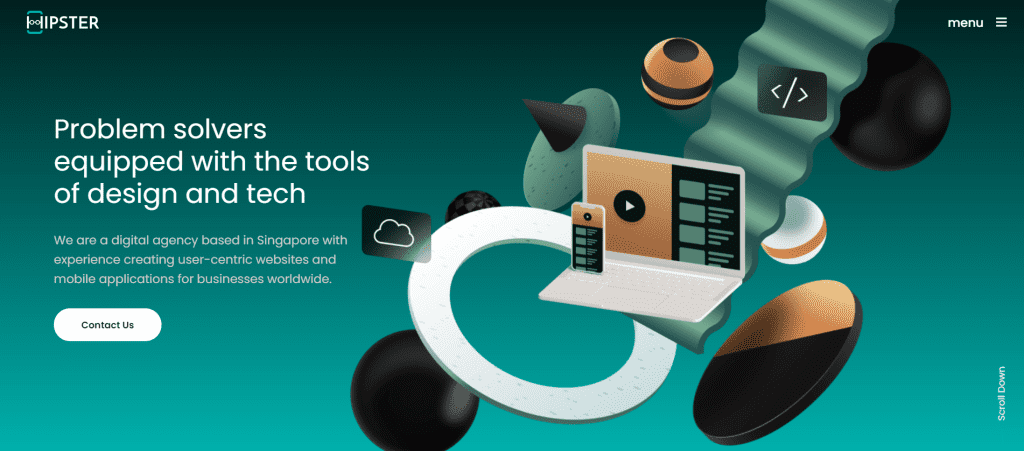 Got a problem?
Hipster is here to help you solve it. This digital agency in Singapore is experienced in creating user-centric mobile applications and websites for businesses internationally.
Some of its robust offerings include:
Mobile app development
Website development
UI/UX design
Off-the-shelf products
Like a well-oiled car, Hipster's team of experts work together on technologies like blockchain, SEO, and even VR/AR to build your ideal app.
9. RobustTechHouse
RobustTechHouse is as well-built as its name.
This web, mobile app, chatbot, and blockchain development business is located in Singapore. Whether you're a startup or a huge company, the business uses its rich knowledge and expertise to help you add value to your brilliant ideas.
Developing a mobile app is no easy journey, so it's important to arm yourself with a partner you can rely on – which RobustTechHouse sees itself as.
If you have a great business plan you want to sell, you can even tap on its network of angel investors and advisors to get investment and assistance!
10. CodiGeeks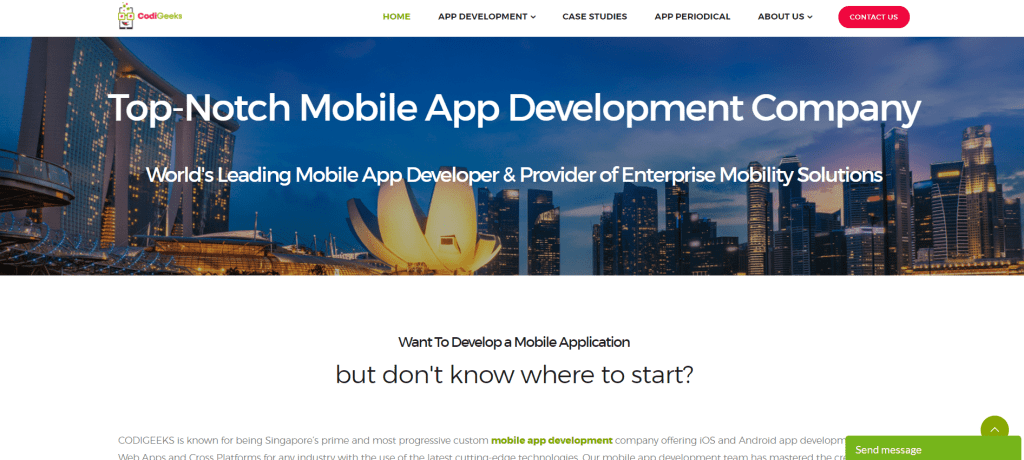 Well-known for being Singapore's most progressive mobile app development company, CodiGeeks is here to turn your mobile app ideas into reality.
It has mastered the development of:
UI/UX design
App development
App testing
Prototyping
App deployment
Every project is managed by a special infrastructure that covers both requirements and the key strengths of the app.
With competitive pricing, a money-back guarantee, customer care and plenty more, it's the solution you've been looking for. It has offices in Singapore, Dubai, and Ireland, providing clients in each country the support required.
11. Appzgate Solutions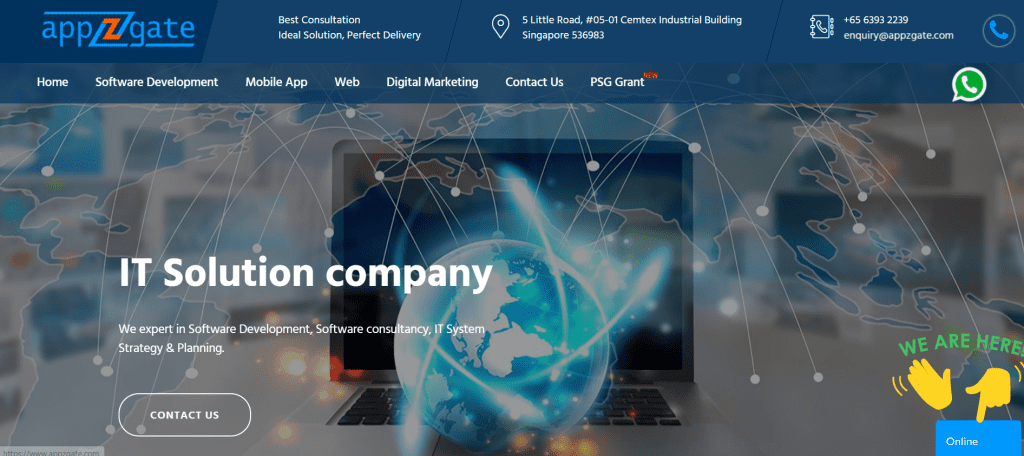 A premier IT software solution and software development business in Singapore, Appzgate is an expert in advisory services related to IT.
It provides services to start-ups, big organisations, and different SMEs across a wide selection of industries. Since its incorporation in 2016, Appzgate has been offering exceptional service to its customers without fail.
All of its developers are based in Singapore, with local efforts conducted instead of outsourcing them to 3rd parties. Be assured that you will be well taken care of from start to end, including full support even after implementation.
Conclusion
Do you have any reviews and comments to share regarding our choices for the best mobile app development in Singapore?
While SBO is committed to supporting our local businesses, we welcome any feedback and anonymous sharing regarding your experience with mobile app development in Singapore.
We hope that this guide will be useful in helping you to make an informed decision when it comes to finding the best mobile app development in Singapore.
Explore More Content
Are you featured in this?
Display this exclusive SBO badge proudly on your website and get more sales!