12 Best IT Company in Singapore for Technical Support [2021]
These IT companies in Singapore are here to save the day.
IT & Technology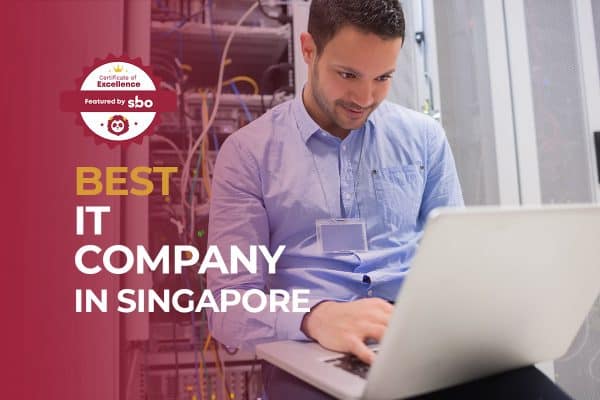 Our team at SBO.sg is committed to being a one-stop avenue to connect local businesses and consumers. We hope that our research efforts can help you save time and money by finding you the best deals without having to search around the vast world-wide-web.
Ever ran into a technical problem that you couldn't solve, be it a cranky server or a slow WiFi connection? Don't worry, we have been there before too. This is where an IT company in Singapore comes in with their technical expertise to help you out.
In this post, we've gathered all the necessary details and testimonials to derive a list of the 12 best IT company in Singapore to engage for technical support.
1. TechTIQ Solutions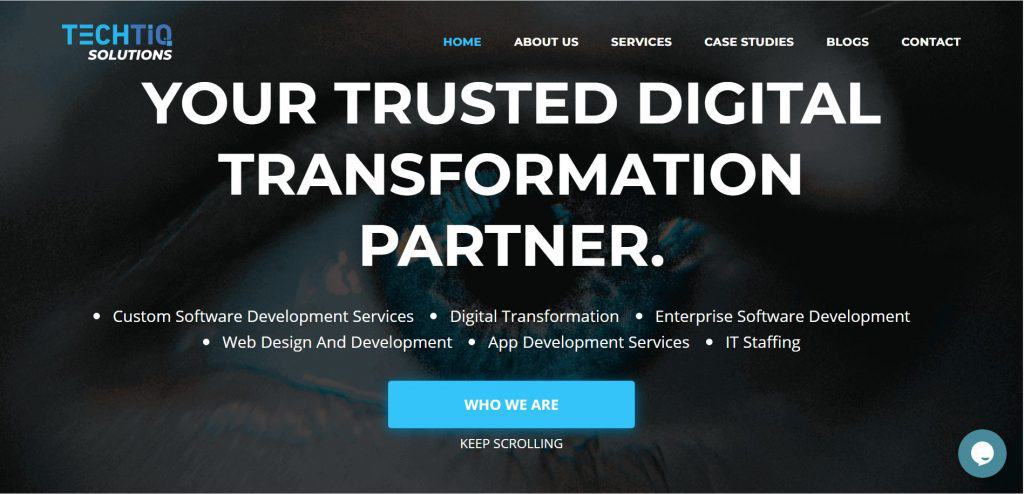 TechTIQ Solutions aims to bring about cost-effective digital solutions that enable businesses to better engage their customers and grow their businesses in this digital era. While TechTIQ Solutions may be a young company, we have a strong heritage of passionate IoT engineers, software developers and business analysts and have delivered over 0.5 million manhours effort worth of projects.
Their team of world-class experts are skilled in the various IoT protocols (to list some) and software development stacks including but not limited to Java, RoR, ASP.NET, PHP, Angular, NodeJS, ReactJS, iOS, Android and React Native application development. They are expert practitioners of the Agile methodology and have successfully delivered international projects, ranging from small businesses solutions to highly complex multi-platform systems for large corporate clients.
The IT company in Singapore is known for its enterprise software development. For example, TechTIQ's enterprise software development solutions in Singapore enhance interoperability amid different departments within an organization.
2. A-ChieveMent Solution (S) Pte Ltd (ACM)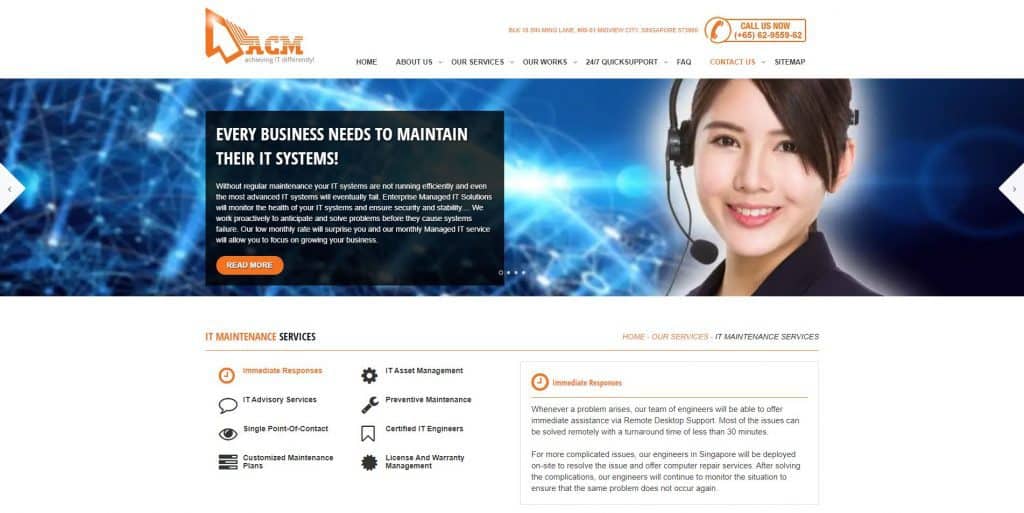 Established in 2008, A-ChieveMent Solution (S) Pte Ltd (ACM) is an IT support company that specializes in providing effective outsourced and management IT services for small-medium sized businesses and organizations. Besides Singapore, they have an international base of clients. They will take care of your IT needs with their technical excellence, commitment and impeccable service delivery.
They provide various services and solutions such as IT Maintenance Services, IT Outsourcing, Comprehensive IT Coverage, Website Design Services, Server Virtualization, Cloud Computing and Terminal Desktop.
Over the years, ACM has taken up projects encompassing maintenance and support services such as the recruitment, shipping and trading industries.
To serve the IT needs of their customers, they provide a multifacet of 24/7 support services comprising of Fix Engineers, Key Personnel and Multiple Sites Support Services.
3. Apixel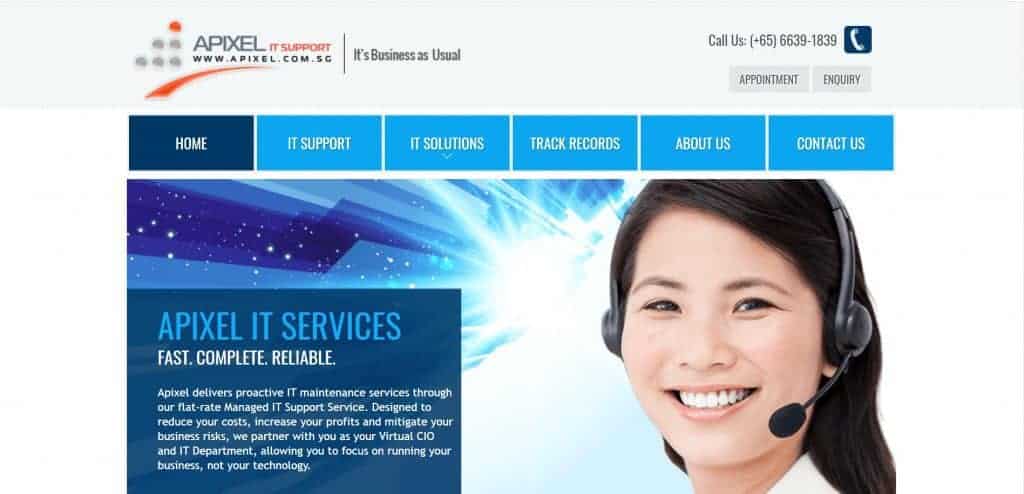 Apixel is founded in 2004 with one goal in mind – to deliver the highest quality IT support services to businesses in Singapore. Since 2005, they started offering managed IT support packages and became one of the pioneer IT companies offering managed IT services in Singapore. By offering managed services, they are able to better line up our interest with clients', turning reactive to proactive support and rightfully transfer the IT responsibility and accountability to them.
The IT company in Singapore is known for its managed IT support package. Instead of waiting for problems to occur, they simply prevent them from happening in the first place. Our preventive maintenance and continuous-monitoring support model is proven to eliminate potential hardware/software issues before they deteriorate and cause downtime, saving your business both time and money.
A dedicated IT Consultant assigned to your company also provides a single point of accountability. You no longer need to deal with multiple parties as we provide vendor management. They will deal with your internet service provider, telephone system vendor, mobile communications provider, servers/workstations warranty provider etc – you only need to deal with the IT company in Singapore.
Their services are risk-free because we provide a money-back service level guarantee. If we do not meet your expectations, Apixel will provide a full refund.
4. Blazon Technologies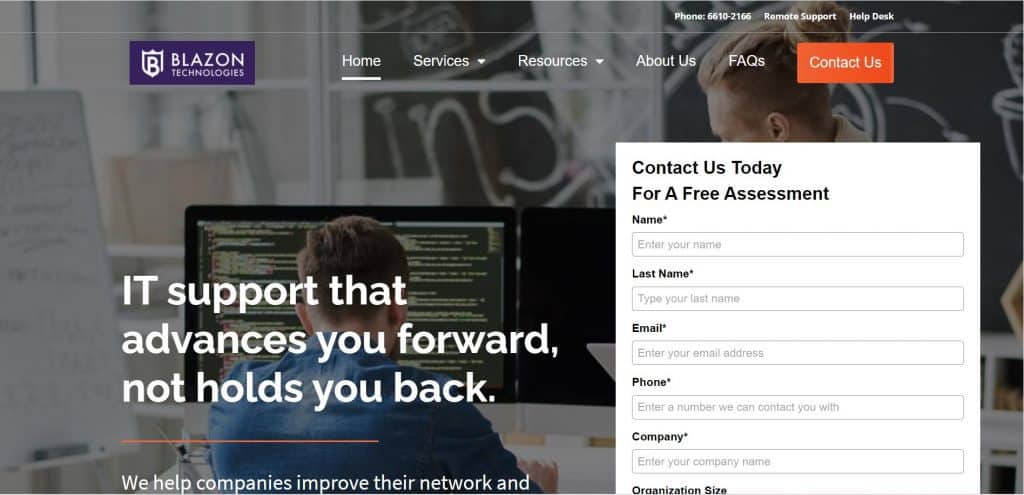 Since 2011, Blazon Technologies has been supporting SMEs in Singapore with IT infrastructure and top-notch cyber security services.
We began as an outsourced IT company, dedicating ourselves to supporting clients as though we were their in-house IT departments. This allowed us to come up with the structure, workflow, and processes to rival the best internal tech support teams. Today, the IT company in Singapore specialises in cybersecurity services.
The IT company in Singapore is known for its managed IT support service. For a predictable monthly fee, you'll get SLA-backed response times and a team of top-notch tech experts at your service. The engineers also work proactively to resolve issues before they cause downtime, so you can focus on scaling your business.
The IT company in Singapore also offers cybersecurity services. You'll get top-grade protection from ransomware, malware, hackers, data breaches, and more – along with user training so your employees know how to protect themselves digitally.
5. Viperlink Pte Ltd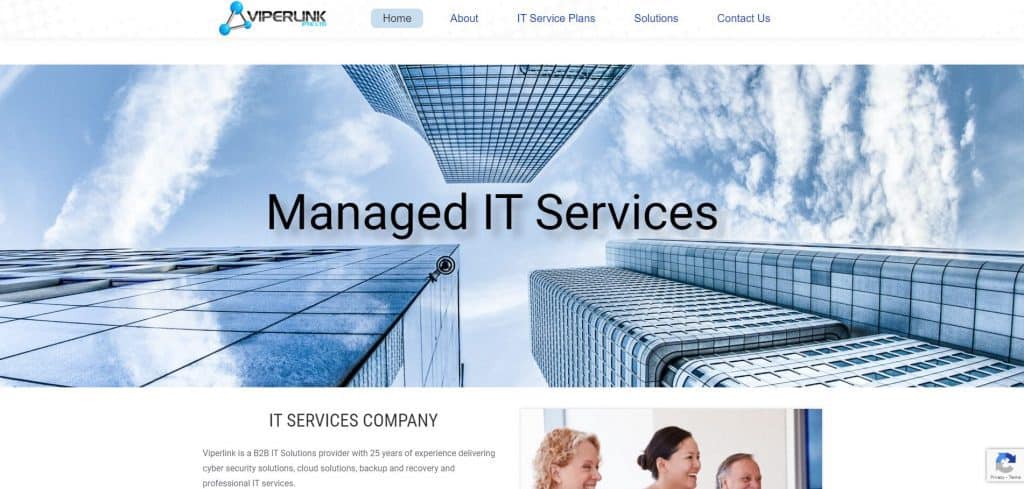 Founded in 1997, Viperlink provides a range of IT infrastructure solutions from simple monitoring services to comprehensive managed solutions to help SMEs to modernize their IT for better productivity.
They have grouped their IT services into 4 distinct plans: Pick and Pay, SupportPack Express Repair, SupportPack Proactive and NetSupport Fully Managed Services. All these tailored to their client's needs so that they can meet their goals and budgets.
6. IT Block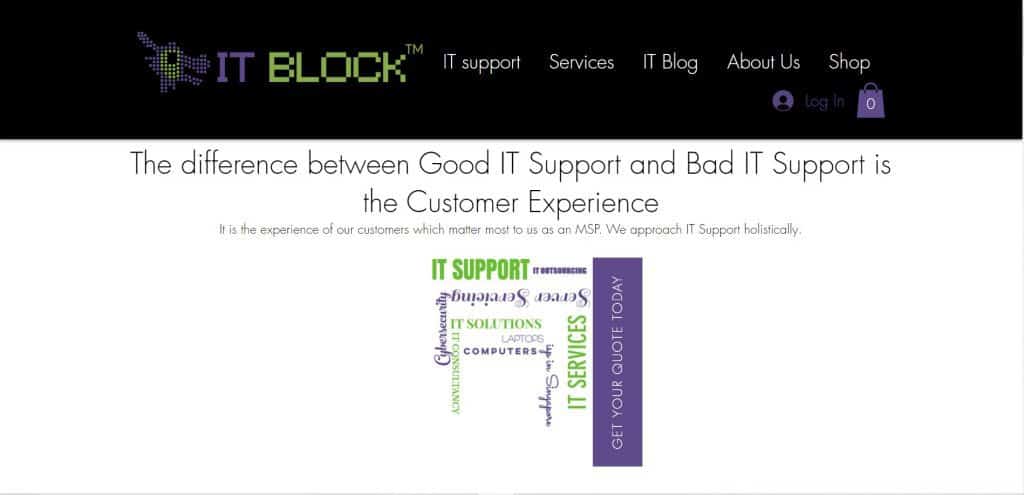 IT Block has a word they live by, that word is integrity. They do what they say and they say what they do. That is all they have. As an IT services and IT support provider in Singapore, their client's unconditional trust in us is all that they have.
The IT company is known for its cloud administration IT support services. The act of provisioning, maintaining, managing, and troubleshooting your cloud-based asset can be referred to simply as Cloud Administration. You might be hosting applications or websites on AWS (Amazon Web Services), Microsoft Azure, Google cloud, and managing your cloud-based assets such as Exchange 365 and G Suite.
IT Block has the expertise to package cloud administration as part of our IT support and services retainer agreement. They will consolidate your accounts as part of our IT Support services. They will keep your account secure and also ensure you have administrative access to your account.
7. Tekkie Help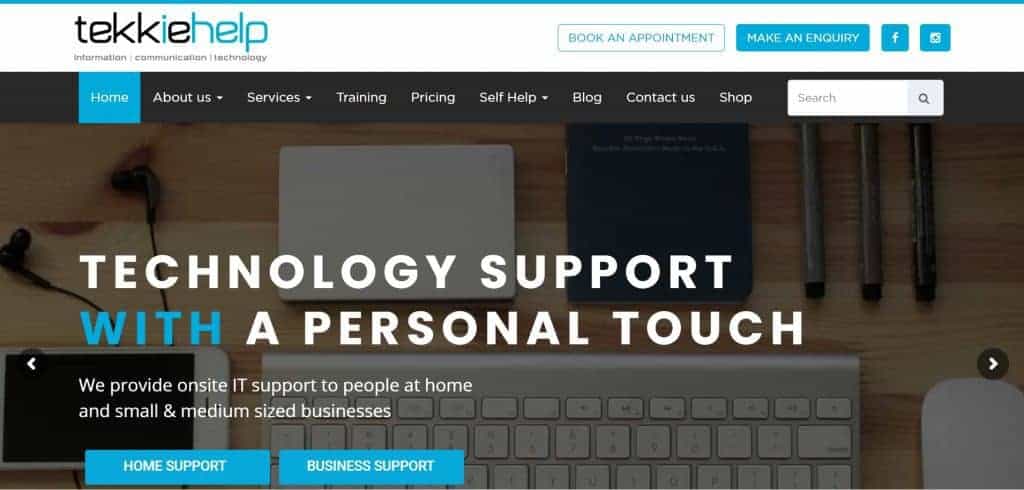 Tekkie Help is a Singapore based Private Limited Company that provides onsite IT support and is dedicated to helping people make the most of their technology. Founded in 2012 by British couple Bo and Sarah Pinel, Tekkie Help was created to help people who need support with their technology.
The IT company in Singapore is known for its WiFi optimisation service. They have a team of highly skilled and experienced Tekkie Specialists on hand to come to your home to optimise your network. They pride themselves in their flexibility to provide services that meet the individual needs of their customers. Should any new hardware be required, they will bring all the necessary equipment with them.
Some of the things Tekkie Help can help with include:
WiFi network setup, optimisation and troubleshooting
Network architecture consultation and design (for rennovation projects)
Network security enhancement
Setting up a home office network
Provision of LAN cabling
Conversion of telephone sockets to data points
Resolve difficult router problems
Set up a network printer
Advise on which sevrice provider to choose
For onsite support, the cost of engaging Tekkie Help is $152 for the first hour and $112 for each subsequent hour.
8. Amnet Technology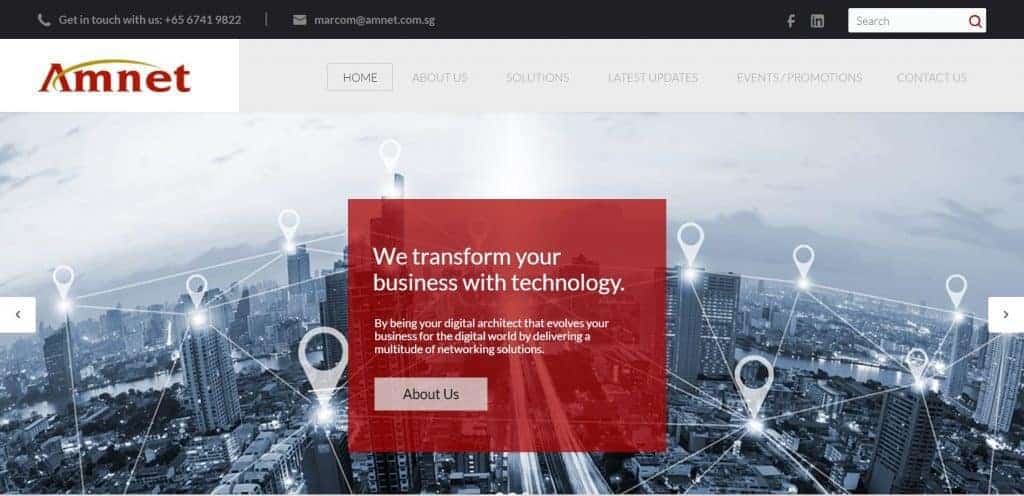 Established in 1992, Amnet is an end-to-end IT solutions provider which enables their clients – businesses and enterprises in Singapore to harness the power of digital technologies and evolve in today's fast-changing economy.
They provide consulting and technical services to deploy Microsoft Solutions, Infrastructure Solutions and Security Solutions, as well as the managed services to ensure that the implementation is well-supported throughout. They also tailor enterprise IT solutions – from the analysis and design to implementation and support – to fulfil their clients' needs over the past 26 years.
In their pursuit of excellence, they have won accolades from their technology partners, such as Microsoft Gold Certified Partner, HPE Gold Partner, and more.
9. D&S Solutions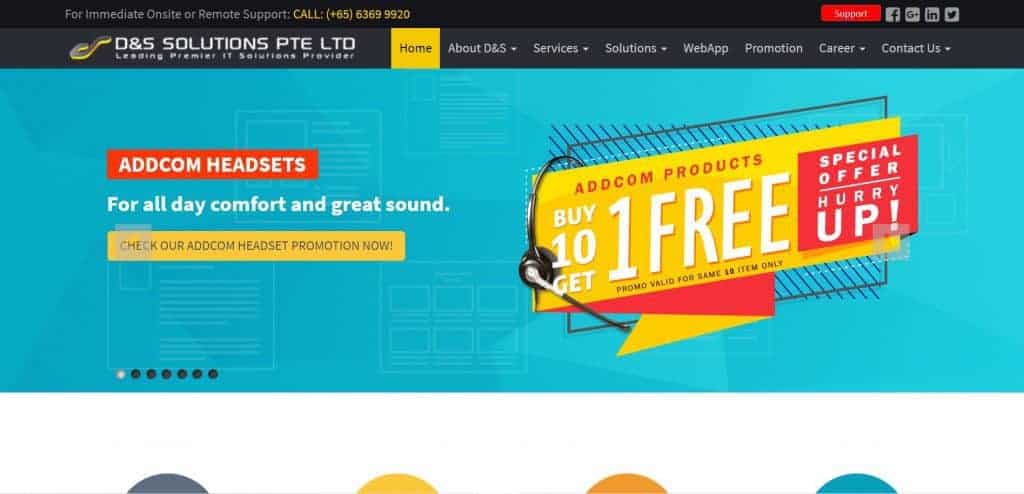 D&S Solutions Pte Ltd (formerly known as Demand & Supply Trading since 1999) was established in 2003 to provide IT services and solutions to the then booming local IT savvy market. It has since grown from a small team of round the clock entrepreneurs to its current pool of engineers for the company's projects.
The IT company in Singapore is known for its server solutions. As part of systems management, their system administrator will perform troubleshooting of additional issues to ensure that your server is running smoothly as how you want it to.
As part of placing the server on management, they will perform their initial server setup and a full list of what it includes will be disseminated. Included in their server management service is constant server optimization based on the current needs and requests of your server. If you feel that your server is not performing like it should be, simply send a service report to D&S Solutions thereafter.
10. I-Net Dynamics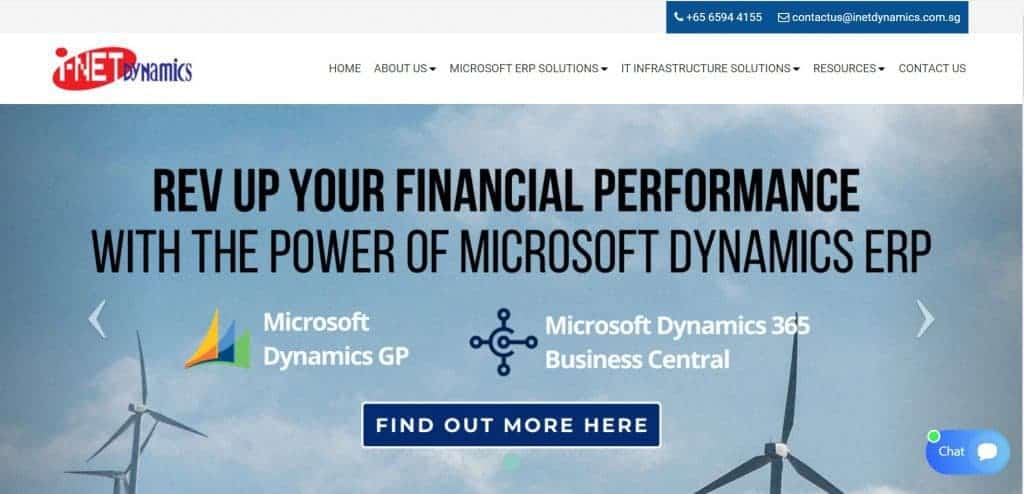 As one of the leading IT Solutions Providers in Singapore, I-Net Dynamics' focus on ERP application management systems and IT Infrastructure services ensures that customers have the flexibility to procure services or systems for their IT needs.
With over 25 years in the Dynamics ERP market, they are a recognized Microsoft Gold Partner (Cloud Platform) and have expertise in the implementation of Microsoft Dynamics 365 & Dynamics GP. They have a long history of ERP application support and have served over 200 customers in Singapore and the APAC Region.
The IT company in Singapore also has a disaster recovery service. With I-Net Dynamics' expertise and Microsoft Azure's superior cloud platform, you can develop the plans needed to recover efficiently and effectively including program assessment, implementation, testing, maintenance and training. They can help you identify, prepare for and prevent chances of disruption in your business activities by creating and executing an emergency plan to empower your organization to minimize downtime, saving precious time and preventing revenue and data loss.
11. WIZTECH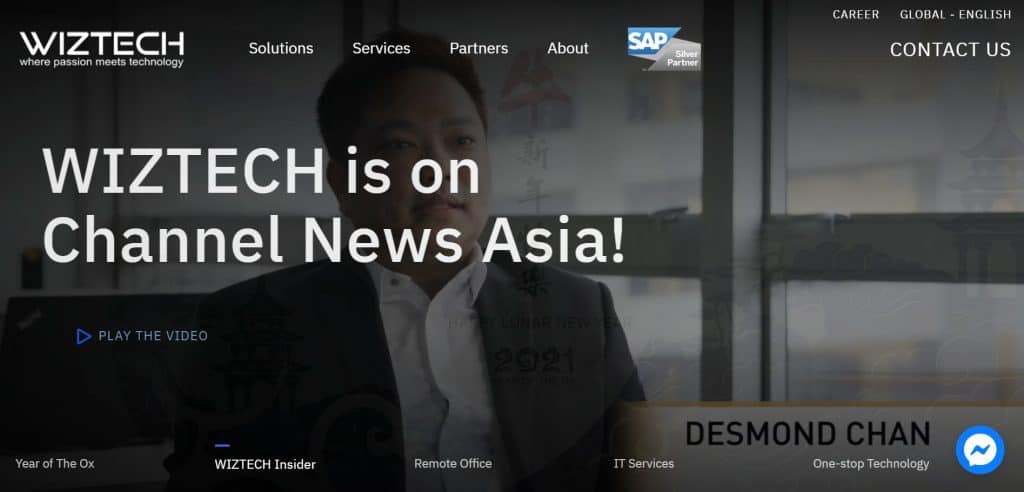 WIZTECH was incorporated in 2007 and has progressively established its presence in the region in countries like Vietnam, Japan, Australia and China. Working closely with leading-edge manufacturers and product vendors, both globally and locally, the company has gained recognition as a trusted technology provider offering value-added products and services to their customers.
The IT company in Singapore provides a one-stop solution to businesses for IT infrastructure build-outs, private and public cloud adoptions, web hosting and application development, as well as business digitization solutions.
The IT company in Singapore is known for its system integration services. WIZTECH's In-depth experience enables them to provide integration of many different systems at a fraction of the cost, helping you generate cost savings.
12. Mitrais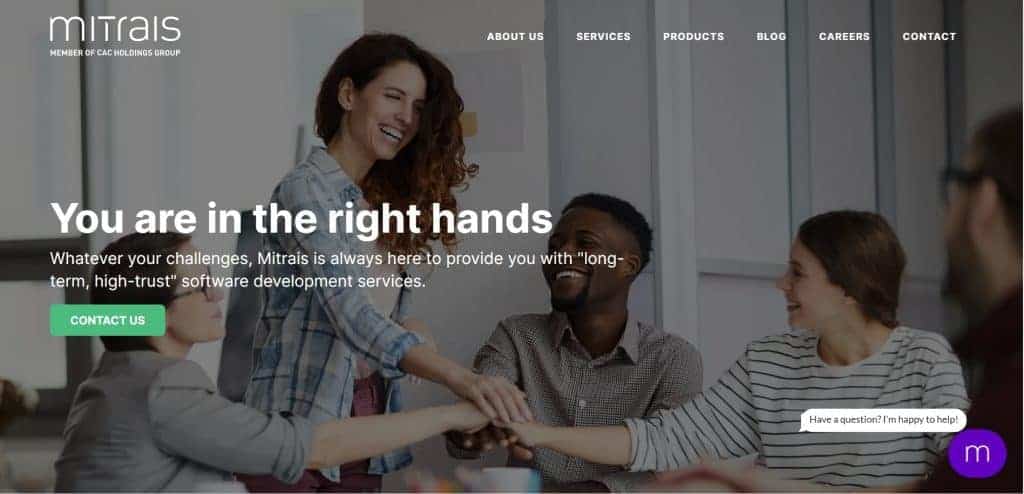 Since 1991, Mitrais has been providing software development services and products to businesses across the Asia Pacific region.
The IT company in Singapore has two lines of business – Software Development Services and Software Product Services. We provide a full range of software development capabilities including Microsoft, mobile, web, Java etc.
Their product services cover the deployment and support of leading software products targeting the mining sector. These activities are backed by best-in-class human capital management systems and an integrated engagement model.
Mitrais is also a member of the Microsoft Partner Network with a Gold Application Development competency, which represents the highest level of competence and expertise with Microsoft technologies. They have a close working relationship with Microsoft. Together with Sparx Systems and their tool Enterprise Architect, Mitrais can serve its clients better through more efficient software development.
Conclusion
Do you have any reviews and comments to share regarding our choices for the best IT company in Singapore?
While SBO is committed to supporting our local businesses, we welcome any feedback and anonymous sharing regarding your experience with the listed IT company in Singapore.
We hope that this guide will be useful in helping you to make an informed decision when it comes to finding the best IT company in Singapore.
In this article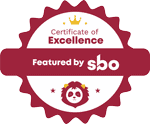 Are you featured in this?
Display this exclusive SBO badge proudly on your website!