10 Best Data Recovery in Singapore to Recover Your Data [2022]
This is why you should always back up your data.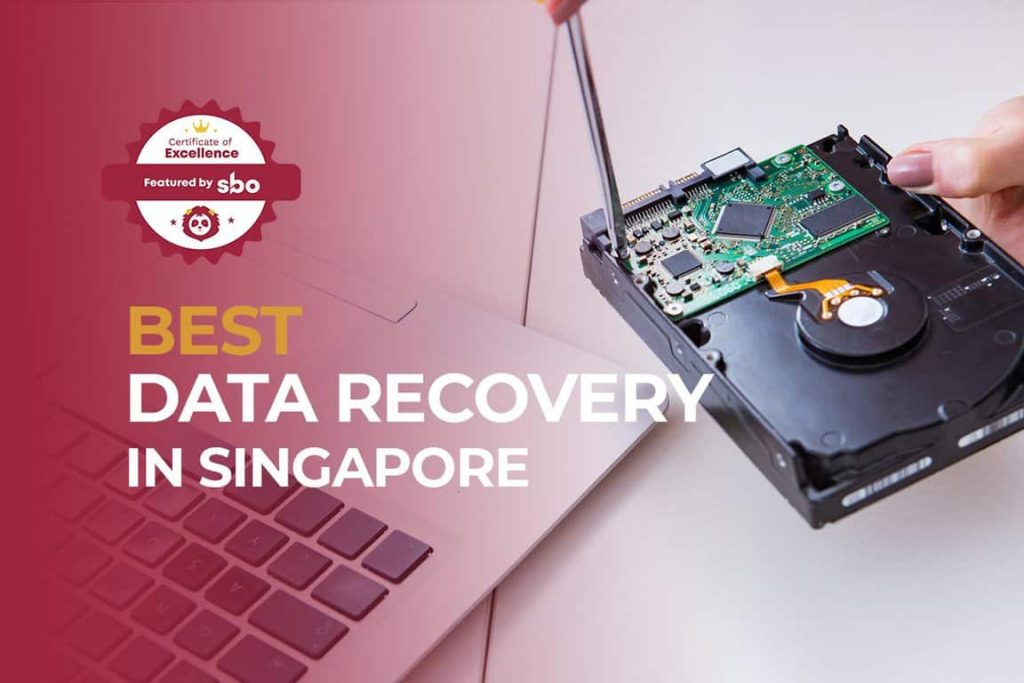 Stunned by discovering a corrupted file in your working folder? Or shocked to wake up one morning to find out the projects you've been working on in your external drive for the past couple of weeks suddenly cannot be found? Even after going through the basic troubleshooting process of powering down your computer, restarting, ejecting and connect the drive multiple times, trying with different drives, etc, there's still no luck? Now desperate and at the end of your wits, you've just googled 'data recovery Singapore', and came across this page!
Data recovery is a process of salvaging inaccessible, lost, corrupted, damaged or formatted data from secondary storage, removable media or files, when the data stored in them cannot be accessed in a usual or typical way.
In this post, we've complied a list of brands you could seek assistance from for your data recovery in Singapore.
1. CBL Data Recovery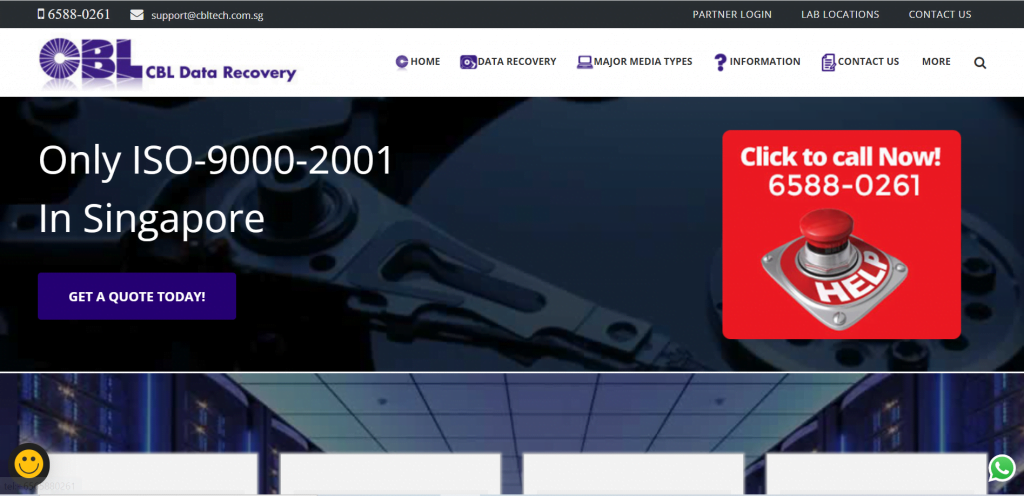 A global leading provider of data recovery services, CBL helps clients ensure the best recovery services possible when their computer system fails.
With a lab in Singapore and more than 15,000 recoveries completed annually, CBL has the expertise clients need to retrieve their lost data and to go back to business quickly.
As a full service data recovery provider in Singapore, CBL offers support for a range of devices such as laptops and notebooks, desktop systems, RAIDs and servers.
Our recommendation is to go to CBL Data Recovery for their RAID and Server Data Recovery service, covering all areas of multiple drive servers, including internal/external hard disks and SSDs.
CBL's continuous research into RAID algorithms ensures that even the newest RAID systems are supported, thereby providing the fastest data recovery turnaround time possible.
Reviews laud the data recovery in Singapore for being helpful and responsive from start to end.
They managed to recover almost 100% of data in a short time frame.
2. Digital Hospital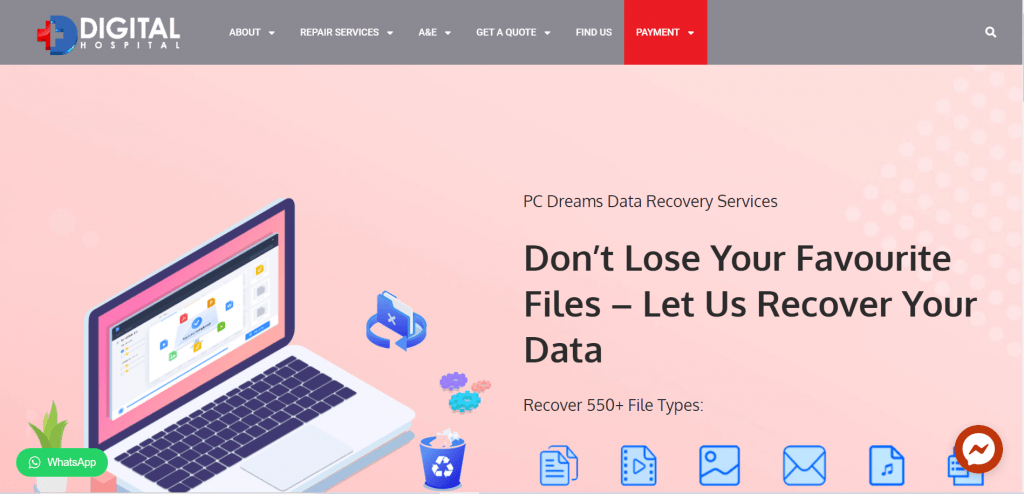 At Digital Hospital, they understand how frustrating it can be to lose all your files and folders overnight.
Hence, their data recovery centre seeks to help clients to restore documents that are corrupted, deleted or are inaccessible to the user.
They offer a risk-free policy, which means you won't need to pay a single cent if they can't fix the issue.
The prices of their data recovery services are as follows:
Software Fault: S$199.00
Firmware Fault: S$699.00
Hardware Fault: S$1,099.00
Reviews laud the data recovery in Singapore for their impeccable customer service.
Their staff were quick to respond and were efficient in recovering customers' data.
3. Ever Higher Data Recovery Centre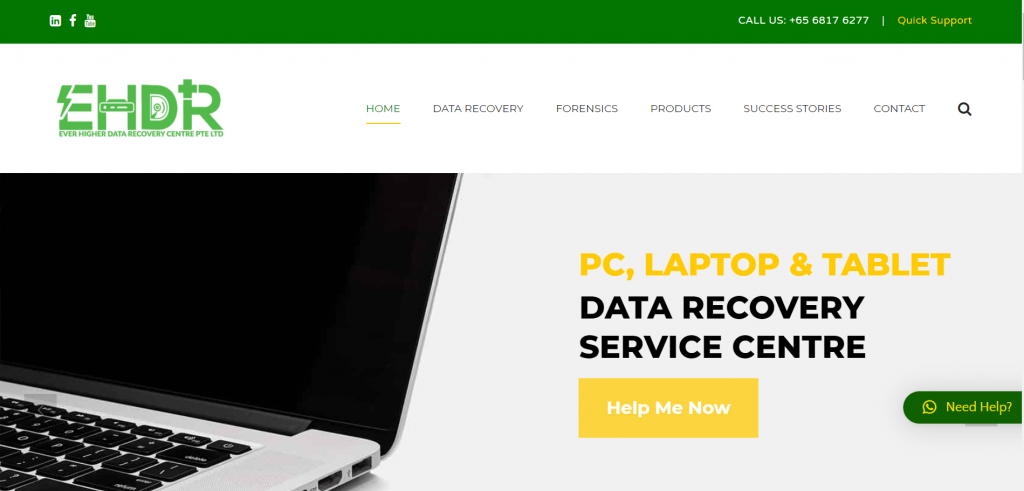 Ever Higher Pte Ltd has a solution for every IT-based problem.
Their data recovery specialists are good enough to recover all your lost data from any storage device.
The data recovery in Singapore offers data recovery solutions, emergency repair, and restoration services of mission critical data storage arrays, drives and media.
Our recommendation is to go to the data recovery in Singapore for their USB flash drive data recovery service.
They have performed thousands of data recovery jobs on various brands of thumb drives like Sandisk, Sony, Kingston, Samsung, HP etc.
Reviews laud the data recovery in Singapore for giving regular updates throughout the data recovery process.
Customers found the information provided to be very clear and concise, which made the entire recovery process smooth and stress-free.
4. Data Savers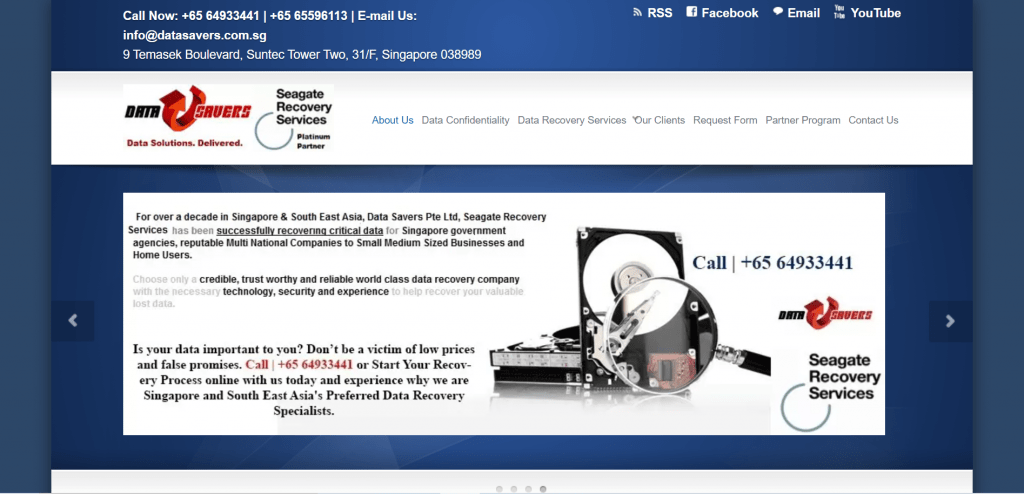 Data Savers Pte Ltd is Seagate Recovery Services' Platinum Partner and also Seagate Recovery Services' Official Authorised Service Centre.
Seagate Recovery Services is the world's first ISO 9001:2000 certified recovery services provider.
Since 2005, the data recovery in Singapore has established itself as the preferred provider of professional data recovery services for failed hard disk drives, solid state drives in laptops, desktops, data servers, RAID Arrays and tape cartridges.
Reviews laud the data recovery in Singapore for their reasonable prices.
Their troubleshooting skills are better than other data recovery services in Singapore.
5. Accplus Technologies Data Recovery Centre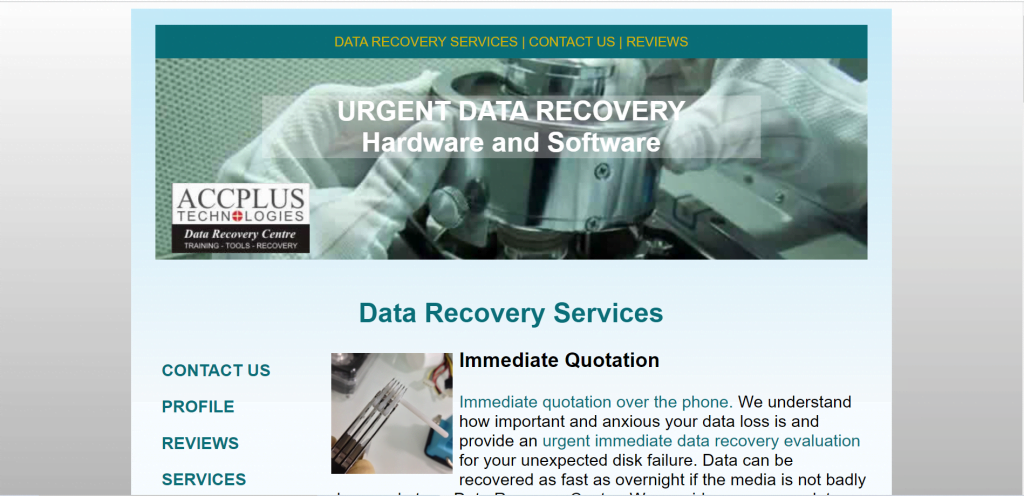 Accplus Technologies is owned and managed by a local IT enthusiast, Mr Louis Loo, who is a self-trained professional with expertise in the niche field of data recovery.
The data recovery in Singapore conducts their diagnosis on the spot.
The tests are conducted using their specialised Data Recovery Tools.
These include tests for the condition of the read/write heads and the platters.
The tests take about ten minutes to run and you can view the tests being done on your disks.
Reviews laud the data recovery in Singapore for their accommodating owner, who was able to slot customers into his busy schedule despite a last-minute request.
6. Greenergy Data Recovery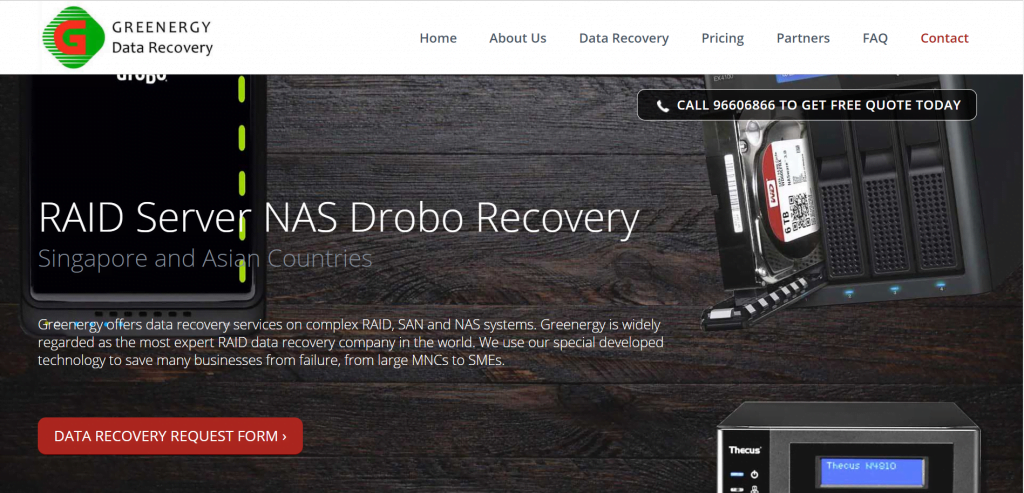 Greenergy Pte Ltd was founded in 1995 and is an established player in Data Recovery.
The company has more than 20 years of experience in the industry.
They can recover data no matter how the loss occurs, be it accidental deletion, hardware crash, corrupted data, fire or water damage.
They provide data recovery services for SATA, SAS, SSD, IDE, EIDE, SCSI hard disk drives and Raid Servers.
The company in Singapore works with all operating systems and Hard Drive models.
Reviews laud the data recovery in Singapore for providing a free evaluation.
They provided fast service, so customers were able to collect the device within 1-2 days.
7. Data-X Recovery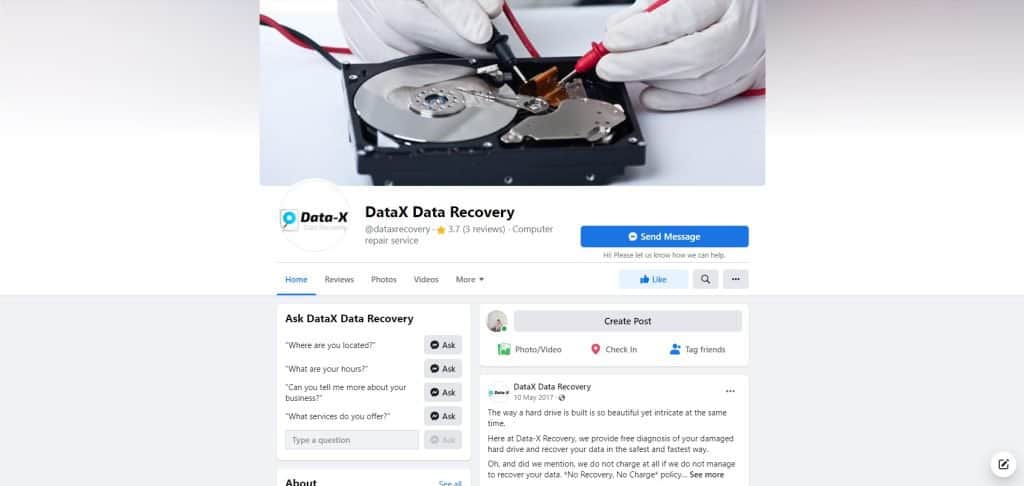 Data-X operates at the leading edge of data recovery technology.
They provide data recovery services as well as data recovery software for the retrieval of data from the comfort of your own home.
They recover lost data from hard drives, RAID arrays, Flash Memory devices like USB Memory Sticks, SD Cards and SSD hard drives.
Their lab's facilities are beyond comparison, reaching ISO 3 standard.
Their state-of-the-art Recovery Lab is situated in a secure building with on-site 24-hour security.
Containing the latest equipment, the Lab has been built with the sole purpose of providing the very best data recovery service as quickly as possible.
Their technicians are among the best in the data recovery field and are continually developing new techniques to advance their recovery capabilities.
Reviews laud the data recovery in Singapore for possessing a knowledgeable team, who were able to answer all of their customers' questions in a timely manner.
8. IT Solution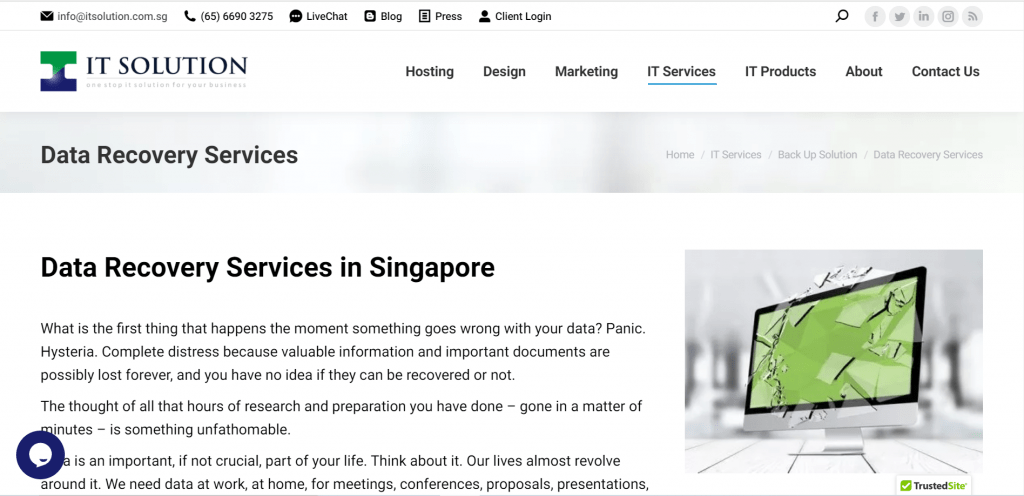 As Singapore's leading IT Solutions provider, IT Solution can help you retrieve deleted, damaged, or inaccessible data as quickly and securely as possible.
Their team of experienced and highly qualified engineers will do whatever it takes to analyse your content and determine the condition of your data recovery situation.
If you need a diagnostic report which allows you to see which files have been recovered, they can do that for you too.
That way, you'll be able to view exactly which files are recoverable before you decide how you want to proceed from there.
Reviews laud the data recovery in Singapore for their seamless online chat support.
9. iDevice Repair Centre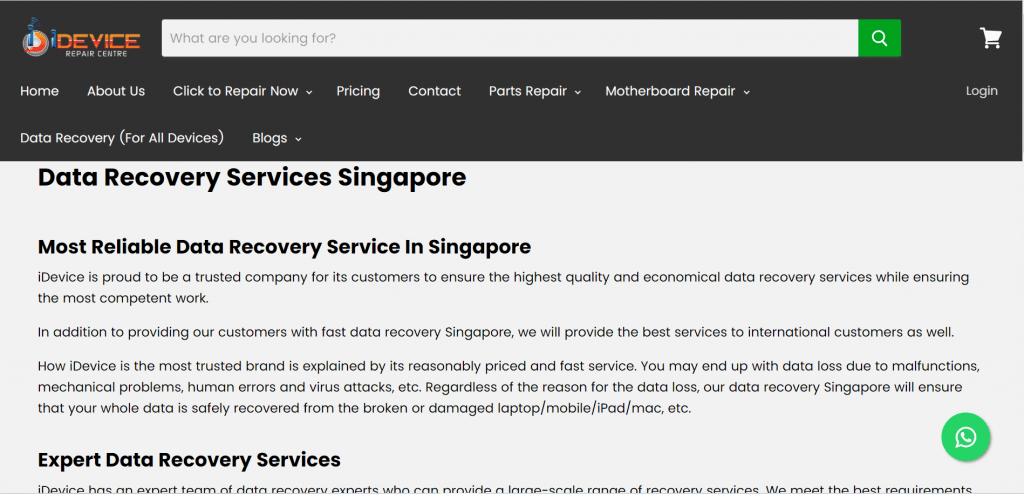 iDevice has a team of data recovery experts who can provide a range of recovery services.
They strive to meet the needs of their customers through services such as recovering data from laptops, desktops, portable media and notebooks etc.
What distinguishes iDevice from the crowd is its emergency response and data recovery service. If you want to recover your data in a jiffy, they are your best bet.
Reviews laud the data recovery in Singapore for their friendly staff, who will make you feel confident and assured that your data will not be stolen by the company.
10. Fynd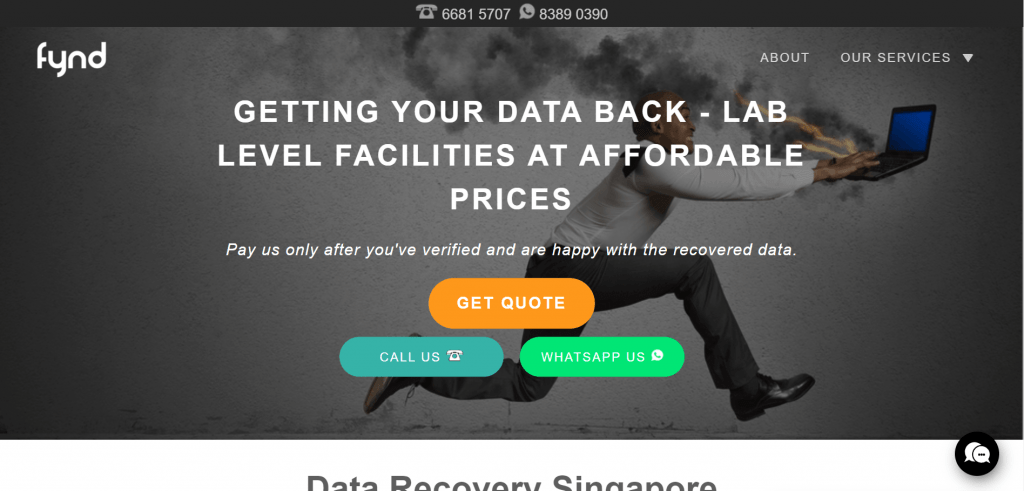 Fynd provides a reliable on-demand phone repair service.
When you need a data recovery service in Singapore, you don't have to go to a repair shop, they will come to you!
They will recover your data at a location and a time of your convenience.
The data recovery in Singapore respects client data privacy and confidentiality and takes it very seriously.
They will not access lower-level domains and folders nor open any files unless instructed specifically otherwise to check for file damage.
The best part of it all: they provide all-inclusive quotations with no obligation.
There is no need to pay for their service if it is not a 100% complete recovery.
Reviews laud the data recovery in Singapore for their highly competitive prices and their prompt service.
Their follow-up on the appointment was also professional.
Conclusion
Do you have any reviews and comments to share regarding our choices for the best data recovery in Singapore?
While SBO is committed to supporting our local businesses, we welcome any feedback and anonymous sharing regarding your experience with the best data recovery in Singapore.
We hope that this guide will be useful in helping you to make an informed decision when it comes to finding the best data recovery in Singapore.
Explore More Content
Are you featured in this?
Display this exclusive SBO badge proudly on your website and get more sales!