10 Companies For the Best Website Design in Singapore [2022]
Find the best website design companies in Singapore to give your website design a much-needed revamp.
Business
Our team at SBO.sg is committed to being a one-stop avenue to connect local businesses and consumers. We hope that our research efforts can help you save time and money by finding you the best deals without having to search around the vast world-wide-web.
Most business owners would have heard of the 15-second rule, which is the average amount of time spent by a user on a website. That's also how long how you have to grab the attention of a prospective lead.
This is where companies for website design in Singapore can come in to help to make your website more user-friendly and aesthetically pleasing.
Keen to overhaul your website design? In this article, we have gathered a list of the 10 companies for the best website design in Singapore.
1. Verz Design
Founded in 2009, Verz Design has grown to become an established web design and development company in Singapore. They believe that cultivating a fair, intelligent, and professionally-sound workflow in their website design and development processes can put their clients and themselves in the best position to succeed.
Verz Design provides a wide range of services for their clients. These include web and mobile app development, copywriting, marketing services, consultation services, multimedia design and experience design.
The company has worked on projects for various reputable brands over the years such as WWF, The Law Society of Singapore and Panasonic.
2. Singapore Best Web Design
Singapore Best Web Design has been providing its services and expertise to SMEs in Singapore and other countries in Asia-Pacific since 2009.
They tap into the expertise of their web designers to create awesome websites and outstanding web applications to help their clients to stand out.
They offer various website packages that are tailored to the needs of their clients, be it the Basic plan, Standard plan or the E-commerce Website plan.
Rest assured that their prices are highly transparent.
They have also worked on various projects for prominent brands in Singapore of the likes of Purple Parade, Gloria James Civetta & Co and Microsoft.
3. Wondertabs
Wondertabs is a well-established design agency based in Singapore.
They possess years of experience in web designing and are home to some of the most dynamic and highly experienced web designers who are always eager to create state-of-the-art websites for their clients.
Their designers pay attention to details. They ensure that the graphics, layouts, colour contrasts, animations and call-to-action used are impeccable and reflect your brand's identity.
They use their knowledge to come up with websites that can convert visitors into customers.
These websites are easy-to-use for non-tech savvy users, are visually appealing and are optimised for various devices (e.g. mobile, desktop, tablet).
They also make sure that your site is searchable by Google.
4. Reed Tan Digital
Headed by a team of experienced marketers with more than 15 years of experience, Reed Tan Digital was founded with a desire to help businesses adapt and grow by injecting expertise into their marketing mix.
Their website design services incorporate three elements: 1) visual creatives, 2) UX & UI design and 3) marketing analytics into your website.
They have three website design plans for you to choose from:
Bite-Sized (5 custom page designs)
Essential (10 custom page designs)
Comprehensive (15 custom page designs)
All three design plans come with responsive web design, search engine optimisation as well as website optimisation.
5. Novage
Having been in the web design industry since 2010, Novage designs and builds responsive websites of all sizes for Singaporean businesses.
Their services include web development, web maintenance, SEO, landing page design, microsite design and digital marketing.
What sets Novage apart from its competition? Well, simple. They provide better service and better results at a fraction of the price tag of other companies.
On average, you can save up to 63% per cent on your annual website costs with the company, while still receiving round-the-clock support.
Novage also provides unlimited technical support, without any limitations.
6. Hello Pomelo Creatives
Hello Pomelo Creatives specialises in web design and development of personal, corporate and e-commerce websites.
They follow a systematic process when carrying out their work, from planning and consultation, brainstorming ideas to the design work itself.
Besides web design and development, they provide other services such as branding, website responsiveness and Search Engine Optimisation.
Their past clients include Esplanade, the National University of Singapore and foodpanda.
7. Web Delegate
Web Delegate is a one-stop solution for any SME's digitalisation journey.
They provide a suite of services ranging from website development, SEO, Google Adwords, Facebook Ads, to e-Commerce and custom applications.
With nine years of experience, Web Delegate has a proven process to automate website development to deliver websites within 5-15 working days.
You can take your pick from the company's three packages:
Essential (One reference website)
Pro (Two to three reference websites)
Custom (Custom web design)
Web Delegate also guarantees a 100% refund in the event that you are not satisfied with the first draft of your website.
8. Lemonade
With 18 years of experience in web design and digital marketing, Lemonade is a leading web design company in Singapore.
Their services include eCommerce website design services and WordPress maintenance.
Their specialty lies in creating a web design that is bespoke, clean and modern to appeal to your customers.
With their WordPress and Divi Page builder, you can use your website more easily and stay visible on search engines.
With three stock libraries and dedicated designers, your website will be designed according to your requirements and your brand's identity.
The cost of a web design service under Lemonade is between $3,800 to $15,000.
9. Krome
Since 2009, Krome has been working with clients to define a strong and consistent brand identity across web to print.
From start-ups to enterprises, Krome provides end-to-end support for companies that need a website.
Their services include customised web design, WordPress performance tuning, SEO-ready websites, user interface and user experience.
The company has worked with numerous SME clients in the past, such as A Pixels Photography, Limocars, JoJo Durian and PSB Academy.
10. Elves Lab
Elves Lab started out in July 2000 with the mission to be a one-stop website design and development solutions provider.
Their flagship package is the Responsive Web Package for 10 static pages. The package comes with the implementation of Google Analytics and optimisation for websites for Internet Explorer 9 and above, Mozilla Firefox and Chrome.
Their past clients hail from various industries, including Four Fingers, Resort World Sentosa Academy, CASE Singapore, Hospice Care Singapore and Calbee.
Conclusion
Do you have any reviews and comments to share regarding our choices for the best website design company in Singapore?
While SBO is committed to supporting our local businesses, we welcome any feedback and anonymous sharing regarding your experience with the listed website design companies in Singapore.
We hope that this guide will be useful in helping you to make an informed decision when it comes to finding the best website design company in Singapore.
In this article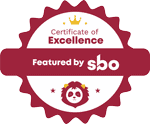 Are you featured in this?
Display this exclusive SBO badge proudly on your website!